Yorktown Nips Fox Lane, 1-0, for Husker Tourney Title
News Based on facts, either observed and verified directly by the reporter, or reported and verified from knowledgeable sources.
We are part of The Trust Project
By Ray Gallagher, Examiner Sports Editor @Directrays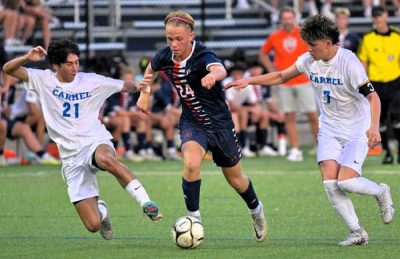 Defending Section 1 Class A champion YORKTOWN (2-1) may have lost the better part of its 2022 lineup due to graduation, but the 2023 version has come roaring out of the gate with similar results, including a 1-0 win over FOX LANE (1-1) in Saturday's championship of the Yorktown tourney.
After scoring two goals and setting up two more in the Huskers' 9-0 opening round win over Arlington B, Yorktown sniper Nick Varela scored the lone goal from Michael Munson in the win over the Foxes, who defeated Pelham, 2-1, in OT to reach the finals. Tournament MVP honors went to Husker Joe Granitto. Yorktown dominated possession with 25 shots on goal vs. three for Fox Lane. Colin Worden (2G), Munson (1G, 2A) and Marcelo Diaz (1G, 1A) each found the back of the net in the win over Arlington.
Courtesy of Byram Hills Coach Matt Allen, here are some additional nuggets to chew on:
Undefeated Scarsdale, ranked second in the country by the United Soccer Coaches, just continues to roll along. Tappan Zee is 4-0, going to be top five in NYS, possibly No.2 when the rankings come out later today. Between the heat and rain in recent days, Somers is 0-0 right now, which is nuts when you consider the Tuskers need to find a way to get in 16 games in the next 31 days for those of you counting at home. Rockland schools have been solid so far… Tappan Zee (now 4-0 with a 22-2 combined edge), Suffern and Pearl River all undefeated. Eastchester is off to a good start at 2-0, leading Somers in a third game late in the first half of a postponed game.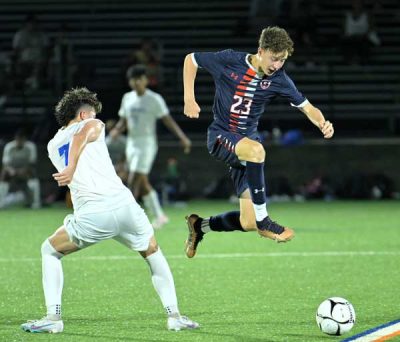 After a wild week of weather-related issues, Section 1 coaches are already concerned about the glut of games to come.
"The biggest issue already is getting all the games in, 35 days left in season and with seven-day rule and Jewish holidays there is closer to 28 days left to play games," Lakeland Coach Tim Hourahan said. "Some teams still have to play all 16 games. Teams that have depth and stay healthy will win games."
LAKELAND (2-1) knocked off Sleepy Hollow, 1-0, behind a goal from Silvio Ahmataj and a clean sheet from G Oban Rader (6 saves).
BRIARCLIFF (3-0) took a 1-0 decision from North Salem after Sebastian Lai scored and G Toby Young (1 save) held off the Tigers before the game was called at halftime due to lightning.
PEEKSKILL posted a solid 2-0 win over John Jay-Cross River behind tallies from Cris Chunchi and Andres Cabrera off assists from Kevin Cajamarca and Daniel Farez. G Angel Cabrera had seven saves in the opening-day shutout.
OSSINING (1-2) took a 2-0 decision over CROTON (1-1) when sophomore Gabriel Robinson scored his first varsity goal, enabling the Pride to bounce back from a 2-1 loss to defending NYS Class AA champ Scarsdale. Randy Vallejo (1G), Jeancarlo Abzur (1A) and G Andrew Nieves (7 saves) kept the Pride in serious contention with the 2023 Class AA favorites. Both of the Raiders goals came on penalty kicks and once Ossining cleans up a few things the Pride should be a force.
Suffern handled WHITE PLAINS, 3-2, with Tigers Jason Sanchez (1G, 1A) and Charles Reid spotting the Tigers (1-1-1) a 2-0 lead they could not hold.
PANAS (1-1) shut out MAHOPAC 4-0 behind a hat trick from the Koky 'The Kid' Duarte (1A). Nick Gutierrez also scored from Jahncarlos Ortiz and G Johan Easaw needed just three saves for the clean sheet. The WolfPac fell to 0-2-1.
CARMEL (1-3) took care of business with a 3-1 win over GREELEY (0-3) behind a pair of tallies from Neel Walia  and another from Jeferson Portillo. Assists went to Alex Kozlowicz and Antony Santos while G Patrick Schoelig notched six saves.
Reigning NYS champion HALDANE (1-1)
Coaches are encouraged to email raygallaghersports@gmail.com, text and tag @Directrays with results and stats for inclusion in our weekly Boys' Soccer Notebook.