Yorktown Marathoners in Middle of 'Chaos' in Boston
We are part of The Trust Project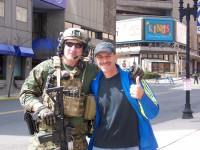 Yorktown residents Michael Moccia and Mary Natell crossed the finish line a few minutes apart at the Boston Marathon, less than one hour before two bombs allegedly planted by two brothers exploded, killing three people and injuring about 170.
In fact, prior to the race, Moccia, 53, posed for a photograph in the exact location where the first bomb stunned the city and the world looking in.
"It was total chaos," recalled Moccia, who was in his hotel room less than a block away preparing to take a cold bath after completing the race in 3:29.50 when his wife received a message on her cell phone about the bombing. "Everyone was running and crying. Nobody could find their loved ones. We were just devastated. It's just a shame."
Natell, 50, finished her fourth Boston Marathon and 19th overall in 3:27 and then spent about 30 minutes in the medical tent after feeling "woozy and shivering." She proceeded to meet her husband in the family reunion area about a block and a half from the finish line when she heard the first explosion.
"I had no idea what it was. Nobody could fathom what it was. 10 seconds later we heard another explosion," Natell said. "I met my husband, we hugged and he said we should get out of here. People were rushing at this point. We ran into one woman who was in tears because her hotel was in lockdown."
Natell and her husband were able to get a cab and get back to their hotel, which was less than two miles away, and saw the magnitude of the devastation on television.
"We said 'Holy Cow.' We had no idea how bad it was," she said. "It just puts things in perspective. I was so worried about beating a certain time and you have something life changing going on at the same time. It makes you realize what's important. We were lucky."
Natell left Boston about 4:30 p.m. the same day to head back to her home on Saw Mill River Road, but Moccia, who had planned to spend a few days in Boston, hung around, returning to his Laurel Court residence last Wednesday.
"There were hundreds, thousands of military and Humvees all over the place," Moccia said. "I got a lot of calls from people asking how I was. It was just an unbelievable experience."
According to the records from the Boston Marathon, two other Yorktown residents, Ellie Hashmall, 55, and Michael Schmutzer, 39, ran in the race, along with John Markiewicz, Jr., 33, of Somers.
Moccia and Natell both said they planned to run in the Boston Marathon again next year, and the New York City Marathon in November.
"I'm going there next year to do it for the people of Boston and the people who were wounded or killed," Moccia vowed. "We're not going to let them beat us up."