Yorktown Man Killed Walking Dog Fondly Remembered
We are part of The Trust Project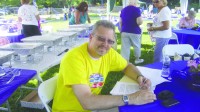 Standing six feet, three inches tall, Randy Zapakin struck an imposing pose, but it was his good natured and compassionate personality that left a lasting impression on those he came in contact with.
"He was a good, good man," said Jane McCarthy, volunteer co-chair for Relay for Life of Yorktown. "Randy was my relay buddy and friend. He was a husband, a father and a community volunteer. He was kind, fun and oh so funny! He had great retorts and great compassion. He was Yorktown Relay's Purple Power Majesty and will be missed by all who knew him."
Zapakin, 57, was killed last Thursday while walking his dog, Mya, about 8:15 p.m. on Farmwalk Road, not far from his home. Yorktown Police said Zapakin was struck by a 2002 Chevrolet Cavalier driven by an unidentified 18-year-old Yorktown resident, and was pronounced dead at the scene. An investigation continues but no charges have been filed.
A funeral service for Zapakin drew hundreds Sunday to the Congregation Sons of Israel in Briarcliff Manor. Zapakin was a successful sales associate with Keller Williams Realty Partners in Yorktown since 2008 and was involved with many community events, including serving as the emcee for Relay for Life and a vocal supporter for the American Cancer Society.
"Randy was my close friend and neighbor. He truly was the voice of Relay for Life in Yorktown. Beyond the relay, he was also a voice for the American Cancer Society in Yorktown," said Monica Garrigan of the American Cancer Society. "He had a full understanding of the organization and made sure people knew how to fight back against cancer and what services are available for those diagnosed. He was always moved by each and every story he heard and his compassion was immeasurable. This is a tragic loss for our Relay for Life family and the whole community. Our hearts go out to the Zapakin family."
Zapakin was also a former basketball coach in the Yorktown Athletic Club and performed in several productions with the Yorktown Community Players.
"He was a fine actor and a delightful gentleman," Maureen Howard, vice president of Yorktown Community Players, posted online. "I fondly remember directing him in Death Trap and Born Yesterday. He will be remembered and greatly missed."
Zapakin is survived by his wife, Debbie, who co-owns Wishes Boutique in Yorktown, sons Jared and Jordan, and daughter Allie.
The family has requested contributions in Zapakin's memory can be made to Relay for Life in Yorktown under the team name Randy's Relayers at www.relayforlife.org/yorktownny.
"Without a doubt, in June, we will have Randy with us and he will be honored," McCarthy said.