News Based on facts, either observed and verified directly by the reporter, or reported and verified from knowledgeable sources.
Yorktown, Lakeland, Somers Survive, Advance in Class A Quarters
We are part of The Trust Project
Worlds Could Collide in Class B, Valhalla, Byram Hills on Course
By Ray Gallagher, Examiner Sports Editor @Directrays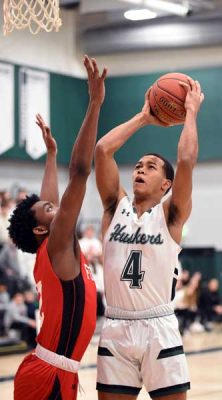 A pair of stunning Class A come-from-behind victories were the highlights of the Section 1 boys' hoops quarterfinal round; stunning in that the higher-seeded clubs – No.2 Yorktown on the large-school side of the bracket, and No.2 Lakeland on the small-school end of the bracket – were forced to come from behind in the waning moments to advance to this week's Westchester County Center Final 4.
Gold balls are within sight for the aforementioned, along with four other Examiner-area boys' teams, including top-seeded Class A Somers (large schools), top-seeded Class B powerhouse Valhalla, third-seeded Class B Byram Hills and third-seeded Class C Haldane; all of which will be on hand this week at the fabled County Center.
CLASS A
The Final 4 is loaded with locals, which, after the large- and small-school crossover seeds were established, will open Wednesday, March 1: No.2 Yorktown (17-5) vs. No.1 Tappan Zee (20-2), 4:45 p.m.; No.2 Lakeland (20-2) vs. No.1 Somers (20-2), 8:15 p.m. It's anybody's guess who will emerge but the Hornets handled the Tuskers easily, 62-45, in the regular season, and the Huskers will need to figure out a way past the stingy Dutchies, ranked No.4 in NYS.
Panic was beginning to set in at LAKELAND where upset-minded John Jay – CR, the No.11 seed, was one free throw short of taking a four-point lead in the waning seconds. Instead, Coach Steve Fallo's Hornets grabbed the missed-free throw, called time out and set up a play for who else, All-Section senior G Chris Whyte-Luciano, who reached the top of the key and coolly sank the game-tying shot at the buzzer. State-ranked (No.5) Lakeland then rode that momentum into overtime where the Hornets advanced to their first Final 4 since 2009 behind a 54-51 triumph.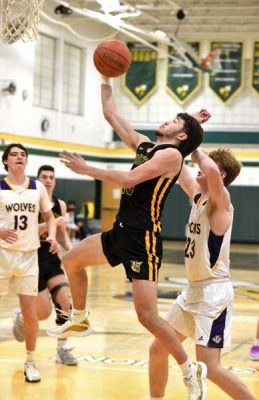 Whyte-Luciano finished with a game-high 30 points while All-Conference senior F Logan Shiland added 14. The Hornets, still seeking the first gold ball in school history, had their hands full with John Jay big Will Sanz (25 points, 16 rebounds), who nearly denied Lakeland its first County Center Final 4 visit since a controversial 2009 loss to Peekskill.
In host YORKTOWN's 64-62 win over No.3 FOX LANE, it took some heroics to survive and advance. Husker juniors Justin Price and All-Section G Brandon Montero were atop the list. Price capped an eight-point comeback (with 4:23 left) on a reverse layup over an outstretched Chris Redhead to give the Huskers a 63-62 lead and Montero (25 points, 7 boards) blocked a 3 at the buzzer to send Yorktown to the County Center for the first time since losing, 61-44, to Scarsdale in 2017.
Yorktown junior G Billy Feeks (17 points, 5 assists) hit a layup with 1:40 left to make it 62-59. Husker junior G Tommy Costello followed with another layup as the Foxes wilted defensively, making it 62-61 with 1:10 left before Price hit the go-ahead hoop with :26 left.
"It feels amazing," said the versatile Price, who finished with five points, eight assists and five  rebounds. "I couldn't hit a shot the whole game, and then to come out and hit the game-winning shot is an incredible feeling. We were down at halftime and we just kept saying, 'stick it though, stick it through!', and in those last two minutes I told the five on the floor to make these last two minutes the best you've ever played, to give it all you got and we gave it our all and we're going to the County Center now."
And that should be enough for a team full of juniors, right?
"No way, I want that gold ball," Price exclaimed.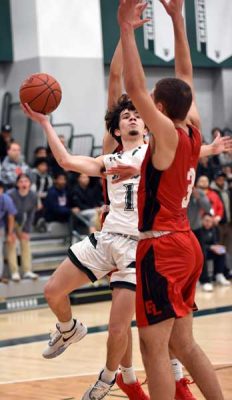 The Foxes, who defeated Mt. Vernon for the 2016 Section 1 Class AA title, have been a prominent program for much of the last two decades but fell just short of their 2023 goals.
"Tough game and hard pill to swallow when you are that close to reaching the County Center," Fox Lane Coach Mike Tomassi admitted. "Yorktown is extremely talented and unfortunately they made some big-time plays. We knew it would take a full 32 and we fell short of playing a full 32. Credit to them."
That credit keeps Yorktown on its path toward the gold ball, which would be just the second in school history (Yorktown won class A in 1971 behind the great Steve Shaw, then had to play a legendary Mt.Vernon team in the AA/A Open, which wasn't very pretty for the Huskers). Prior to Yorktown's run in 2017 to the Final 4, the Huskers last County Center Final 4 appearance was in 2009 under former Coach Steve Veteri. His Keith Thomas-led Huskers gave Mount Vernon a great game before yielding down the stretch.
Husker Coach Mark Pavella is hoping for more of the same from his young Huskers as they tackle state-ranked (No.4) Tappan Zee in the semis.
"These guys definitely don't play like underclassmen," the coach said. "And a big shoutout to our guys from the practice squad, who prepped us for what Fox Lane did. Those guys are the reasons we win games, the guys who aren't always on the court but keep those positive attitudes. They gave up spots for those sophomores and juniors and that doesn't happen often in high school basketball.
"We preach attitude with our guys," said Pavella, a Mahopac grad and sniper in his heyday. "Every time out it's all about attitude. Special hats off to Fox Lane, though, what a well-coached team they are. Coach Tomassi does a great job with those guys. It was a battle. His kids fought so hard, but I'm just so happy for our guys to be on this stage again. We're going to enjoy this but hopefully ride the high of this to County Center and keep the momentum going. We're going in there with attitude and playing Yorktown basketball."
Tomassi gave credit to his seniors for a great run.
"I'm going to miss this senior class," he said. "They won 47 games in three years and also a Putnam/Northern Westchester championship and a Final 4 berth. They were moments away from another Final 4 berth, heck of a run for these seniors."
Conrad Hardie and Chris Redhead were on fire in the first half, each scoring 20 points in all for the Foxes (15-7). All-Section senior Matt Toscano (3 3's) and Charlie Shevick had nine points apiece.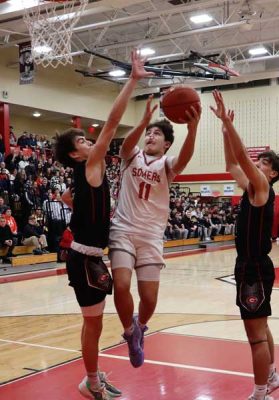 No.1 SOMERS overcame a sluggish start before running away from No.4 Rye, 59-47, in Thursday's quarterfinal round. All-Conference junior G Andrew Violante (20 points, 3 boards, 2 steals) was money for the state-ranked (No.11) Tuskers. Two-time All-Section swingman Matt Fitzsimons came through with 17 points, six boards, three assists and two steals, igniting a 16-2 third-quarter run that iced the game. Tuskers Mac Sullivan (8 points, 8 boards, 2 assists 2 steals), Nate Cohen (6 points, 2 boards, 2 steals), Dylan Ingraham (4 points, 5 rebounds, 3 assists) and Brady Leitner (4 points, 2 steals) were key contributors as the Tuskers advanced to their first Final 4 since 2015, in search of their second gold ball (1992).
Fitz knows Somers played a sub-par game against Lakeland back in mid-January, but he also knows what it takes to be a champion, having guided Somers as QB to a NYS Class A grid title as the state's player of the year.
"I think this game we are just going to have to stick to our game plan and when something goes wrong just forget about it and worry about the next play," Fitzsimons said of the gameplan against Lakeland. "Working on defense is another big key and being relentless on that side of the ball is what's going to keep us going throughout the game. Honestly, we just have to play our game and put trust in one another and the coaching staff."
Somebody other than Whyte-Luciano will have to step up for Lakeland because the Tuskers will do everything they can to gimmick and gameplan to stop him.
"We'll throw the kitchen sink at him," said Tusker Coach Chris DiCintio, who took Rye to the Final 4 twice in 11 years there and has now guided Somers to the Final 4 twice in his 11 years there. The coach had 131 wins at Rye and 133 wins at Somers, including one undefeated league chip at Rye and another at Somers #MirrorImages.
CLASS B/C
Last night's semifinals at the Westchester County Center were set to feature No.4 Rye Neck (16-6) against top-seeded Valhalla (21-1), and No.3 Byram Hills (17-5) against No.2 Hastings (18-4), but the road to get to the Final 4 was half the battle, literally.
In VALHALLA's 68-56 over No.9 Ardsley, Viking wing Mikaele Martinez paced the offense with a team-high 21 points while multi-talented, All-Section G Basiaka Butcher added 18 points, ran composed sets and worked the glass with resiliency. Devan Cooper added 16 points for state-ranked (No.7) Valhalla, which went up 18-13 after the first quarter before an explosive start to the second, leading to a 31-19 lead with 3:34 to go before the half and a Panther timeout, which was met by a Butcher block and a Vikings bucket for a 33-19 lead.
The Panthers trimmed that lead to 33-23 and then 33-25 with a pair at the line, then 33-27 before Butcher went to the line with 44.7 left in the half. He missed 1-1, but Cooper followed with a layup and a 35-27 edge with 10 ticks before Julian Amorosa buried a three at the buzzer to restore order at the half, Valhalla holding a 38-27 lead.
Valhalla extended to 43-29 and then 45-33 when Butcher took a great lead to Butcher for a 45-33, which extended to 48-35 Martinez drilled a 3 and was just getting started. Ardsley had a chance for and-1 to cut the deficit to 49-42 at 1:58 third and another Panther 3-ball cut the Viking lead to 49-45 with 1:00 left in third.
Butcher then hit a pair at the line for a 51-45 lead, but Ardsley answered, 51-47, heading into the fourth quarter. A runner along the baseline by Martinez spotted Valhalla a 53-47 lead, but Ardsley answered with an easy bucket, 53-49, before Martinez splashed big from distance, 56-49, Vikings with 6:40 left. Ardsley went to the line for two, 56-51, but a putback bucket by Martinez gave Valhalla an insurmountable 58-51 lead with 3:10 to play.
"They had a little momentum in the fourth quarter," Butcher said. "We knew it was gonna be a tough game. Martinez hit big threes and did his thing all night, and this is what we wanted all season. We've been talking about getting to the county center, now we're here. We have to make the most of it, and we're really excited to show everyone the type of team we are."
Butcher scored at 2:20 in the lane for a 60-51 lead and Cooper was cool at the stripe down the stretch, hit four free throws on four attempts and sinking another bucket to close things out.
Valhalla will be playing at the County Center for the  third time in the six-year tenure of veteran Coach Rich Clinchy. The Vikings fell to Blind Brook in the 2019 Class B semis and lost to Hastings in the 2020 Class B finals. The Vikings enter the Class B semis with a record of 21-1, setting a school record for most wins in a season. Valhalla last raised a gold ball as the 2009 Class C champions under former Coach Dave Greiner, the fifth in program history.
BYRAM HILLS played top-flight defense in its 57-36 quarterfinal round win over No.6 Irvington, leading the Bobcats (17-5) to the Final 4 to face a Hastings club (18-4) they lost to by three points back in Week 1. Since getting thumped by Class C Tuckahoe, the Yellow Jackets have won 15 in a row but with minimal jaw-dropping wins.
Bobcat Brody Ceisler has found his stroke of late, stroking a team-high 15 as state-ranked (No.20) Byram Hills secured its fifth County Center Final 4 appearance since 2011. Silky All-Section G Tyson Repa added eight points and clutch play-making. Luca Scali and Sean Siegel finished with eight points each.
"We played a solid defensive game against Irvington and we look forward to Hastings," said 21st-year Bobcat Coach Ted Repa, who will lead his club to the County Center for the eighth time since 2011, the first year Byram broke through. Byram has advanced to four previous finals (2011, 2013, 2015, 2016), winning gold balls in 2011 and 2016, plus the 'Covid Regional Title' during the Covid 2021 season. A tough schedule has prepped the Bobcats for a deep run.
No.10 PLEASANTVILLE gave No.2 Hastings fits before falling to the state-ranked (No.10) Yellow Jackets, 48-45. Keith Capuano's double-double (15 points, 12 rebounds) was too much to overcome for the Panthers (11-11), who saw Caleb Bronkema score a game-high 16 points while three-point sniper Dermot McSpedon added 13 points in the season-ending loss.
No.4 Rye Neck eliminated BRIARCLIFF, who struggled mightily in a 56-23 season-ending, quarterfinal loss.
CLASS AA
Both Examiner-area clubs – No.5 WHITE PLAINS and No.8 OSSINING – were eliminated in a pair of woulda, coulda, shoulda quarterfinal games. Both Coach Spencer Mayfield's Tigers (15-7) and Coach Mike Casey's Pride (12-9) were oh so close to a Final 4 berth but were denied in the waning moments.
White Plains suffered a brutal stretch of play midway through the second period, allowing the Red Raiders to take a 27-16 lead with 2:20 before the half, but were able to cut it to 27-21 with 1:30 to go before the half ended with the Tigers trailing 31-24 en route to a season-ending 66-60 setback.
The Tigers came out of the half in total control cutting the deficit to two, 35-33, with 5:31 left in the third, forcing a Red Raider timeout. The Red Raiders opened up 39-33 lead before a White Plains 3 cut the deficit to two, 42-40, An and-one layup by Myles Johnson  gave White Plains a 43-42 Tiger lead at 1:32 of the third and a well-orchestrated, two-fisted slam by All-Section G Menzy Carden at the buzzer ended the third with White Plains stealing momentum and taking a 45-43 lead into the fourth. White Plains' 2-3 zone had been a problem for North Rock and a steal led to another White Plains hoop for a 47-44 lead, but the Red Raiders would slowly assume control from that point forward after a critical call went against the Tigers.
A deep North Rock 3 at 4:41 gave them a 49-47 lead and a technical foul led to two more points, the ball and a 51-47 lead with 4:39 to play. On the ensuing possession, the Red Raiders drilled another 3 for a 54-47 lead with 3:42 left, which extended to 56-47 at 3:08 left, a hole too deep to dig out of, despite a 3-ball by All-Section F Logan McCormick to make it 56-50 and a pair of Carden layups that cut it to 62-56 and 63-58. Carden finished with 16 to lead the Tigers, who also got 14 from McCormick. Daniel Herzner (12 points) and Johnson (11) provided the Tigers with four double-digits scorers, which wasn't enough.
State-ranked (No.14) and top-seeded Clarkstown South was on the brink of having its side of the bracket busted by No.8 OSSINING but instead held on for a 53-51 quarterfinal win despite a game-high 23 points from Pride hotshot Kris Sing (5 rebounds). Darien Blalock added eight points and four boards in the season-ending loss. Isaiah Ahlers (7 points), Dominique Bautista (6 points, 8 boards) and All-Section G Jaiden Newton (6 points) were all big in a losing effort, but the Pride were as close as they've ever been to ending their 40-year County Center drought during what can only be deemed a successful campaign.