Yorktown Just Trolling Along; (No.25) P'ville Ranked Nationally
News Based on facts, either observed and verified directly by the reporter, or reported and verified from knowledgeable sources.
We are part of The Trust Project
By Ray Gallagher, Examiner Sports Editor @Directrays, & Jonathan Martirano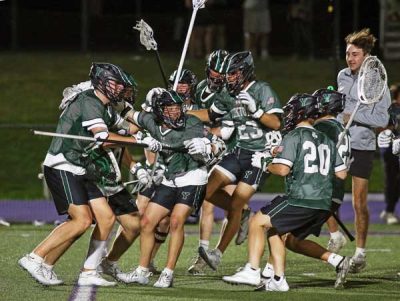 It seems like this could be one of those years when everyone is taking the bait… following a line of chum that might end at one's own peril should they sink out too deep in a tide that might eventually swallow one whole. Class B Yorktown did just that to host Scarsdale in last Wednesday's 8-7 come-from-behind win over the host Raiders, the two-time reigning Section 1 Class A champs.
Yorktown, the former 40-time Section 1 champs, haven't had a coronating moment since 2017, and they appear to be trolling the tide of doubters/skeptics, who think they can't regain the trident and strike a 2023 title.
With a defense anchored by a freshman goalie, skeptics are lining up to disavow the notion that the Huskers (2-2) are ready to reclaim the glory that comes with the jersey, but young Hunter Mezzatesta will defy anyone who thinks he's not ready for center stage. He's still about 650 saves away from breaking Yorktown goalie coach Joe Colarusso's school record of 703 career saves, but make no mistake that record is toast by the time this kid finishes what could be an all-time great career should he remain as grounded and humbled as rumor has it.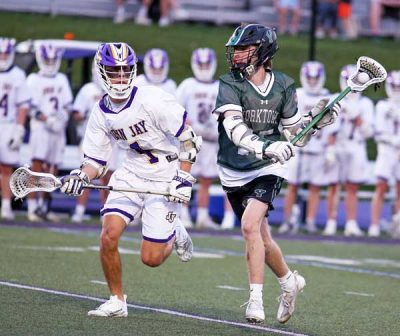 Colarusso would know, having trained Mezzatesta for several years now, even doing so in Florida during the long winter months.
"He's special," Colarusso said of Mezzatesta, who had 15 saves in the win over Scarsdale, including a spectacular game-saving stuff, before adding 16 more saves in Friday's 9-8 win over host John Jay CR.
Yorktown is kind of like the New England Patriots of Section 1 lax; very tight-lipped and close to the vest. But they know they have a fantastic last line of defense for the next four years.
"He is beyond his years," Colarusso said. "And we also have a sophomore goalie (Sam Brown) who's really, really good, too.
"Hunter just loves to be between the pipes. Very smart kid, too," he added.
With brains, ability and a staunch close defense holding down the fort – juniors Ryan Cane  (All-League, Loyola University Maryland), Christopher Constantine (All-League, Lehigh University), Conor Duncan (Monmouth University) and  versatile M Justin Meyreles (All-League, Wesleyan University), Brady McEnroe, Jack Schietinger – Yorktown has reemerged as the team to beat in Class B this spring: If defense wins championships.
Defense prevailed in the win over Scarsdale, but it was the stick of Union-bound senior Jack Duncan that provided the winning spark for the Huskers, scoring the last two goals. His third and final tally put the exclamation point on the victory. Meyreles added a pair of goals while Schietinger, lefty-cranking Andrew Weissman and Constantine each scored once.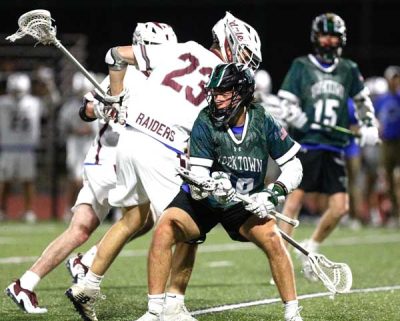 Yorktown will still need to ride the hell out of its opponents, force turnovers and gobble GBs at will while it figures out its deficiencies on offense as April turns to May (just 19 shots and two face-off wins vs. Scarsdale).
Against John Jay, Duncan supplied more of the same, delivering four goals and two assists in yet another nail-biting, come-from-behind triumph of the Wolves. In yet another game the Huskers might have lost last year, Yorktown dug deep and figured out a way to win. Weissman notched a hatty. Gianluca Marchini – the freshman! – scored the game-winning goal from Jack Duncan and added an assist. Conor Fastiggi scored a goal and Mezzatesta did his thing between the pipes.
"We are a tight group of guys who really enjoy playing together and just want to win for each other, our coaches, and all the fans that come to support us," said Duncan. "I think each and every one one of us is just having fun and enjoying playing together everyday."
Chances are they'll be doing so well into late May, most likely May 30th (6:30 p.m.) for the Class B finals at their own Charlie Murphy Field…
In other Class B action, MAHOPAC outlasted SOMERS, 8-7, in yet another thriller during a telling week of action. Indian junior Danny Koch (2G, 2A, 6 GB) delivered scores and feeds while  Ryan Geoghegan (3G) had a career game. Gavin Viglucci (2G) and Jake Degnan (1G, 1A) provided pivotal plays and  M Chris Morris won 8 of 19 at the X. Mahopac G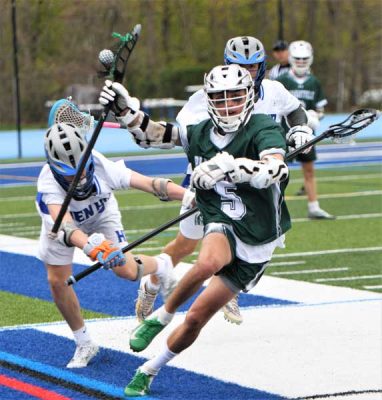 Tommy Jacobellis (8 saves) and Somers keeper Landon Pepe (12 saves) were in it to win it.
"Yeah it was great to get the win, but there's always room for improvement," Degnan admitted after the Indians improved to 2-3 overall, 2-1 vs. Section 1. "We have a game plan for every game, and if we stick to it we are moving in the right direction."
With the win, Mahopac remains very much in the conversation of "last-two-standing" when it comes to Class B, which only has ten teams lined up for the postseason.
In the first quarter, Somers scored first with an early goal three minutes in after Miguel Iglesias found a wide open Grayden Carr in front. After the defensive lapse by Mahopac, they finished the quarter strong with three goals in the final five minutes, two from Viglucci and a buzzer beater from Geoghegan as the Indians held a 3-1 lead at the end of the first quarter.
In the second quarter, Mahopac scored first with two early goals from Koch and Degnan to make it 5-1, but Somers followed with a goal of their own less than a minute later from Iglesias. With only five minutes remaining in the first half, the Indians would notch another one from Geoghegan, his second of the game and the 6-2 lead. Somers would not let that get to them as a late goal from Nick Newman cut the Mahopac lead down to 6-3.
After a slow start for both teams in the third quarter, the Indians notched one first with five minutes to go with Geoghegan getting the hat trick and the 7-3 lead for the Indians. However, Somers answered with three goals to end the half with one from Mason Kelly and two from Mac Sullivan and suddenly, it was a 7-6 game heading into the fourth and final quarter.
After only a minute into the final frame, the Tuskers continued their comeback, a goal from Kelly tying the game at 7-7. After being up 5-1, the Indans allowed six goals, including four straight as Somers crept back. The teams continued to battle it out in the remaining time, as both teams had grade-A chances to take the lead late. With two minutes remaining, Mahopac held possession in the Somers zone, and Koch came up the left side, cut it, snapped a defender's ankle and shot the ball past Pepe to break the tie.
Tusker Matt Mayfield won 10 of 13 on faceoffs, triggering  a 5-0 run that brought Somers (3-3 overall, 3-2 vs. Section 1) back from a major deficit, which Mac Sullivan (2G, A) nearly erased.
Mike Rettberg scored four goals for the Indians in their 14-8 loss to visiting Iona Prep earlier in the week.
Sullivan (3G, 2A) was clutch in the Tuskers' 12-7 win over Class A CARMEL. Ryan Brush (2G, 3A) had a career game and Nick Newman (2G, A) supported Pepe (15 saves). Tusker Luca Ploger scooped five GBs to afford possession against the Rams (2-2), who were paced by Thomas Connolly (hat trick), Matt Risely (2G) and Ryan Able (2G). With just 11 teams in Class A this year, Carmel should be shooting for their first Final 4, but it'll likely have to go through Scarsdale and/or Mamaroneck to get there.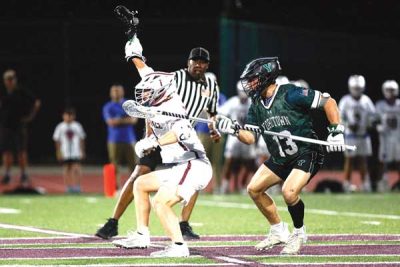 Mercer Island (WA) went back to the west Coast a happy unit after posting a 6-5 win over host LAKELAND/PANAS despite a solid effort from Kyle Gallagher (2G, A), Oban Rader (G, A), Vinny Savastano (G, A) and Will Moore (G), who all found the back of the net for the Rebels (3-3, 2-2). G KC Bryan had 17 saves in the loss for the Rebels, who were also bounced by defending Class B Champion Rye, 11-5, which is emerging as the favorites in Class C.
FOX LANE had a rough ride home after Saturday's 7-6 loss to host Wappingers. Tate Morrow (4G, A) flourished for the Foxes (3-3, 2-3) while Jack Cicchelli (2G) and G John Hamilton (10 saves) came up big. Chicchelli (2G,2A) added four points in the Foxes' 11-6 loss to Arlington while Ryan Nathan added a pair.
GREELEY put a 16-0 drubbing on Class C BREWSTER when Jack Holub led the put five between the pipes for the Quakers (4-1, 4-0) and Jameson Blakeslee and Dylan Zarr each bagged a hat trick. Greeley G Toby Moscow (9 saves) notched the shutout over the struggling Bears (0-5). We'll find out if the surging Quakers are legit when they take on Somers April 22nd in a true test of character.
CLASS D
Ranked No.25 nationally by Inside Lacrosse, PLEASANTVILLE just keeps on keepin' on after the undefeated Panthers pummeled host HEN HUD, 16-5. The balance throughout the scoresheet is impressive to say the least.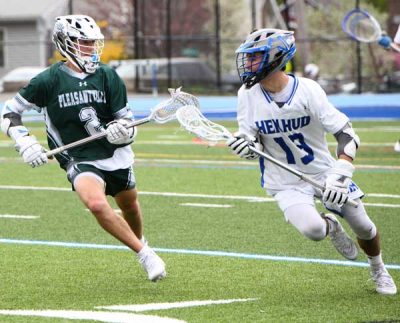 Panthers Hank McCourtney (3G, 2A), Aidan Cotter (1G, 2A), Nick Reich (1G, 2A), Daniel Picart (3G, 3A), Emmet McDermott (3G, 1A), Erik Coleman (2G,1A), Michael Hundzynski (2G), Shane Mueller (1G) and David Hundzynski (2A) all crushed it on offense while the Panther defense limited Sailor hotshot Dean Hiltsley to just two assists. Ryan Clark, Dylan Lennox, Logan Moore, Thomas Popolizio and sophomore James McManus all scored for the Sailors, who trailed Pleasantville led 7-0 after 1 quarter and 10-3 at halftime. Panthers David and Michael Hundzynski combined to win 22 of 25 face-offs in a game that featured a paramount cause for Mental Health Matters, which was commandeered by Sailor ATC Meg Greiner, who brought the support like only she can.
"We are a team," Panther captain Daniel Picart said. "The fact that we have so many scorers makes it easier for all of us since we don't see many double teams. We have weapons, yes, but it's the defense this year that is playing great. We know we can do what we can on offense because of the defense and goalkeeping. We're not looking to the future yet. Still one game at a time and staying healthy is what we think about."
HALDANE had one of the biggest weeks in program history, crushing Sleepy Hollow, 14-2 as expected, but following that up with an 11-5 win over Class A Arlington. Evan Giachinta (3G, 3A) paced the Blue Devils with six points, leading them to the first win over the Class A Admirals. Liam Gaugler also had three goals. Rhys Robbin scored twice and Jordon Hankel made 10 saves for the Blue Devils (5-1), who are hoping like heck for a crack at a Final 4.
"It was a great game for us," Haldane Coach Ed Crowe admitted. "Being the smallest school in Section 1 and beating a school that's one of the biggest was amazing. Our defense was solid between Thomas Tucker, PJ Ruggiero, Brody Coreless, Nate Stickle and our goalie Jordon Hankel. Evan Giachinta is off to a great start and has been playing very consistent over our first six games."
Giachinta (1A) dropped six more goals on Sleepy while Fallou Faye added four goals and an assist. Liam Gaugler scored twice for the Blue Devils, who were set to be tested by Greeley and Wappingers this week, but that May 15th regular-season finale against Briarcliff will tell us all we need to know about Haldane's postseason chances.
Jameson Wong made 15 saves in BRIARCLIFF's 10-3 loss to Ridgefield (CT) while Josh Newman, Lucas Proctor and Shane Dean scored for the battle-tested Bears (2-4, 22), the reigning Class D Section 1 champs.
CROTON picked up its first win of the season when the Tigers (1-2) edged PUTNAM VALLEY, 10-7, which was a shocker to PV for sure. Sean Grimes (3G, 2A,  70% FO wins) owned the youthful PV Tigers (2-4), who have lost four in a row. Carter Schmidt (5g,A) had his way for Croton and Robby DeLasho (16 saves) was stellar between the pipes.
Chris DeGiorgio had three goals and an assist for PV in their 12-7 setback to Irvington.
WESTLAKE edged Harrison, 8-6, and improved to 2-1 on the season on the strength of
Tyler Howard (2G, 1A), Aidan Schutt (2G, 13-16 FOs) and Chase Sorby (2G).
CLASS C
BYRAM HILLS was hoping for a better result in the Bobcats' first big test of the season, but 2022 Class D finalist Bronxville got the better of Byram (3-1) in a 13-6 thumping. Gavin Javorsky (1G, 1A) and the Bobcats did not have the necessary answers to slow the battle-tested Broncos down. The Bobcats, who also crushed PUTNAM VALLEY, 19-4, have a big test ahead this week against Class B Mahopac. With Pelham, Rye and John Jay CR in the way, the Bobcats are hoping for a crack at the Final 4.
HEN HUD is hoping the same and a 14-9 win over Wappingers did much for the morale of the Sailors (3-4, 2-4) when sophomore Dean Pastalove (6G, 1A) had what we in the business call a career day. He helped the Sailors erase a 7-5 deficit with an 8-0 run. Hiltsley scored four goals and McManus(2G, 5A) was a choice playmaker.
CLASS A
WHITE PLAINS went to overtime and Rickey Strobel needed two shots but got the overtime winner for the Tigers (2-4) in an 11-10 win over Eastchester.
Coaches are encouraged to hit up our boys' lax beat writer at Raygallaghersports@gmail.com or tag @Directrays after each game with results and comments for inclusion in our weekly notebook #PleaseThanks.