Yorktown Handles Mahopac, Deals 15-8 Loss to Indians Somers Hangs Another L on Struggling Hen Hud; L/P Edged in OT
We are part of The Trust Project
In a local battle between Class B's five-time defending champion Yorktown and 2015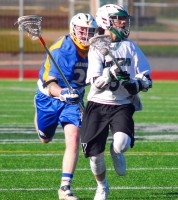 Class A runnerup Mahopac last Tuesday, the Huskers won the battle for possession and asserted itself as the team to beat in this neck of the woods during a convincing 15-8 non-league win over the visiting Indians.
Steve Veteri (3G) scored the game's first goal, but Mahopac took a 2-1 lead on a goal by Christian Donahoe and one "own-goal" credited to Dan Foley. Yorktown M Dom Cioffi, who had two goals and one assist, quickly made it 2-2 before Thomas Donatelli gave the Huskers a lead they would never relinquish.
Sam Spallone made it 4-2 and Veteri tickled the twine again before Justin Cavallo (4G, 1A) and Kyle Casey scored to make it a 7-2 lead. Mahopac's Christian Donahoe stopped the bleeding just before the half to make it 7-3, but the Huskers cashed in with three more unanswered goals to open the second half for a 10-3 lead. Yorktown scooped up 36 GBs and converted often, thanks in part to outstanding D Brett Makar, who added one goal, two assists and scooped up six GBs.
Tom Murray had a pair of goals for Mahopac and LSM Aidan Hynes led the Indians with five ground balls.
NWE/Putnam Fab Five Poll (teams from N.West & Putnam only)
No.1 YORKTOWN – Coach Marr's Class B Huskers (3-1) were pretty strapped in a 12-3 loss to a Darien club ranked No.6 in the nation, according to Under Armour/Inside Lacrosse rankings. There's work to be done here with Ridgefield, Bronxville and Melville leading up to an April 14th date at John Jay.
No.2 MAHOPAC – The Coach Mohammed/Tanzi–led Class A Indians (1-2) rebounded nicely from the Yorktown setback to post a 10-5 win over Greeley Saturday. Dan Foley (3G, 4A) was an absolute beast, feeding and finishing with equal effectiveness. Johnnie Ward (3G, 2A) has emerged into the finisher we expected he would. Tommy Murray (2G,1A) is turning into a fine option. Big test today vs. John Jay.
No.3 LAKELAND/PANAS – Coach Lindsay's Class A Rebels (1-1) saw the emergence of young JoJo Janavey, who blew up with 4G in L/P's 15-2 win over Putnam Valley. Kevin Prunty (3G, 2A) Sean Makar (2G, 2A) and Joe Cortese (2G, 2A) were each featured offensively. But it was the defense that deflated in Saturday's 9-8 OT loss to John Jay where the Rebels squandered a four-goal lead when Hunter Keech bagged his third of the day in the extra session. Janavey (2G, 1A) and Prunty (1G, 2A) led the Rebel attack. Cortese and Makar each had two goals as the Rebs built a 7-3 lead. "We had it," Prunty exclaimed! "They scored the first goal in the fourth and gained some momentum, and we didn't possess the ball enough to keep it on our end. I missed opportunities to score in the fourth as well. We played hard the whole game and we'll learn from this one."
April 9th at defending Class A champion Mamaroneck should be quite the telling date.
No.4 SOMERS – Coach DeGregorio's Class B Tuskers (2-0) saw Mike Cliff and Graham Roediger each finish with a hat trick in Somers' stunning 13-7 win over Hen Hud. Andrew Lowman (2G, 3A) was another Tusker doing damage to a sinking Sailor defense. Tuskers hosting Mahopac this Saturday afternoon in what should be quite the doozy and the start of an absolutely brutal 7-game stretch: Somers gets Mahopac, L/P, Fox Lane, Rye, Yorktown, John Jay and Bronxville from April 9-23. I'll settle for 2-5 but 3-4 would be something else.
No. 5 HEN HUD – Flabbergasted is the word that comes to mind when thinking about the start Coach Solly's Class C Sailors (0-3) have had. Schedule was brutal to begin; with P'Ville, Somers and Fox Lane out of the gate, but the 47 goals allowed, including 13 in the Somers loss, is pretty alarming. Interested to see if they can get it together in today's clash with a Putnam Valley (1-4) team that struggled to eke out an 11-9 win over Carmel behind a goal and three assists from Kevin Gallagher and a hat trick from Conner Cronin.