Yorktown Grad's Life of Compassion Cut Short
News Based on facts, either observed and verified directly by the reporter, or reported and verified from knowledgeable sources.
We are part of The Trust Project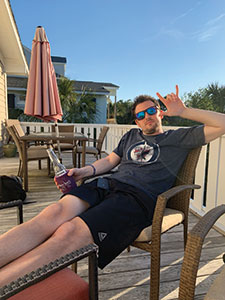 When Ryan Calvi was six years old, he and his mom, Tami, visited the Metropolitan Museum of Art in New York City. On their way out, Ryan was drawn to a homeless person on the street and asked his mother if he could help the man. He graciously left a dollar bill in his empty sneaker.
That innate compassion had staying power. A quarter-century later when he and his future wife, Erin, headed out to breakfast from their New York City apartment and encountered a man on the street asking for food, Calvi engaged the man in conversation and learned he was an interior painter for offices and homes but he had been out of work.
"Ryan told him we were going out to eat and asked what he wanted," Erin recalled. "The guy asked for a Reuben sandwich, and Ryan said, 'Okay. You got it.' When we returned with the sandwich and some sides, the guy was stunned, said he would never forget it."
Calvi, who always had an affinity for those in need, died in February, just one month after his 31st birthday, in an upstate skiing accident. For the young man who had been skiing since he was four and was passionate about the sport, the accident was unexpected and traumatic for his loved ones and friends.
Known as a person who would effortlessly bring positive energy into a room, Calvi's sense of good will was infectious. All who knew him attested to the extraordinary, uplifting impact he had on everyone he knew.
His passing has been difficult to reconcile for his family and countless friends who deeply feel his absence and describe it as an inexplicable void.
It has also reverberated throughout Yorktown, Calvi's hometown. The outpouring of support and condolences are seen in the hundreds of handwritten cards received by Erin and her parents, John and Cathy Cavan, Ryan's parents, Rocco and Tami, and his sister Abigail. Eight large panels of photographs of Calvi's life were created by Tami's two close friends. The panels span a visual history of Calvi's short life, from a four-year-old on skis to his and Erin's wedding last summer.
Erin was his sweetheart for 10 years, the couple having met during Calvi's senior year at Marist College where he majored in sports journalism. When their wedding was postponed because of COVID, they adopted a rescue dog and named him Benny. After they married, they purchased their first house.
Calvi earned an Emmy Award for producing baseball-related video content for live television broadcasts on MLB Network shows such as MLB Tonight. It was a job he valued highly, but the grind of the schedule didn't seem as though it would fit into starting a family and so he considered other alternatives.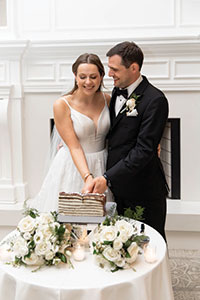 Gary Kittridge, Calvi's former physical education teacher at Yorktown's Mildred E. Strang Middle School, remembered Calvi as a young, good-natured and optimistic student. Calvi came to Kittridge while working for MLB Network.
"He asked me if he should become a physical education teacher and I said 'What took you so long? You will be perfect for this.'"
That's when he enrolled in the Manhattan School for a physical education certification.
When Kittridge learned of Calvi's death he said, "I know he's in heaven teaching class, and when I go up there, he will put me through my paces to see if I'm heart-healthy."
In some of the many pictures, Calvi is standing proudly with his young students in P.S. 195, a Bronx elementary school, where for the last five years he taught physical education and coached basketball.
Erin Calvi said her husband quickly bonded with his students. She remembered when a student on Calvi's basketball team had only one pair of shoes which was riddled with holes and wrapped with tape.
"Ryan was deeply affected and said to the boy 'What's with the shoes?'" Erin said. "The boy said they were the only shoes he had. Ryan collected money from the other coaches to buy him new sneakers. The boy was thrilled."
Surrounded by his and Erin's family in the hospital after his skiing accident, Calvi never regained consciousness.
"But because everything was still beating on (its) own, I have to believe he knew we were there with him on some level," Tami Calvi said.
His final act of generosity was in his last hours at the University of Vermont Medical Center Hospital in Burlington. When it was clear that he wouldn't overcome his injuries, his wishes to donate his organs were carried out. In what is known as an Honor Walk, some 100 hospital and organ donor staff members lined both sides of the hallway as Calvi's family slowly wheeled his bed from the Intensive Care Unit to the operating room. His penchant for helping others saw Calvi's organs and tissue ultimately save some 80 lives.
Memorializing Calvi's life to reflect his ebullient nature prompted the family to hold an uplifting Celebration of Life.
"When one of Ryan's friends passed in 2021, it was the first time we went through a major loss like that together," Erin said. "They held a Celebration of Life for him and Ryan and I both acknowledged that rather than having a wake, a party with food and drink would be what we both would want."
The event for Ryan was held in early March at the Putnam County Golf Course, and 325 people attended. The eight panels of photographs were placed around the large dining hall, along with smaller pictures of Calvi with friends and family on the tables for people to take home. There was also a continuous slide show of special moments in Calvi's life.
Tami Calvi said she was approached by folks she didn't know, such as Ryan's friends and a college buddy's mother.
"They asked me what I did to bring up a great kid like Ryan because they wanted to do the same thing, and did I have any advice," she recalled.
Another tribute to Calvi was at P.S. 195 where they held a basketball game in his honor. The Calvi and Cavan families along with friends were invited. For Tami, the outpouring of gratitude was overwhelming.
"We were floored with the stories told by school colleagues, security guards and co-workers," Tami said. "We knew he was a great kid but not to the magnitude of what we heard."
Also visiting the school with Calvi's family was Jennifer Sparano, a speech and language pathologist at Strang Middle School. Sparano's mother grew up with Calvi's mom.
"Ryan was a very avid sports player and he loved being a physical education teacher," Sparano said. "It was great to meet all his students."
Another close friend of Calvi's, Dylan Kershaw, started the Ryan Calvi Memorial Fund GoFundMe page to help pay for the medical bills coming in that may not be covered. To date, several hundred donations totaling $109,184 have been made. Funds also may go to an animal rescue group.
"My hope is that everyone can be a little more Ryan," Erin Calvi said. "Smile freely, live passionately, respect people of all backgrounds and abilities and tell people how much you love them every chance you get. "
Tami Calvi said a poster still hanging in his childhood bedroom showed his passion for skiing.
"The caption says Ski 'Til you Die. There was a comfort in knowing that when he passed, he was truly doing what he loved," she said.
For more information, visit https://www.gofundme.com/f/ryan-calvi-memorial-fund.