Yorktown Gas Station Cited for Price Gouging
We are part of The Trust Project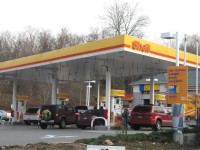 A Yorktown gas station was one of three inWestchester singled out by state Attorney General Eric Schneiderman for allegedly price gouging following Hurricane Sandy.
Schneiderman said the Shell station on Route 202 was notified about his intent to commence enforcement proceedings against them for violating the state's Price Gouging statue after a consumer complained about the station charging $5 a gallon for gasoline.
"Our office has zero tolerance for price gouging and we are taking action to send a message that ripping off New Yorkers is against the law," Schneiderman said. "We will do everything we can to stop unscrupulous individuals from taking advantage of New Yorkers trying to rebuild their lives."
New York State's Price Gouging Law prohibits merchants from taking unfair advantage of consumers by selling goods or services for an "unconscionably excessive price" during an "abnormal disruption of the market."
According to Citizens for a Progressive Yorktown, a group of businesses and citizens that supports the proposed Costco project, which will feature a fueling station for members, the owner of the Shell station has been linked to a group that opposes Costco. The continuation of the public hearing for Costco was held this week.
Douglas McGowan, a retired police officer and real estate professional who resides inYorktown, reacted to Shell's problems with the attorney general by saying, "I am really annoyed that any gas station would take advantage of citizens at a time when a major storm has upended their lives. These people are not good neighbors."
Shell was one of 13 stations overall in Westchester, New York City and Long Island that were part of what Schneiderman called the first in an expected series of actions taken in a wide-ranging investigation, triggered by hundreds of complaints from consumers.
The other two stations in Westchester identified were Mobil stations inWhite Plains.