Yorktown Digs Deep, Trenches Win vs. Mahopac
News Based on facts, either observed and verified directly by the reporter, or reported and verified from knowledgeable sources.
We are part of The Trust Project
Westlake Christens New Field with Victory; P'Ville, Somers Roll on
By Ray Gallagher, Examiner Sports Editor @Directrays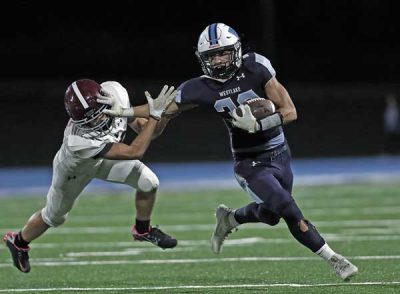 Football games are won in the trenches and that is where state-ranked (No.13) Class A  YORKTOWN took it to No.9 MAHOPAC in the second half of the host Cornhuskers' 19-17 league win over the visiting WolfPac, who grabbed a 10-7 halftime lead on a Kyle Pinto 27-yard field goal and RB Danny Koch's scamper to the pylon.
But the second half was all Yorktown and workhorse RB Dylan DelVecchio (30 carries, 180 yards) made sure, capping consecutive drives with a pair of rushing touchdowns to give the Huskers a 19-10 advantage, which they held until the final minutes of the fourth when Mahopac QB and recent Con Ed Award winner DJ DeMatteo found WR John Kearney (6 catches, 75 yards) for a five-yard score and a two-point game.
"We never gave up and knew we were in it from the start," Yorktown QB Kaden Gonzalez said.  "We weren't playing our best (in the first half) but then when the second half started we flipped a switch and we started to play our brand of football. We took it one play at a time."
Despite Mahopac players believing they had recovered the ensuing on-sides kick and had hopes for one final drive, Yorktown emerged from the pile with the pigskin to run out the clock and improve 3-0, their best start since 2019.
Again, the game was won in the second half where the Husker hog mollies did their thing.
"We just kept at it and didn't let up," Yorktown OL Jake Wilson said. "Dylan ran hard, and we took pride in trying to keep our drives going. We are a close-knit group that have always played together and just wanted to keep rolling and taking it one game at a time."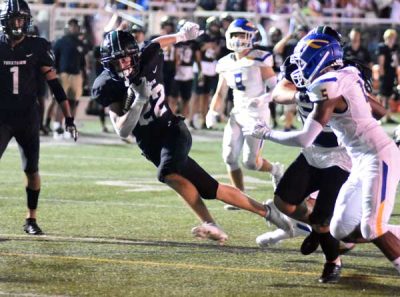 Yorktown QB Gonzalez (13 of 19 for 163 yards) found his top target, WR Tommy Costello (4 grabs, 81 yards) for the other Husker score from 24 yards out right down the seam of the Mahopac defense. Husker WR's Chris Constantine (5 catches, 21 yards) and Andrew Weissman (2 for 25) were also factors on offense, and were huge contributors on defense: Constantine (6 tackles), Weissman (9 tackles), Conor Duncan (6 tackles), Jack Ferone (7 tackles), Ronan Forde (6 tackles), Chad Bowen (5 tackles, sack) and Ryan Vogel (team-high 10 tackles) made life tough on the WolfPac offense. Koch finished with 108 yards on 19 totes and DeMatteo hit on 11 of 16 for 114 yards and a score, including two completions to sophomore WR/RB Nate Mascoll (31 yards). Owen Ryan led the Pac defense with11 tackles and a pick while Anthony Eppolito (8), Mascoll (6) and Dannyu Bossio (7) were in on a bunch of tackles.
Mahopac (2-1) hopes to recover from a tough loss as they head to state-ranked (No.1) Somers Friday night for a homecoming affair that should be lit at Tusker Nation while Yorktown hosts John Jay CR.
"Definitely a tough loss, considering I don't believe we played our best ball," DJ DeMatteo admitted. "However, (Yorktown) is a very good team, props to them. We are too, though. I'm not worried for this team, but it's definitely time to get back to work, as always. All we can do now is flush it, move on, and prepare for Somers, which should be a very exciting game, especially because we know it's their homecoming."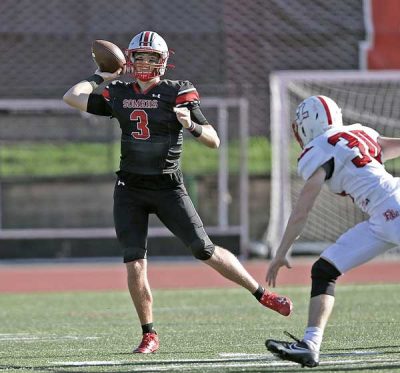 SOMERS, the two-time reigning Section 1 Class A champs, continued to look very much the part of favorites to three-peat after a 35-0 rout of visiting FOX LANE Thursday, exploiting the Foxes' pass defense for four TD passes by Tusker QB Mac Sullivan. The senior signal caller dialed up a pair of TD passes to Dean Palazzolo, including a 15-yard strike for 'Big Mac's' first and a 90-yarder for the final margin. In between, Sullivan found Miguel Iglesias (32-yard score) and Nick Newman (9-yard TD), for a career-best four TD passes. Tusker RB Mason Kelly opened the scoring and K Luke Cukaj hit all five PAT's for the top-ranked Tuskers (2-1).
Foxes James Minotti (8 tackles, 1 INT) and Brian Bailey (9 tackles) were busy all night on defense.
BREWSTER posted a 14-0 win over Pelham behind a stout defense to improve to 1-1 in a rematch of last year's devastating playoff loss. Senior QB Kevin Fox fired a TD pass to Matthew Thompson and RB Mohammed Barrie rumbled for 43 yards and a score on nine carries against a stroud Pelican defense that held the Bears to 90 rushing yards on 30 carries.
Grady Leonard hit on 13 of 18 passes for 280 and four TD passes, plus 75 yards on the ground, including another score.
WR Sean Perry (6 rec., 125 yards, 2 TDs) was his main man with Anthony Frobose (3 catches, 65 yards), Kyle Gallagher (2 grabs, 40 yards, TD & 6 tackles, 2 interceptions) and Riley Sand (15 yards, TD catch) were prime factors in the win over the winless Sailors.
Clarkstown South handed GREELEY (0-2) a 47-0 loss.
CLASS B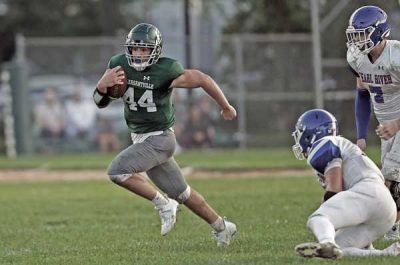 PLEASANTVILLE, though up 10-0 at the end of the first, discovered that procuring a third-straight sectional title will be anything but a cakewalk after holding on for a 23-13 win over visiting Pearl River Thursday in the the @break_the_hold game, highlighting mental illness. QB Aidan Picart delivered several darts to keep scoring drives alive, setting up a 46-yard TD run from Daniel Picart, the reigning NYS Class B Player of the Year, who led the way to 323 total yards by the state-ranked Panthers, including 245 on the ground.
The undefeated state-ranked (No.4) Panthers (2-0) will host No.11 Rye (2-1) Friday at 6 p.m. in what many are calling the game of the week.
CLASS AA
In an otherwise emotional week at CARMEL due to the departure of longtime Coach Todd Cayea, the defending Section 1 champion Rams (1-1) suffered a devastating 55-18 loss to host Arlington Thursday when state-ranked (No.17) Carmel was handed its first regular-season setback in 20 games. The state-ranked (No.22) Admirals will surely blow past the Rams in the rankings, as Carmel likely falls out of the top 25 and hopes to keep its collective heads in the right place after the departure of Coach Cayea. The reputation of the program is still at stake and the Rams remain one of the finest in Section 1.
CLASS C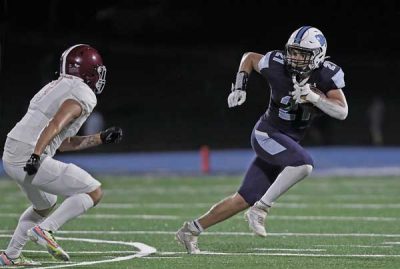 State-ranked (No.10) WESTLAKE bested No.18 VALHALLA, 11-8 in overtime, while the Wildcats (1-0) marked their turf by opening the season on their new turf field in front of a big, enthused crowd. Sophomore Anthony Nigrelli, a grinding offensive lineman by trade, booted a go-ahead 30-yard field goal to give the Wildcats the win, and  RB Chris Arrichiello ran for a tuddy and QB Michael Pagan found RB Chris Kalle for a game-tying two-point conversion pass with 3:02 remaining in the fourth quarter. The Westlake defense was superb in OT, turning the Vikings over on downs to end the game.
Wildcats Nick Castellano (7 receptions, 72 yards, fumble recovery), Kalle (4 catches, 40 yards, 35 on the ground) and Stephen DiNapoli (67 yards total offense) came up with just enough offense against a stout Viking defense that had pitched a shutout until late in the fourth.
QB Brendan O'Neil scored on a one-yard plunge for the Vikings (1-1) and hauled in a trick play for the two-point conversion. Bruising Viking RB Rob Foisset had 67 yards on 12 totes and Josh Bergey forced OT with an INT at the end of regulation.
Westlake will host Tappan Zee Friday while the Vikings host Woodlands.
Examiner area grid coaches are encouraged to contact raygallaghersports@gmail.com with results, stats and comments for inclusion in our weekly Grid Notebook.