Yorktown Athletic Director Receives Coaches Award
We are part of The Trust Project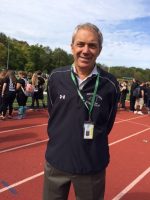 Yorktown School District Athletic Director Fio Nardone received the Don DeMatteo Service Award by the Section One Football Coaches Association during a banquet in Pearl River.
Nardone, who has been Director of Athletics and Physical Education in Yorktown the last 16 years, was named the Section One Athletic Director of the Year by the New York State Athletic Administrators Association in 2015.
"I am honored and humbled to be given this award which comes from the football association made up of my colleagues," Nardone said of receiving the service award last week named after a late varsity football coach and physical education teacher at Gorton High School in Yonkers. "But it is really about the students and how sports can enhance their educational experience."
Nardone was nominated for the award by varsity football coach Michael Rescigno, who said Nardone has been a long-time advocate of improving the game of football in all aspects.
"I have witnessed Fio make incredible contributions both locally and section-wide," Rescigno said. "Fio has been involved in the leadership of Section One Athletics in a capacity that cannot be defined by any one title. He has always donated his time beyond Yorktown because he believes that interscholastic sports are the cornerstone of education."
During his years in Yorktown, Nardone has overseen the construction of new turf and softball fields and the remodeling and renovating of the fitness centers and locker rooms at the high school and middle school. He also played an integral part in the renovation of the swimming pool, and recently received a $10,000 grant to fund a trophy showcase that will be unveiled this spring.
"Fio leads by example, models what he expects and supports our coaches, athletes and programs at all times," said Superintendent of Schools Dr. Ralph Napolitano.