Yoga Practitioner Studies How Technique Can Assist Incarcerated Youth
News Based on facts, either observed and verified directly by the reporter, or reported and verified from knowledgeable sources.
We are part of The Trust Project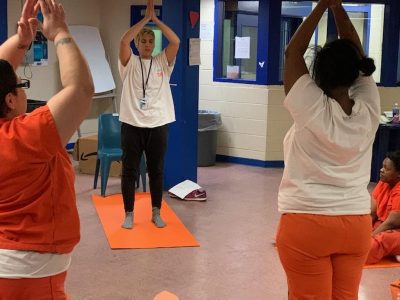 Croton resident Elisha Fernandes is a licensed master social worker, career yoga practitioner and the founder of Finding Peace Within (FPW), a foundation dedicated to helping trauma survivors heal through the practice of trauma-sensitive yoga.
Fernandes and her foundation were recently awarded a $10,000 grant by the Westchester Community Foundation to study the effectiveness of using trauma-sensitive yoga in partnership with Pace University to improve the outcomes of incarcerated young adults 18 to 25 years old.
We sat down with Fernandes to learn more about this specialized type of yoga and what her research is showing so far.
How did you first get involved in yoga professionally? What motivated you to do so?
Elisha Fernandes: I started teaching children's yoga shortly after I had my own children. I was inspired to teach after teaching yoga at my friend Katy Hoskins' summer camp, Promises for Children, in Sweetwater, Texas for youth whose parents were incarcerated. After my session with the youth, who begrudgingly participated, Katy contacted me about a phone call she had received. She said the grandmother of one of the girls called. They had gone to the pool on a hot afternoon, and for the first time, her granddaughter jumped into the deep end, touched the bottom, and came up laughing.
When she surfaced, her grandmother was shocked and scared, as her granddaughter never would go past her knees in the pool before. So, her grandmother asked her, "How did you do that?" and her granddaughter responded, "I remember Ms. Elisha's meditation, and I wasn't afraid anymore."
As I continued to work with children and my practice evolved, I realized that I was, and continue to, heal from a traumatic experience I had as a child. Working through this is a process, as I shared on the Today show, and to be able to share what helped me with others to those who have been historically and continue to be devalued, discounted and not provided the services they deserve and sorely need, continues to motivate me to continue this work.
Can you please define trauma sensitive yoga and explain how and why you got involved with it?
Fernandes: Trauma sensitive yoga (TCTSY) is "an empirically validated, clinical intervention for complex trauma or chronic, treatment resistant PTSD." It combines the methodology of Hatha yoga with its five tenants: interoception (ability to understand and feel bodily cues), shared authentic experience, invitational language, non-coercion and choice to guide survivors of traumatic experience towards feeling safe within their bodies and build skills to address how trauma is held in the body.
I stumbled upon TCTSY at a yoga conference and was interested to see if it was helpful in working with the populations I served. Initially, I found it frustrating and didn't like it, and found it not challenging enough and too wordy especially since I was an avid Power Yogi at that time. Yet, when I began to use the technique, I was brought to tears. I was able to experience first-hand the power TCTSY had over my own practice and the people I served. I saw men and women with some of the most violent crimes practice this with me, and then share with me how they found a peace they had never experienced before in their lives.
Why is there an expectation that it would be particularly useful in helping incarcerated youth?
Fernandes: Research has found that children with adverse childhood experiences and children in the juvenile justice system have experienced high rates of complex trauma earlier in life, which has long-term harmful effects on physical and mental health. According to an April 2017 report by Georgetown University's Center for Poverty & Inequality, at least 75 percent of youth in the juvenile justice system in the United States have experienced traumatic victimization.
How exactly does the yoga help with such outcomes?
Fernandes: According to research, the rate of recidivism significantly reduces by approximately 40 percent after meditation and yoga programs are utilized. They help build a foundation of resiliency, develop skills of leadership and self-determination, enhance receptivity to rehabilitation and foster compassion and healthy engagement with others, establishing a solid foundation in transforming their values to positively support their peers and community.
Can you summarize your research study?
Fernandes: In this project, I have partnered with Dr. Kimberly Collica-Cox, lead researcher and professor of criminal justice and security at Pace University, Dr. George J. Day, associate professor at Stephen F. Austin State University in Nacogdoches, Texas and two Pace University research assistants, Alicia Bennett and Cameron Maruszewski. At the end of the project, we will have offered TCTSY to approximately 50 incarcerated male residents.
Participants complete a pre- and post-assessment that includes multiple evidence-based assessments for stress, anxiety and depression, measuring self-control, self-esteem, emotion regulation, resiliency, mindfulness and self-compassion. After the pre-assessment, they participate twice weekly in one-hour TCTSY classes for eight sessions. They are then awarded a certificate of participation, and have a graduation ceremony to recognize their accomplishments, and complete a post assessment.
What has been the reaction from the prisoners? Have they been accepting? Have you encountered any skepticism or resistance about doing yoga?
Fernandes: This is a voluntary program for them. I have encountered a lot of skepticism and resistance from staff and residents each time I begin the program, yet over the course of the class there always seems to be a positive shift of what they originally thought about what yoga was and how it could benefit them in their lives.
All participants engaged in the program have had positive feedback about the program and how it has helped them. Here are some excerpts from their feedback:
I feel different. Before yoga, I had too much stress and now, I feel better. I want her to do the class again. I feel more relaxed.
It taught me a lot about myself. It taught me to be calm and it taught me how to control myself. I can do that much better than before. I looked forward to the class.
Yes, some days are better than others but now I know how to deal with things in a more positive manner. I have a big weight off my shoulders.
It's all I looked forward to. It keeps me in a positive mind even though I'm in jail and it makes me feel like I'm in a different environment when I'm doing it.
What do you feel are the major takeaways from what you have learned so far?
Fernandes: Each time that I step into the facility, I learn something new. I learn how to connect with others. I learn how to offer different shapes/forms (what we call the yoga poses). I learn how to be respectful and earn respect from the people I interact within the facility. I am most inspired by the residents' stories of arrival at the facility, their creativity and the importance of always being "on" to survive, and knowing you are not in control of what will happen to you or where you will end up from day to day.
What most inspires me is that many of them don't give up. Being around this inspires me to not give up hope.