Work Begins on Tri-Municipal 9/11 Memorial
We are part of The Trust Project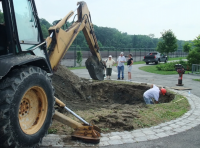 Nearly three years after a Croton resident came up with the idea to have a local memorial for victims of the Sept. 11, 2001 terrorist attacks, ground was broken last week for phase one of the 9/11 Remembrance Memorial at Croton Landing.
Only a few members of the committee that has been fundraising for the project were on hand for the low-key moment on July 23, but project coordinator Janet Mainiero said the accomplishment was not lost on those who witnessed the first scoop of dirt.
"It was exciting and exuberant," said Mainiero. "It was felt by all the committee members. It was a perfect spot for it."
Things have not always gone smoothly for Mainiero and the committee as fundraising efforts proved to be a challenge. They also met some resistance from some officials in Cortlandt, Croton and Buchanan that almost jeopardized the memorial. Following some pleading, Cortlandt agreed to donate $15,000, while Croton approved $3,900 and Buchanan $1,100. The committee also contributed $15,000.
"I was naïve. I had no idea it would be so much work," Mainiero said. "There were times when it was very discouraging, When you hear some people say we have enough 9/11 memorials, it's hard to wrap your mind around that. Through the whole thing, (Cortlandt Supervisor) Linda Puglisi, (Croton Mayor) Leo Wegman and (Buchanan Mayor) Sean Murray always supported us and we were always grateful we had them on our side."
Besides relying on the expertise of engineer Rocco Mastronardi and architect Jim Rhodes (both members of the committee), five local contractors have stepped up to offer their services to the memorial free of charge, saving thousands of dollars and putting the project on track for a dedication on Sept. 11 of this year.
The first phase will include a large boulder, a steel beam that was secured from the North Tower of the World Trade Center and a bronze plaque.
"Basically 99 percent of the labor and equipment is being donated by some gracious, very kind contractors who want to remain anonymous," Mainiero said.
Phase two, which Mainiero hopes to have completed by Sept. 11, 2013, will feature a statue of a woman reaching to the sky and a meditation garden. She projected the cost of phase two to be between $40,000 and $45,000.
"Once people see that what we have achieved through fierce determination, we hope more people will participate in our upcoming fundraisers to help complete the project," she said. "We hope that will wake people up."