Woman Who Fought Board of Elections Given No Assignment
News Based on facts, either observed and verified directly by the reporter, or reported and verified from knowledgeable sources.
We are part of The Trust Project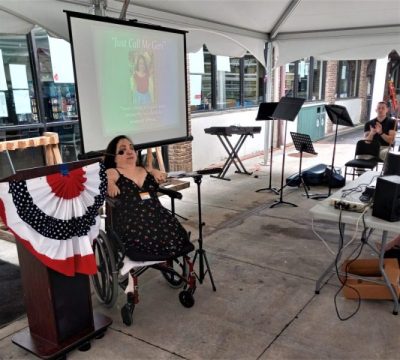 An Armonk woman who has previously accused the Westchester County Board of Elections of discrimination revealed Monday that she was never assigned a polling site for Election Day despite having successfully completed training in June.
Geri Mariano, who previously claimed that she was bypassed because of her physical condition, said when she reached out to the Board of Elections in mid-October to learn when the assignments would be distributed, she was told that those notifications would be sent out on or about Oct. 30.
Mariano was born with Diastrophic Dysplasia, a form of dwarfism and has used a wheelchair regularly since a surgery nearly 10 years ago.
She said she received no notification until Saturday night when an e-mail arrived at 7:22 p.m. from Republican Election Inspector Coordinator Rudy Perez informing anyone who received the correspondence and hadn't canceled or hadn't already received their Election Day assignment but still intended to work to contact his office.
"Since we are a couple days away from the election, I will send your assignment to work through email," Perez's notification read. "You can provide my email as proof, you will not have any issues."
He informed those who received his Saturday evening e-mail to reach out to him on Sunday at the office starting at 9 a.m.
Mariano called as soon as she saw the e-mail, then followed it up with her own e-mail a few hours later. She said that Perez called her back on a phone number that was different than what she provided, so she missed that call and did not have her subsequent phone calls or e-mails returned by him or anyone else at the Board of Elections into early Monday afternoon.
Mariano said she wasn't sure if this year's failure to assign her was discrimination or incompetence, but by the time she hadn't received an assignment by Saturday it was too late because she needs to make arrangements for transportation.
"It could be gross incompetence, and if it's gross incompetence, (that) they hadn't let inspectors know, Saturday at 7:22 p.m. is less than three full days before you have to be at the polls at 5 a.m. on Tuesday, and if it is gross incompetence, then I feel sorry for the candidates running for election in this cycle," Mariano said Monday.
When reached Monday afternoon, Perez said any questions would have to be posed to his supervisor.
Mariano had been a fixture at the polls in North Castle's District 6 from 1989, the same year she graduated college, through 2014. She took off in 2015 because of the death of her parents, then returned the following year but claimed she was left idle with nothing to do for the entire 15-hour day.
Mariano wasn't assigned in 2017, then worked Election Day the following two years, but not since 2019.
In 2021, she declined to be considered to be moved to another polling site or as a poll entrance worker rather than her usual inspector role.
Last fall, she filed a complaint with the state Division of Human Rights against the Westchester County Board of Elections, but in May the agency found no wrongdoing on the part of the Board of Elections. Mariano's appeal on that Division of Human Rights decision is still pending.
Mariano said it is becoming apparent that she may have worked her last election.
"I do feel like that is possible," she said.