Wildcats Blank Rye Neck in the Class B Sectional Final
We are part of The Trust Project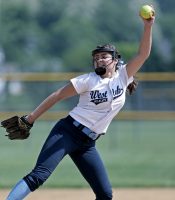 Back in April, Westlake senior Allison Brunetto had her doubts she'd be able to pitch at a level necessary to put the Wildcats in the hunt for a sectional title. Her ailing hips forced her to miss starts and make visits to the doctor.
"There was a point early in the season where I was stressed out, is the best way to put it, that there would be this obstacle I wouldn't be able to overcome," Brunetto admitted. "But then I thought about it and I said to myself there's no way I'm not gonna overcome it."
On Saturday morning, under a clear blue sky at North Rockland High School, the standout southpaw displayed just how far a lot of determination can take someone. She pitched her fourth consecutive playoff shutout as second-seeded Westlake defeated the top-seeded Rye Neck Panthers 3-0 in the Section 1, Class B championship game.
Brunetto limited the Panthers to just three hits and struck out eight batters. Seven of them came in an overwhelming first three innings that provided a good hint that the Wildcats were on the brink of their first-ever sectional softball title.
"The kid's been fantastic," said Wildcats head coach Mike D'Angelo shortly after witnessing the latest pitching gem from Brunetto. "She's battled through some stuff and she's been awesome. She's what every coach wants out there on the mound."
During the regular season, the Wildcats had lost to Rye Neck on the last day of April. But this time, with the stakes far bigger, they jumped ahead with a productive third inning and never looked back. With one out, Laine Peterson reached on an error. Daniella Mulvey followed by blasting a triple over center fielder Jessica Santoli's outstretched glove to put Westlake on the scoreboard.
One out later, Kelly Pierce drove home Mulvey with another triple, this one over the head of right fielder Alexa Garcia. A wild pitch scored the Wildcats' third run of the inning, more than enough offensive support for Brunetto, who at the time was in the midst of striking out six straight Rye Neck batters.
"We knew we had to get ahead and play with a lead," said D'Angelo. "It was stressed all week long. Rye Neck is a very, very good team. They've got a great pitcher, they're gonna put runs on you if you give them chances."
The Wildcats threatened to increase their three-run lead in the top of the fourth inning. Antonia Perino led off with a single to center field. One out later, Kristin Pierce reached on a walk. With two outs, Peterson blooped a perfectly-placed infield hit just past the pitching mound to load the bases. The power-hitting Mulvey stepped to the plate and sent Olivia Dunn's first pitch to deep center field, but her long drive was caught just in front of the fence for the final out.
In the bottom of the inning, Rye Neck put two runners aboard for the only time all game as Alicia Rodriguez singled with one out and then Carissa Peckia was hit by a pitch. But Brunetto retired Garcia on a grounder to short and Alana Prudian on a comebacker to the mound.
Jamie Perfito walked to open the fifth inning and Kelly Pierce soon sent her to third with a single into right. But the Wildcats' threat was thwarted as Angelina Guarnieri lined into a double play and Perino's liner right up the middle was caught by Dunn, the pitcher.
In the seventh, with two outs, both Kelly Pierce and Guarnieri drew walks. But Dunn retired Perino on a fly ball to right to retire the side. That left it up to Brunetto to finish off the Panthers. Rye Neck got a glimmer of hope when leadoff hitter Peckia reached on an error and then moved to second on a wild pitch.
"We went out to that seventh inning — I say it every inning — but it's three outs," said Brunetto. "That's all it is. You're in the moment. It's three outs. We had that error in the seventh and obviously it messes with you a little bit. But at the end of the day, this is the game that we've been taught and that we know how to play. We had to do it."
Brunetto extinguished the Panthers' last gasps by striking out Garcia and then retiring Prudian and Stephanie Santoli on ground balls. For the Wildcats, the wait for an elusive sectional championship was finally over.
"It feels great," said D'Angelo, now a champion in his first year at the helm. "It's hard to put into words right now. It's never easy closing out a game. Never. Those last three outs are the hardest ones of every game. It doesn't matter what your lead looks like. When it's win or go home, it's always tough."
For the senior-laden Wildcats, who next play Section 9 champion Rondout Valley in the state playoffs on Thursday afternoon, the motivation to do what they did this season began with what Brunetto termed "a wakeup call," the disappointing loss to Valhalla in the semifinals a year ago.
"Well, there's 10 seniors, so we had no choice," she said. "Like there's no next year. We've had trouble in the past getting over the semis hump. This year, we were not gonna let that stop us. Honestly, we've been playing together since we were seven years old. Every single one of us wanted to go out with a bang. We all just played our hearts out."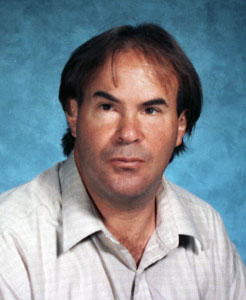 Andy is a sports editor at Examiner Media, covering seven high schools in the mid-Westchester region with a notebook and camera. He began there in the fall of 2007 following 15 years as a candid photographer for the largest school picture company in the tri-state area.
Read more of Andy's full bio here.
Read Andy's archived work here.