White Plains Welcomes Celebrity Chef's New Restaurant – and His Art
News Based on facts, either observed and verified directly by the reporter, or reported and verified from knowledgeable sources.
We are part of The Trust Project
Last weekend, renowned chef, entrepreneur, philanthropist and artist David Burke opened his 16th restaurant, Red Horse by David Burke, in the space formerly occupied by BLT Steak at The Opus Westchester hotel in White Plains.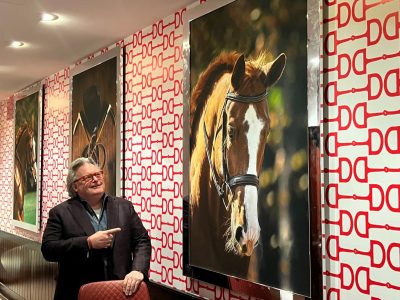 Conceived as a modern steakhouse with Asian influences, the 200-seat restaurant (with another 80 outdoors) will be the second steakhouse under Burke's Red Horse banner. The original is located in Rumson, N.J.
While the new Red Horse will offer many of Burke's signature culinary delights, including his popovers, clothesline bacon, lobster dumplings, salmon pastrami, angry lobster and, most notably, prime beef dry aged using Burke's patented Himalayan salt process, the other star of the show sharing top billing with Burke's cuisine is his iconic decor and artwork.
A passionate art collector and artist himself, like his other restaurants, the new Red Horse is designed and furnished with a mixture of art from his personal collection, pieces he has created (including blown glass rods) and art purchased and commissioned exclusively for the restaurant with the help of his art consultant and curator, Emily Santangelo.
Aesthetic highlights include a massive pink Himalayan salt wall separating (but not hiding courtesy of a row of windows) the open kitchen from the dining room, eye-catching lighting fixtures and elements replicated from the first Red Horse, including bold red and white stirrup print wallpaper and a copy of the oil painting of a ruby-colored horse from Burke's collection that inspired the name.
We spoke with Burke and Santagelo for a preview of the art that diners can feast on with their eyes.
What was it like to put together a second iteration of Red Horse, and how is it similar and different from the first location?
Emily Santangelo: Pardon the horse racing pun, but we really feel like we hit our stride (laughs). It's a lot smoother ride when you've done something successfully before – only Red Horse White Plains is probably three times the size of the (first one.) The first Red Horse is in a very old structure, so we were really limited. But the vast space of the new restaurant made it more fun because there were just a lot more elements to incorporate.
For example, we have this big entrance, and we put these very cool sliding barn doors on the wall, with this beautiful black horse head peeking out from behind them.
David Burke: I had these barn doors in my bedroom. We had this one wall; we couldn't figure out what to do. She said, let's put the big horse with the eyeball there. We started bouncing ideas back and forth. She said maybe put a curtain or this and that. And I said, "I got barn doors!" (laughs)
What's it like collaborating with each other?
David Burke: Emily has an amazing eye for art. She is with me on the ground floor of the design concepts. I'm fearless, and so is she, but she also has a better eye for art and size than I do. And she also knows how to execute bigger pieces, and she has connections. So she can say, listen, we've got eight weeks, we gotta get this done, or, here's some art to look at from 10 different artists. What do you think?
Emily Santangelo: The fun part of working with David is that both of us are like kids. It's like, "What can we do?" He's a chef, professionally. I'm a curator and art consultant. But we're really passionate collectors at heart. That's what drives us – this energy and love for art and what it can do for you personally. And especially when you bring it into a commercial space like a restaurant. It can really inspire people and give you more of an experience overall.
David knows inherently he's got the food side covered. So he puts so much thought and passion into what the design, the story and the art are gonna be.
The way I curate spaces, he curates dishes. We both kind of have this creative side of our brain, and then it's about function. How do you put the two together? Like you don't want to be just a restaurant, but you don't want to be an art gallery. I mean, you only have to look at the way David presents bacon to know that this guy is an artist (laughs).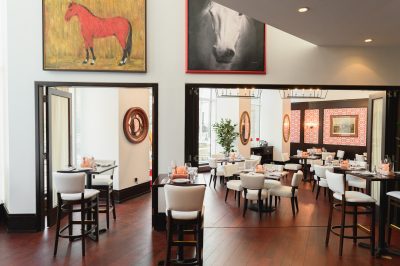 Tell me about the horse photography.
Emily Santangelo: In the first Red Horse, we have this great photography by Monica Stevenson we had purchased. For the new restaurant, we actually sat down with Monica and commissioned her to find a beautiful red horse in North Carolina, dress it up, let it run wild in the pastures and photograph it exclusively for us. Doing that was obviously more costly than purchasing more existing photographs, but we really feel it was incredibly worth it.
And what about the series of old jockey statues? You and David found and purchased them locally?
Emily Santangelo: Yeah, they weren't all in the best of shape, and they weren't all brightly colored. They needed to be refurbished somewhat. Since they sit up very high, they had to carry down to the eye level of the viewer, so that's why we wanted new coats of paint on the jackets and caps of the jockeys, to really make them pop.
I understand you reached out to ArtsWestchester to have a local artist paint them for you.
Emily Santangelo: We always try to incorporate some component of the community. That's one of the things David is also very committed to, and I am as well. A bit of local outreach.
One of the most intriguing features is the pool table, which doubles as a special dining table.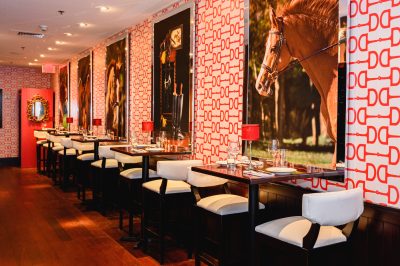 David Burke: We threw a pool table from my house in there and created a big large leaf of wood as an insert, so you can shoot pool before and after dinner, but then 8 to 10 people can eat on it, right in the middle of the whole social setting there.
Emily Santangelo: It's so terrific and extraordinary. When do you see a pool table in the middle of a restaurant? It switches over really easily so that you can have cocktails and play a game of pool before or after dinner.
People often talk about fine dining, not just about great cuisine but about it as an experience. What kind of experience do you intend with your design and art choices at Red Horse?
David Burke: We want it to be comfortable; we want to be social. We want people to converse with other people based on things they taste, smell or see that get them excited. We're trying to bring a level of sophistication without being stuffy – and definitely with a bit of whimsy and a sense of humor.
We've got $100,000 worth of art in that restaurant, which is a lot for a restaurant, at least. Most people put the money into the wine list or into this and that. But the artwork is just as important to me as the table and chairs and the silverware and the wine glasses and all that because that should be just the beginning of what your senses are looking at and digesting and enjoying.