White Plains Unveils Final Segment of Greenway Walking Trail
White Plains officials opened the final section of the Jack Harrison Greenway walking trail during a ribbon-cutting ceremony at the Mamaroneck-Shapham Garage entrance last Tuesday afternoon.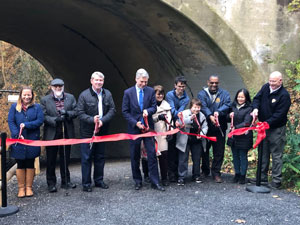 The Greenway provides city residents with easy access to a tranquil walking path. Originally running from Gedney Way to the Scarsdale border in two segments, the newer portion of the Greenway runs from Gedney Way to the lower level of the Mamaroneck-Shapham Garage.
Now, residents and visitors alike can enjoy just over a three-mile round trip walking trail in four segments.
"The completion of the Greenway walking trail has been a long-term goal for the city," White Plains Mayor Tom Roach said at the ceremony. "We are excited to add this final section of the trail to our city parks and open space inventory and to provide our residents with this new amenity."
The Department of Public Works, the government entity responsible for maintaining the Greenway, designed the trail and planted native trees and wildflowers along it. Expanding the Greenway from Gedney Way to the Mamaroneck-Shapham Garage has been a priority for the Parks and Recreation Department, especially as the trail's popularity soared in recent years, with more residents enjoying the open space area.
"As with so many of our initiatives, this beautiful Greenway is the result of the can-do approach and hard work of our city staff, especially the Department of Public Works and the Recreation and Parks Department," Roach said.
To further enhance the visitor experience to the Greenway, Patrick Stanton, a junior at White Plains High School and Life Scout in Troop 73, which is chartered by American Legion Post 135, will be working with members of the National Art Honor Society at the high school to create a new map of the Greenway.
The new map will be installed in new kiosks Stanton and fellow Troop 73 scouts built at the Mamaroneck-Shapham Garage and Gedney Way entrances.
By planning and leading the major service project, Stanton will be eligible to move from Life Scout to the Boy Scout of America's highest rank: Eagle Scout.
"I live right near the Greenway and have been running on it for years," Stanton said. "With the recent extension to the Shapham Garage, I knew there would be more new users of the trail, and I saw the opportunity to help them by developing a map that shows the entire trail and building a pair of kiosks to hold it."
Stanton will also be installing two historical markers along the Greenway, which will allow visitors to learn how the railway was used in the past.
"I know this will be there for a long time and will benefit the users," Stanton said. "And that feels great."