White Plains Man Recovers from Stroke to Earn PhD
News Based on facts, either observed and verified directly by the reporter, or reported and verified from knowledgeable sources.
We are part of The Trust Project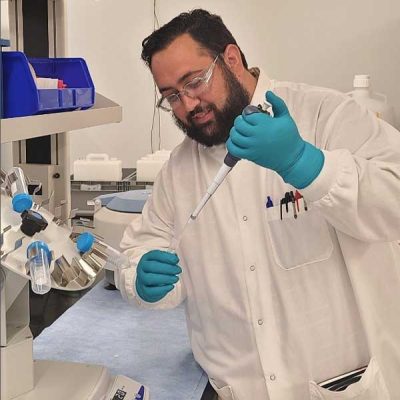 Just after White Plains resident Lenny Breindel turned 30 in the fall of 2016, he started to get debilitating headaches like he'd never experienced before. They started off mild, but as the days progressed, they got increasingly worse.
"By four in the afternoon, I was in bed asleep," Breindel recalled. "I couldn't take the pain anymore."
At the time, Breindel was in the second year of a biochemistry and molecular biology PhD program at the University at Albany. In early October, Breindel went to take a qualifying exam, with a headache that had persisted for a week.
After the exam, he met a friend who was in town visiting. Turning his head to great the friend, Breindel's neck cracked and he got really dizzy.
"At first I thought it was nothing, but it persisted for about half an hour, and that's when we called the ambulance," Breindel said.
Taken to the local hospital in Albany, Breindel got an MRI, and the doctors discovered he had suffered from an ​​ischemic stroke. Because he hadn't lost any mobility, cognitive function or the ability to speak, Breindel was discharged a few days later and brought back to Westchester where his NewYork-Presbyterian-based doctors were.
Home on a Tuesday evening, Breindel woke up Wednesday morning to everything spinning and his legs not functioning.
Rushed to Lawrence Hospital in Bronxville, Breindel was transferred to the ICU at New York-Presbyterian in New York City. While in the ICU, he had a second episode and lost the ability to speak or use the right side of his body.
Breindel stayed in the ICU for a month before going to Burke Rehabilitation Hospital to work to regain his motor function, including the fine motor skills he would need to complete tasks while working in a lab setting such as uncapping test tubes with one hand and holding a pipette in the other.
Dr. Joshua Willey, an attending neurologist on the stroke service at NewYork-Presbyterian/Columbia, worked closely with Breindel both in the hospital and after he was released from Burke.
"Lenny took it on as a full-time job trying to recover from the stroke so that he could get his life back and finish up his degree," Dr. Willey said. "We have some people who become despondent about their recovery, which then makes things worse for them."
"Lenny had a very positive attitude and was enthusiastic about doing the rehabilitation he needed to do," Dr. Willey added. "As a physician, it made my job so much easier working with him."
Because Breindel had dedicated so much of his life to getting into his PhD program, being able to complete it was a huge motivating factor for his recovery.
"I knew that I wouldn't be able to live with myself if I had to stop doing something so close to the final act," Breindel said.
While it was initially suggested that Breindel take a year off from his PhD program, he pushed himself to get back even sooner.
"I knew if I was going to recover to the extent that I have, I needed to get back to doing PhD-level stuff and stretch my brain," Breindel said.
In February of 2017, he returned to his program. At first, Breindel was concerned that we wouldn't be able to do the same caliber of work as before his stroke.
"The first time I sat down for an exam after the stroke, I was nervous I wasn't going to pass," Breindel said. "But when I found out I passed, that was a major boost in confidence."
Breindel started getting his academic papers published, completed his dissertation and, in 2020, he passed his doctoral defense. Today, Breindel works as a Senior Biochemist at Siemens Healthineers in Tarrytown.
"I got lucky that I wasn't set back by the stroke when I thought I was going to be," Breindel said.
Because individuals who have suffered one stroke are at a higher risk of having a second one compared to the general population, Dr. Willey said it is crucial to take precautions.
Now, Breindel takes five pills a day, most of which are preventative to minimize the likelihood of a second stroke. He also has to be cautious about fast movements around his neck.
While he was worried he wouldn't be able to play golf, one of his favorite hobbies, Breindel was cleared to play after three years of recovery — as long as he takes fluid swings as opposed to jerking, fast rotations.
"That was big deal for me because golf is one of the things that I enjoy away from science," Breindel said.
With May being Stroke Awareness Month, Dr. Willey underscored the importance of taking preventative measures to decrease the likelihood of suffering from a stroke.
"The American Heart Association has the 'Simple 7,' which includes seven ideal things that can prevent you from having a stroke," Dr. Willey said.
Among the seven preventative steps are managing blood pressure, controlling cholesterol, reducing blood sugar, getting regular physical activity, maintaining a healthy diet, maintaining a healthy weight and not smoking. Going to the hospital with symptoms that you may suspect are connected to a stroke is also critical.
"One of the tragedies related to stroke is that far too many patients come in way too late to the hospital to implement the treatment," Dr. Willey said. "If somebody can come to the hospital — especially within three hours of symptoms — there is both medication and potentially a surgical procedure that we can do to reduce the impact the stroke is causing."
Dr. Willey underscored that people should remember the acronym B.E.F.A.S.T:
Balance: Watch for a sudden loss of balance
Eyes: Check for vision loss
Face: Look for an uneven, or dropping face
Arm: Check if one arm is weak
Speech: Listen for slurred, garbled or unintelligible speech
Terrible Headache and Time: Call 9-1-1 right away
"The faster you give treatment, and the earlier people come to the hospital, the much higher likelihood they are to have a better outcome after a stroke," Dr. Willey said.
Having had a stroke and recovered, Breindel highlighted the importance for people to listen to their bodies, especially if they feel like they are experiencing symptoms they've never felt before.
"I got lucky that I didn't really lose any of my cognitive abilities. I was still able to pursue my career in the PhD, and the physical limitations that I had, I was able to regain so that I could still perform the functions in the lab," Breindel said.
Despite recovering, Breindel still has some difficulties with his balance, which makes going down stairs difficult.
"I got there early, but if listened a little better, I probably wouldn't have suffered some of the events that I did," Breindel said.