White Plains HS Rolls Out New Educator Pathway Program for Students
News Based on facts, either observed and verified directly by the reporter, or reported and verified from knowledgeable sources.
We are part of The Trust Project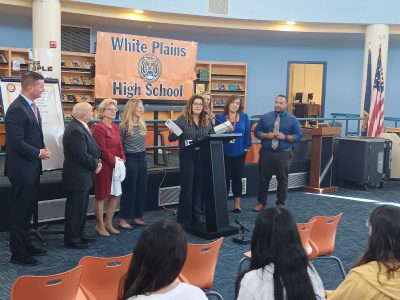 White Plains High School's faculty and administrators have devised a groundbreaking program that simultaneously looks to address the nationwide teacher shortage and provide students with a potential path for a career in education.
Last week, school officials announced that a $40,000 state grant this year has helped launch the district's Educator Pathway Pilot Program. Currently, 29 high school students are enrolled, providing them with specific courses to begin preparing them for a teaching career and to earn college credits.
"We know there is a teacher shortage. We also know it's really important to have career pathways," said Kara Lyons, the White Plains Teachers Association president, who along with Assistant Principal Sara Hall was instrumental in introducing the program.
"So this program is incredible in that students can graduate and become teaching assistants, go to Westchester Community College for free, and then they can go to Pace for reduced tuition, or they can go to the school of their choice and carry those elective credits, or they can transfer them to SUNY because they have reciprocity," Lyons added.
Hall said that the program is intended to be a three- or four-year series of elective courses starting in freshman or sophomore year, which includes a foundation of education class, diversity within education, psychology, a class on special education and other offerings that lay the groundwork for a career as an educator. The program will also eventually have the participants work with students in a class at one of the district's elementary schools.
When the participants near high school graduation and have completed the full series, they can take the state exam for teaching assistants and be qualified to work, Hall said.
"We want to capture them young so that way they can do the entire pathway and can work as soon as they graduate as a teaching assistant," she said.
Lyons said that one of the most exciting aspects of devising the program was collaborating with legislators for the funding as well as creating partnerships with the colleges, which makes the program even more attractive for students.
It has been estimated that nationwide there is a shortfall of about 180,000 teachers.
State Sen. Shelley Mayer (D-Yonkers), chair of the Senate's Education Committee, said policymakers have been looking at how to entice more youngsters to consider a career in education. When she heard what White Plains has proposed, Mayer and Assemblyman Chris Burdick (D-Bedford) fought for the grant.
"It's so thrilling to think that you're learning and considering the possibility of teaching," Mayer told a group of students enrolled in the pilot program in an announcement last Thursday at the school.
Burdick said how the program could become a model for other districts throughout New York.
"You're in the forefront of this, and you know what, I have such tremendous confidence in all of you that you're going to show that this is what must be done statewide," Burdick said.
As a student who has had a wide range of experiences, senior Nuala Stanghellini said she was excited to try the program. She is considering a teaching career in special education or math.
"As a student with an IEP and in advances classes, I see so many different dimensions of the educational system," Stanghellini said. "I see all the opportunities for support that we have, special education classes, individual services and things like that, and I also see some of the struggles we have in education in trying to grow."
Superintendent of Schools Dr. Joseph Ricca said there may be no career that is more rewarding than teaching. He said that the most successful people in the world started with a teacher that helped shape them.
"I started teaching history during the day and I never looked back. Never once. That was the year 2000," said Ricca who thought he was going to be a lawyer. "From that moment to today, I am so proud of the choice to remain in education, because I know what goes into becoming a dedicated teacher."