White Plains Firefighters Rescue Injured Crane Worker
News Based on facts, either observed and verified directly by the reporter, or reported and verified from knowledgeable sources.
We are part of The Trust Project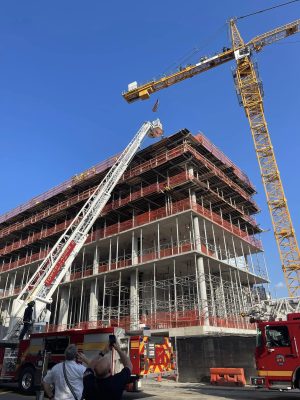 White Plains firefighters sprung into action last week to rescue a worker on top of a tower crane with a broken leg.
Firefighters were dispatched Aug. 9 at 4:52 p.m. to 200 Hamilton Ave. at the construction site of a 900-unit mixed use complex where a worker was reported injured approximately 150 feet in the air.
With the assistance of ESU White Plains PBA members, firefighters developed a plan of action to lower the worker down via a rope system. Due to the man's lower extremity injury, a basket rescue was ruled out.
Instead, the worker's fall arrest harness was removed and he was placed in one of the Fire Department's rescue harnesses. A high point anchor and twin tension rope system was utilized, along with a secondary attachment to divert the worker from the crane mast.
Since the crane was four stories high, the man was lowered directly into a stokes basket and safely transferred from the top deck to a lower ladder on street level, where EMS workers took over.
It took approximately one hour and 10 minutes for firefighters to rescue the man, who reportedly is doing well.
"This was a highly technical and multi-staged operation which involved many moving parts, and utilized the training that we have invested heavily in the past few years," Fire Department officials stated. "With the amount of building going on in the city and the frequency of tower cranes being used, this training has paid off as was evident (Aug. 9). Great work by all members involved to achieve a successful outcome."