News Based on facts, either observed and verified directly by the reporter, or reported and verified from knowledgeable sources.
White Plains, County Celebrate Mixed-Use Project in Downtown
We are part of The Trust Project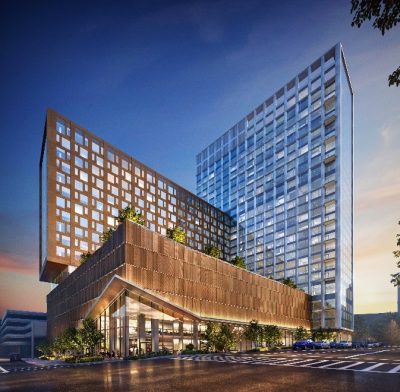 White Plains and Westchester County officials celebrated last week a milestone in the construction of a luxury 500-unit transit-oriented development project that promises to bring economic vitality to downtown.
Representatives of the Cappelli Organization and Greystar Real Estate Partners touted the pending arrival of 25 North Lex at 25 N. Lexington Ave. that will also feature 16,000 square feet of ground-floor retail and close to 60,000 square feet of amenities for its residents.
The $300 million project, which Cappelli Organization founder Louis Cappelli called "probably the best building, the most successful building ever to be built in White Plains," features two intersecting towers of 16 stories and 25 stories rising from a four-story podium above covered parking. It is located across the street from the White Plains Metro-North station.
Mayor Tom Roach said the development, which is scheduled for completion by next June, will add more vitality to the city's already bustling downtown. The concept of downtown housing, which started in White Plains when Joseph Delfino was mayor, has been a boon for the community, he said.
"All of this housing that we have built is what has brought life back to our city and given us the thriving downtown that we have," said Roach during an Apr. 18 topping out ceremony that marked the completion of the highest floor in the building.
Westchester County, through its Industrial Development Agency (IDA), provided the developers in September 2021 with $5,360,000 in sales tax exemptions and $1.65 million in mortgage recording tax exemptions as an incentive.
The project promises to have far-reaching impacts not only in White Plains but throughout the region, said Deputy County Executive Ken Jenkins. In the short term it has provided hundreds of construction jobs that has a ripple effect throughout the city and county, he said. That will multiply when the residents move in.
"Our commitment to the smart growth of Westchester and to the economic development of Westchester County, is a continuing effort that partners like all of us together (and) are going to continue to do," Jenkins said. "We certainly welcome this latest dynamic addition to the White Plains landscape and we are so looking forward to the ribbon-cutting."
The project will include expansive outdoor recreational space with a fifth-floor roof deck featuring a zero-edge pool and sun deck; grilling stations; gazebos; fire pits; a lawn area and community gardens. A 17th floor landscaped rooftop will provide additional grilling stations, lounge areas and fire pits. The covered parking garage will have electric vehicle charging stations and bicycle storage spots.
County Director of Operations Joan McDonald said 25 North Lex will add to the county's steadily growing housing stock. In the five-year period that ended Dec. 31, Westchester has seen 12,750 new housing units built, she said.
Hundreds of those units were built in White Plains, Roach noted.
"For me, if you're running a city, you want more people living in your downtown," Roach said. "They are the ones that support your businesses and they also don't drive as much, they walk places and they contribute to your economy."