News Based on facts, either observed and verified directly by the reporter, or reported and verified from knowledgeable sources.
Westphal Nets 2, Makes History for Haldane; Yorktown Ousted
We are part of The Trust Project
Briarcliff Falls to Lourdes on PKs in NYSPHSAA Opening Round
By Ray Gallagher, Examiner Sports Editor @Directrays
YORKTOWN HEIGHTS – And then there was one: HALDANE is the last Examiner-area soccer team standing after Coach Ahmed Dwidar's state-ranked (No.5) Blue Devils knocked off Section 11 champion Pierson/Bridgehampton, 2-0, in Saturday's NYSPHSAA Class C regional championship at Charlie Murphy Field on the campus of Yorktown High where Haldane advanced to its first NYS Final 4.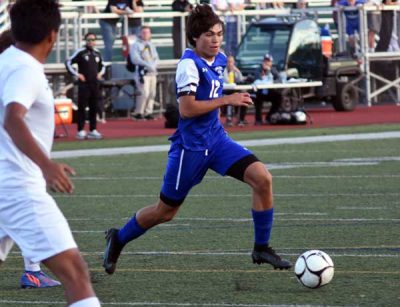 "I'm so proud of these guys," Coach Dwidar said. "We set goals right after the sectional final loss to Hamilton last year that we are going to come back strong and put Haldane back on the map and that is what we did."
It wasn't without drama though, as Haldane (16-2) lost its top playmaker Clem Grossman to a pair of yellow cards in the opening round of the state tournament. It wouldn't be easy without Grossman creating in the offensive zone and setting up hotshot Ryan Eng-Wong. The duo have been the most productive pairing in the section this season.
"We prepared the last three days accordingly and went to Plan B," the coach said.
Blue Devil junior Max Westphal orchestrated the plan to perfection, scoring a pair of second half goals to lift the Blue Devils.
"I call Max the workhorse of this team, he's 110% in on everything we do," Coach Dwidar said.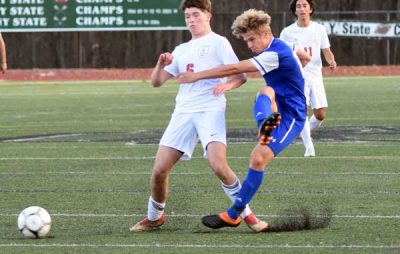 Grossman is returning for the state semis where the Blue Devils will challenge Section 5's top-ranked Avon Saturday (4:45 p.m.) at Goshen High School. Grossman was issued a highly-debatable card in the final 18 seconds of the opening-round win over Rhinebeck. He served the mandatory one-game suspension and was chomping at the bit on the Haldane sideline. Coach Dwidar said the second yellow card was a point of contention but one the team would get through as a unit.
"Don't get me started on that," he said with a chuckle. "We can't wait to make more history now. We want the big one!"
CLASS A
YORKTOWN made three crucial mistakes, which cost the Huskers, ranked No.2 in NYS, dearly in a 2-0 loss to visiting Section 9 champion Beacon, which took some of the steam out of the Yorktown faithful at Charlie Murphy Field with a goal by Jack Philipbar within a minute into the match. That early breakdown was the first crucial mistake.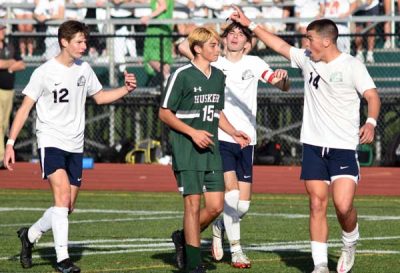 "We got really surprised and punched in the nose pretty early," Yorktown Coach Zoran Milojevic said. "We chased. We continued to play, we tried to adjust every way possible we could and we just didn't put it in. And then we missed the penalty (kick) and the story ended."
The story almost turned in Yorktown's favor when the Huskers were awarded the aforementioned penalty kick midway through the second half, but Beacon keeper Matt Sandison (8 saves) thwarted the attempt. The miss was Yorktown's second crucial flaw.
Beacon's back line was big, burly and quick to the ball, limiting Yorktown's explosive offense while advancing further than any team in Bulldog history.
"That's a very good back line, very strong" Milojevic said. "It would have been all different if it was a zero-zero game at the half, rather than one-zero."
And when it was 1-0 late in the second half, Beacon was then credited with an own-goal after the Huskers botched a clearing attempt in the box. Mistake No.3 was the final nail in the coffin.
"That was it," Milojevic said. "We had momentum going on. At the end of the day, do I wish we got to the state final and won our last game, yes, that was my goal. We got two games further than last year, but we'll go back to the drawing board and get back to work."
With 16 Yorktown seniors graduating, the coach had best bring a bunch of chalk and some fresh erasers after a record-setting season that wrapped up with a 20-1 record.
Beacon plays the Section 3 champion Christian Brothers Academy in the NYSPHSAA semifinal at 12:30 p.m. Saturday at Monroe-Woodbury High School.
CLASS B
BRIARCLIFF (18-0-2) had its magical run to the state tournament end in gut-wrenching fashion at the hands of Section 9 champion, Our Lady of Lourdes, who, after 110 scoreless minutes, settled for the draw before winning on penalty kicks, 4-2, last Tuesday at Hendrick Hudson High.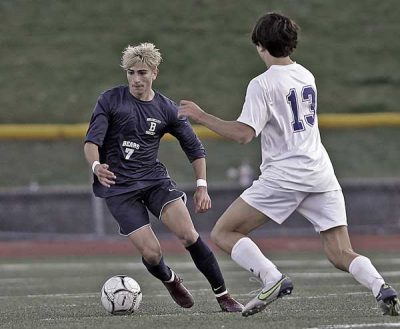 The state-ranked (No.1) Bears could not solve the (No.9) Warriors stingy defense, despite applying constant pressure on Lourdes keeper Ned Van Loan, who made eight saves in the second half alone and was brilliant in the PK session. Toby Young made three saves in regulation for Briarcliff.
"The season was amazing," Briarcliff Coach Brandon Beck said. "It's unfortunate to go out on a penalty-kick shootout after outshooting our opponent 11-3. However, the boys left every ounce of their energy on that field. They had to play the entire season with a huge target on their backs and they delivered in every match. The sectional finals victory in overtime was an amazing moment for our program. I am so grateful to have been able to go through the gauntlet of Section 1 Class B soccer and to end our season unbeaten at 18-0-2.
"These are incredible young men led by five seniors who embodied everything that it means to play with class, discipline, and commitment," he added. "The future is bright and we are so proud of this memorable season and we're already looking forward to next season."
Side Note: losing on PKs is brutal for any team, but it's an incredibly tough spot for goalies to be put in. Wish the state and sections would consider some form of 7v7 before going to PKs in the future.