Westlake's Quest for a State Title Ends in the Semifinals
We are part of The Trust Project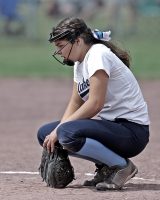 It didn't take long on Saturday morning to realize the Westlake Wildcats' first-ever trip to the state final four softball tournament was not going to end the way they wanted it to.
A trio of infield errors in the top of the first inning paved the way to four unearned runs that spurred the Section 4 champion Susquehanna Valley Sabers to a lopsided 10-0 victory over the Wildcats in a Class B semifinal game of the 2018 public school state championships at Moreau Recreational Park in South Glens Falls.
Saber senior ace Sophia Pappas scattered four hits and struck out 12 batters, never allowing the Wildcats to recover from their fateful first inning. Susquehanna Valley scored two runs in the sixth inning and three more in the seventh to all but assure that the best season in Westlake softball history was about to conclude.
"You hate to have an inning like that in a big game like this," said Wildcats head coach Mike D'Angelo after witnessing Susquehanna's lengthy first turn at bat. "But these things happen. When you get in these games, it's about eliminating the mistakes. We made a few early and we kind of dug ourselves a little hole there."
The Wildcats, making their initial appearance on softball's biggest stage after capturing their first Section 1 championship and then coming from behind to win both of their state regional playoff games, quickly found themselves in trouble after two of the first three Saber batters reached on errors.
Susquehanna Valley, the state's top-ranked Class B team, was ultra-aggressive on the base paths and a simple bunt by Madison Tuttle brought home the second and third runs of the game. When Olivia Parker rapped a two-out single past Antonia Perino at third base, Tuttle trotted home with the Sabers' fourth run of the opening inning.
"I couldn't really tell you what it was," said Westlake starting pitcher Allison Brunetto about the team's shaky first inning. "Not the best time to have a bad day, but it happens. To come out flat, it hurts because we've worked so hard for this. And to just give up runs we shouldn't have, it's frustrating. It happens and you've got to make up for it. Unfortunately, we didn't do so."
Susquehanna Valley's Pappas struck out the side in the bottom of the first, though she did surrender a one-out, line-drive single to center field by Daniella Mulvey, who wound up with two of the Wildcats' four hits in the game. Pappas retired Westlake in order in the second inning, collecting two more strikeouts to move within one of 1000 for her varsity career.
"Yeah, she's a very good pitcher," said D'Angelo. "You give a pitcher like that a four-run spot, it's gonna be tough to get back in, for sure."
In the top of the third, the Sabers, who wound up losing 2-0 to Section 2's Ichabod Crane in the state final, took advantage of a leadoff walk and then another error to add their fifth run of the sunny morning. Michaela Haskell's infield hit brought home Hannah Haskell and Westlake's deficit grew a bit larger.
Mulvey led off the bottom of the fourth inning by beating out a grounder to deep short for her second hit of the day. Unfortunately for the Wildcats, Pappas then went over the 1000-strikeout plateau, whiffing both Jamie Perfito and Kelly Pierce swinging and Angelina Guarnieri looking.
Susquehanna threatened again in the fifth inning after Brunetto retired the first two batters. Michaela Haskell singled past the diving Laine Peterson at second base, then Parker singled into left, just past the diving Perino at third and Perfito at short. But the inning ended with Mulvey in center field running down Alyssa Lezotte's long fly ball.
Perino opened the Wildcats' half of the fifth with a single to left and soon moved to second base on a bunt by Nicole Dragonetti. But she was stranded there as Pappas ended the inning with two more strikeouts. When the Sabers came to bat moments later in the top of the sixth, they all but sealed the outcome.
Hallie Martin led off by lining Brunetto's first pitch into center for a single. Shawna Zawiski reached on a bunt hit. One run soon scored on a ground ball to short and another came in two batters later on a bloop hit to right that fell just in front of Kristin Pierce. The Wildcats came to bat in the bottom of the sixth now trailing 7-0.
If one inning epitomized the Wildcats' futile battle to get back in the game, it had to be the sixth. Peterson led off by bunting the ball, but a third of the way down the line she fell face first on the infield dirt and was easily thrown out. Mulvey then had a long battle with Pappas, fouling off several pitches. She eventually struck out swinging and the inning ended with a Perfito fly ball to center.
"It's definitely frustrating to feel like everything's going against you," said Brunetto. "But even if things do feel like they're going against you, you've got to finish. That was the goal, to finish, and really celebrate what we've done instead of focusing on the fact that we were down and this was likely going to be the end."
Susquehanna Valley didn't let up, though, and in the seventh scored three more times, getting an RBI single from Ava Spottek and a two-run double by Alexandra Deeter. In their final turn at the plate this season, the Wildcats got a one-out single to center field by Guarnieri before Pappas ended the game by retiring Perino on a grounder to second and striking out Dragonetti.
"The only thing I can think about right now," said Mulvey, one of seven talented seniors in the Wildcats' starting lineup, "is I couldn't have asked for a better season with better people. Senior year is supposed to be special, and everyone knew that senior year's like your last season. It's gonna be special. But the girls I've played with this year, and the journey we went on, made it 10 times more special. I couldn't have asked for anything else."
Brunetto, the standout southpaw who pitched four consecutive shutouts in the Wildcats' march to the sectional championship, was overcome with emotion as she walked off the field for the final time in a Westlake uniform.
"Definitely you're going to remember coming here, you're gonna remember the region, you're gonna remember the section. But I'm gonna remember these people more than anything," she said, her voice breaking and tears rolling down her cheeks. "We've played together since we were seven years old. To look around and see the same faces for 12 years of my life, the titles don't matter at the end of the day. It's what we've accomplished together."
When the final out ended the one-sided contest, Brunetto, who had to overcome a hip ailment to achieve what she did this season, was on the receiving end of some words from her coach.
"I told her right after the game I'm so proud of her," said D'Angelo. "She's all heart and there's not an ounce of quit in that kid. She'll go out there and she'll give you everything she's got no matter what it is. Whatever she's got, she's gonna give it to you. She's been great for this team."
Despite the disappointing finish, D'Angelo's first season at the Wildcats' helm turned out to be one he won't soon forget.
"It's been an awesome ride for me," he said. "For them, I can only imagine. But, for me, it's been an awesome ride to sit here and watch them do so much and come so far and step over so many hurdles and do it with class and really do it the right way."