Westlake's Playoff Run Ends With a Loss at the County Center
We are part of The Trust Project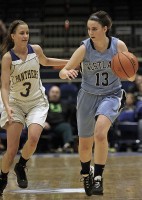 There wasn't much mystery about what the Westlake girls' basketball team needed to do last Tuesday afternoon to have any chance of beating second-seeded Ardsley in the Section 1, Class B playoffs – keep the Panthers' star guard, Casey Foley, contained for as long as possible.
That lasted for the game's first four minutes.
Unfortunately for the third-seeded Wildcats, Foley began to put her stamp on the contest midway through the first quarter when she erupted for four straight baskets during a 9-0 run that gave Ardsley the lead for good. She finished with a game-high 23 points, to go along with 13 rebounds and seven assists, leading the Panthers to a 61-39 semifinal victory over the Wildcats at the Westchester County Center.
"Obviously we talked about trying our best to stop Foley," said Westlake coach Sean Mayer afterwards. "But she was really on her game today."
As a result, the first-ever trip by the Wildcats to the County Center came to a rapid end. Westlake trailed by only eight points at halftime and then traded baskets with Ardsley until the midpoint of the third quarter when Foley and teammate Danielle Scapperota each scored four points in an 8-0 Panther burst that opened up a 44-28 cushion.
By the start of the fourth quarter, the Wildcats were facing a 47-30 deficit, and they never got any closer than 16 points the rest of the way. Though Ardsley controlled the boards and limited Westlake to 7-of-31 shooting in the second half to turn the game into a rout, the Wildcats' Mayer was still pleased by the effort of his players.
"I was proud," he said. "We hung, we fought, we played hard and we didn't give up. They're a tough team, they played really well tonight. We wanted to try our best to get a quick start and we did."
Indeed the Wildcats brought early smiles to the faces of their fans when they opened up a 5-0 lead nearly three minutes after the opening tip, getting a 3-pointer from Katie Cullen, who wound up with a team-high 13 points, and then a put-back basket by Katie Schmid. Ardsley was kept off the scoreboard until center Nicolina Chenard scored on a layup with 4:50 left in the quarter.
Just 11 seconds after the bucket by Chenard, Westlake's Natalie Alfieri, who scored 12 points, drove the right baseline for a basket that gave the Wildcats a 7-2 advantage. But that was Foley's cue to suddenly take over. She provided the game's next nine points all by herself and forced Westlake to play from behind the remainder of the day.
Ardsley's lead quickly swelled to 16-9 before Wildcat senior guard Faith Lovett scored the final points of her standout career, connecting on a 3-pointer from left of the key with 16 seconds remaining in the opening quarter. The Wildcats closed to within a point on their first possession of the second period as Alfieri drained a 3-point shot from straightaway.
Another trey, this time by Cullen two minutes into the quarter after baskets by Chenard and Marielle Bremmer, moved Westlake to within 20-18. But Chenard, who supplied the Panthers with 14 points and 15 rebounds, twice scored inside during a late 6-0 spurt that gave Ardsley its first double-digit lead.
Even though his team trailed 31-23 as it headed to the locker room, Mayer was convinced the outcome was still in doubt.
"Absolutely," he said. "And even a couple minutes into the third quarter it was nine, 10, eight (points). We had to try to stay in that area. And then a couple of long shots, you know we shoot the outside ball, kind of rebounded out hard and they got some buckets in transition. So if you miss a 3 and you give up an easy layup, you do that a few times in a row, it's hard. So eight points can go to 15 or to 20 before you know it."
Baskets by Cullen and Alfieri and then one free throw from Schmid enabled the Wildcats to be within 36-28 with 4:16 to go in the third quarter. But Ardsley ended the period on an 11-2 run, highlighted by a left-corner 3-pointer by Isabella DePasquale at the buzzer, and increased its lead to 17 points heading to the final quarter.
Pasquale made her third 3-pointer of the game to start the scoring in the fourth quarter, all but assuring that the best season in Westlake's history was soon coming to an end. Ardsley, which wound up losing by two points to top-seeded Irvington in the championship game four days later, was never threatened in the final period and Mayer began removing his dejected starters with a couple of minutes left on the clock.
"We played our best and couldn't have asked for anything more," said Lovett, one of the Wildcats' three senior captains. "We made history this year at Westlake. No team has ever made it to the County Center before."
"I was very pleased with our crowd," added Mayer. "The community brought a lot of people and that was a fun experience. We've never been here before. So for this group to win 17 games, make it to the County Center, go undefeated in league play, you know, it was a phenomenal season. It didn't end the way we wanted it to, but we all have our heads up."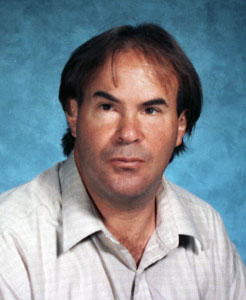 Andy is a sports editor at Examiner Media, covering seven high schools in the mid-Westchester region with a notebook and camera. He began there in the fall of 2007 following 15 years as a candid photographer for the largest school picture company in the tri-state area.
Read more of Andy's full bio here.
Read Andy's archived work here.