Westchester to Create Garden to Remember Those Lost to Suicide
We are part of The Trust Project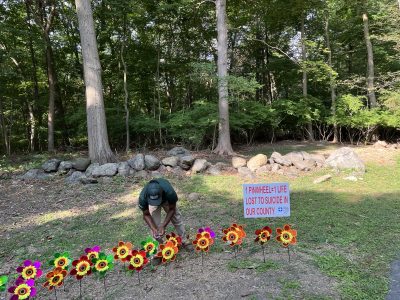 Mental health professionals and advocates typically make an even stronger push during September to educate the public during National Suicide Prevention Month. This year, Westchester County is going one step further.
Last week the county announced it will be dedicating space at Ridge Road Park in Hartsdale to create The Healing Garden, a quiet location for a memorial in the 236-acre facility. It will include flowers, trees, walkways and benches in a circular shape to give friends and relatives grieving the loss of a loved one to suicide a chance for quiet reflection and remembrance.
For the second year, the park is also being outfitted with pinwheels to commemorate the lives lost in Westchester and highlight the resources available to those in need and their families.
"Go by at any time. It's a great place," said Marie Considine, executive director of the National Alliance on Mental Illness (NAMI) Westchester. "Its already cut out where the garden will be and there's a sign there designating the spot so you can't miss it."
Last year County Executive George Latimer convened a planning committee consisting of mental health advocates and professionals, relatives of suicide victims and county officials to seek recommendations for how the site should be designed. Last week, the first flower was ceremonially planted at the garden's symbolic groundbreaking.
Latimer said the garden will help with public education about the issue. In the United States, there is a suicide every 11 minutes, according to Michael Orth, commissioner of the county Department of Community Mental Health. Last year there were 65 Westchester residents who died by suicide.
"The Healing Garden at Ridge Road Park is going to help with awareness for suicide prevention, it creates a quiet place for the loved ones to remember those that they've lost and it's going to be consisting of a variety of trees and pathways and benches in a circular shape so that it represents a reflection of those that we lost and those that have survived," Latimer said.
Orth said that among the other suicide prevention projects that the county continues to focus on is its programs involving faith leaders in their communities, a monthly college collaborative to meet with students at schools and various public education campaigns designed to get word out about how those who are suffering can receive the assistance they need.
A new program this year is Westchester's promotion of the 988 national suicide prevention hotline, Orth said. Calls into the system go directly to staff at St. Vincent's Hospital who are trained to help anyone in crisis.
Orth said Latimer has made mental health a top priority in the county during his administration.
"This includes prevention, early intervention treatment and, of course, suicide awareness and prevention," he said. "He has given us every resource possible, any opportunity to do this work and to reach out to our broader community and that includes our Westchester Suicide Prevention Task Force."
Tuckahoe resident David Carraturo, who lost his 18-year-old daughter Julianna to suicide more than four years ago, said it is comforting to see that Westchester County is taking the issue of mental health seriously.
While there were some periodic improvements in Julianna's well-being throughout high school and when she started college, she had trouble navigating life. While visits to The Healing Garden will highlight the massive impact of suicide, there is also an uplifting side.
"You are going to see life, and that life is going to be in the trees and the flowers, which will continue to grow in perfect weather and catastrophic storms, just like us survivors who must continue in our lives while we keep frozen in time our memories of those we've lost, and we're going to keep them forever," Carraturo said.
When the garden is completed, it will be open from dawn until dusk. For more information about The Healing Garden, contact the county Department of Community Mental Health at 914-995-5225, e-mail mmo6@westchestergov.com, or visit www.namiwestchester.org/westchester-garden-of-remembrance/