News Based on facts, either observed and verified directly by the reporter, or reported and verified from knowledgeable sources.
Westchester Resident Played Groundbreaking TV Role on Race Relations
We are part of The Trust Project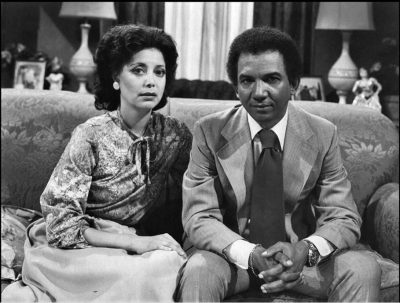 In 1968, White Plains resident Ellen Holly debuted on ABC's new soap opera, "One Life to Live." An accomplished theater actress with Broadway roles under her belt, Holly portrayed Carla Benari, an Italian-American woman who had just moved to the show's locale of Llanview, Pa., a fictional Philadelphia suburb.
Benari took a job as a doctor's receptionist and, in time, began to date another doctor, a young Black resident. ABC quickly received a spate of letters and calls from viewers angered at the portrayal of a white woman dating a Black man.
But the controversy was just beginning. Months later, it was revealed that Carla Benari was, in fact, Carla Gray, a light-skinned Black woman who had been secretly passing herself off as white to gain professional and social acceptance in her new hometown.
After the big reveal, ABC's switchboard was flooded by calls from irate viewers, who had been forced to confront their own prejudices by the storyline deception after months of becoming endeared to a character they believed to be white.
But the naysayers proved to be a very vocal minority; ratings for the fledgling soap, which had premiered earlier that year, skyrocketed. "One Life to Live" creator Agnes Nixon leveraged her show's newfound popularity to get another soap she developed onto ABC in 1970, its sister show, "All My Children."
In a full-circle case of life imitating art imitating life, Holly, a light-skinned Black woman, was cast in the pivotal role after Nixon read an op-ed piece Holly penned for The New York Times entitled "How Black Do You Have to Be?" Holly detailed the frustrations and challenges that she and other light-skinned Black performers faced when trying to get cast in roles on the stage and screen.
Holly said she was encouraged by her sister to put pen to paper and write a letter to the editor.
"I said to her, 'A letter (to the editor) is short, what makes me angry would take pages,'" Holly recalled. "But she said, 'Just sit down and write what you feel. Let them decide.' It ended up being six pages, but I never expected anybody to print all of them. So, I was shocked when they got in touch with me to say they wanted to print the whole thing as an article." (Holly would go on to write several more op-eds for the Times in the following years.)
"They had first started trying to cast the role before (Nixon) saw me," Holly said. "They had looked at people in Chicago, they had looked at people in Hollywood and they had looked at people here in New York, but they couldn't find anybody. When they found someone, she would be the right color but she wouldn't have the talent, or then they'd find somebody who had the talent but she didn't have the right color."
Before Carla Gray, there had been no Black lead characters on any daytime soap opera. Holly's portrayal of this groundbreaking role not only led to commercial success for the show but, as daytime television's first Black leading actress, Holly paved the way for other Black performers to gain prominent roles. In fact, Al Freeman Jr., who played her character's first husband, Ed Hall, became the first Black man to win an Emmy for Outstanding Lead Actor in a Daytime Drama in 1979, the same year Holly graced the cover of Ebony magazine for her role on the show.
Any joy or gratification from her achievements in expanding Black representation in television were mitigated by Sturm und Drang the actress endured behind the scenes. That included inequities in pay, broken promises about planned long-term storylines and casting choices of love interests for her character, she said. There was even the loss of her dressing room to a white co-star after she attended her nephew's funeral out of town.
Holly would go on to detail these and other experiences in her heartfelt memoir, "One Life: The Autobiography of an African American Actress."
Holly departed "One Life to Live" in 1980, returning for a second stint from 1983 to 1985. She went on to a role on the CBS soap opera "Guiding Light" and other prime-time and theatrical roles before retiring from acting.
A Queens native, Holly has happily called Westchester home for the past 47 years after deciding to leave Manhattan in search of a more peaceful yet still-convenient existence.
"I love living in White Plains," Holly said. "And I love how it's faster to get on the railroad here and go into New York than it is to go crosstown within Manhattan from the east side to the west side," she added with a laugh.