Westchester Remembers the Six Million Lost at Holocaust Remembrance
We are part of The Trust Project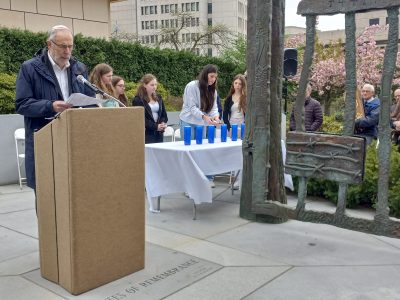 Dr. Aliza Erber may have been too young to remember the Holocaust, but she was a victim along with millions of others whose lives and families were decimated by the Nazis.
Erber, a rabbi and a podiatrist, was born in April 1943 in Holland. As an infant she became one of the "hidden children" of the Holocaust after her mother sent her to an underground bunker in the care of a doctor and nurses who were bravely trying to save Jewish babies.
This wasn't simply a subterranean day care center, but a place where the infants had tape placed over their mouths so their cries couldn't be heard beyond the walls while kept in the dark around the clock. It sounds cruel, but it likely spared Erber's life.
For much of her adult life, Erber, whose father was killed and who was reunited with her mother after World War II, has dedicated herself to educating others about the Holocaust and the dangers wrought by hate.
"The aftermath of evil and brutality is like poisonous gas," Erber said. "It spreads into every pore and crevice of your being, especially your mind. When I speak to young groups, to groups of young people, I emphasize to them the importance of being an upstander and not looking away. I tell them that because of upstanders I am here today. I want them to know the Holocaust did happen."
Erber was one the keynote speakers Tuesday afternoon at Westchester County's annual Yom Hashoah Holocaust Commemoration at the Garden of Remembrance in downtown White Plains. It coincided with the 80th anniversary of the Warsaw Ghetto uprising.
A few hundred attended the nearly hourlong ceremony presented by the Holocaust & Human Rights Education Center (HHREC) which also featured a procession of Torahs, held by representatives from more than 30 synagogues and Jewish organizations across the county, that had been rescued from Europe during the Holocaust.
Students from Hillels of Westchester, as well as Somers and North Salem high schools, lit six memorial candles to remember the six million Jews killed during the Holocaust.
HHREC Chairman Michael Gyory told the crowd that despite it being 80 years since the Holocaust, the world isn't all that far removed from its horrors. There are still survivors alive, although their numbers are dwindling. All four of Gyory's grandparents were murdered in Nazi camps.
His parents were teenagers in Budapest, Hungary when war broke out and their way of life ended with breathtaking speed simply for being Jewish. He said it was critical to honor his ancestors and all those lost.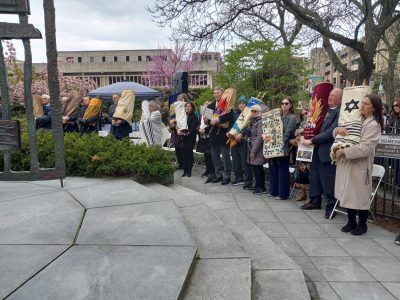 "Normally I would ask you for a moment of silence, but on this Holocaust Remembrance Day, I am asking you for a lifetime of speaking up," Gyory said. "Unfortunately, there is no escaping the reality of brutality and hate in our world, and on this Remembrance Day, we can all choose to talk about humans' unimaginable inhumanity with each other, and I embrace that opportunity and we should speak up and advocate for dignity and respect for all people."
County Executive George Latimer said while Yom Hashoash is a day to remember those lost, it's also a day to never forget, particularly with what is happening around the world today, including in the United States, with the rise of anti-Semitic incidents and Holocaust denialism.
He quoted a small portion of Hitler's rantings from "Mein Kepmf," published in 1925, eight years before he rose to power in Germany. Latimer compared it to the hate spewed from the dark corners of social media today.
"There is a universality of prejudice. We are here to mark what was the single greatest example of anti-Semitic hatred that went from rhetoric to murder, mass murder," Latimer said.
"That tree, a branch of that tree of hatred that has that anti-Semitic wing, has in another one the anti-Asian rhetoric. and then in another one racism, and in another one misogyny, in another one anti-LGBTQ. It all comes from the same tree, the tree of hatred in which we do not see each other as brothers and sisters. We see each other as the other, and that seed of prejudice, when watered with rhetoric, grows into that tree with the evil branches that come out of it."