Westchester Remembers COVID's Victims Two Years Later
We are part of The Trust Project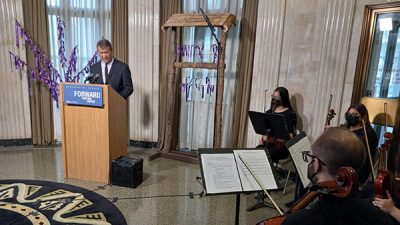 The enormity of the COVID-19 pandemic hit Westchester County Executive George Latimer in the spring of 2020 when he realized that the county needed to acquire at least one refrigerated truck.
So many people were dying during those early weeks of the pandemic that the local funeral homes were unable to keep up.
"I never thought that anything I've ever done in my life, from a kid in Mount Vernon to a student in graduate school to my years in sales and marketing and my years in other legislative positions prior to this position, prepared me to sit across the table and to make the decision to get a refrigerated truck or two to be able to handle that," Latimer recalled.
Latimer's comments came during a ceremony last Thursday afternoon in the lobby of the County Building in White Plains to commemorate the second anniversary of Westchester's first confirmed COVID-19 case in New Rochelle, the epicenter of the outbreak in the United States for a brief time.
The nearly hour-long ceremony in front of one of the county's two Ribbons of Remembrance memorials honored the 2,687 Westchester residents who lost their lives to the virus as of last week and the sacrifices made by healthcare workers and essential workers over the past two years. Family members can tie purple ribbons to the memorial there or at Lenoir Preserve in Yonkers in memory of losing a loved one to COVID-19.
In the early days of the pandemic, no one really knew what they were facing or how to handle it. County Health Commissioner Dr. Sherlita Amler said there were no treatments or vaccines, only steps from generations ago such as mask wearing, hand washing and social distancing in hopes of protecting the masses.
"Nearly every family felt the impact of this pandemic," Amler said. "Everyone has their personal stories to tell, and we will be sharing each other's stories and the memories of those that we lost for decades to come."
Affected as much as anyone was Westchester County Youth Bureau Executive Director DaMia Harris-Madden. She lost two parents, two uncles and a brother during the pandemic. Despite the tragedies, Harris-Madden, a Pleasantville resident, said she felt lucky that so many people within her home community and the county have helped her get through the past two years.
But the sad reality has also been that innumerable children have lost parents and have been orphaned during that time, she said.
"I approach everyone today with love, hope and solidarity because despite the hardships I'm here to say that I'm so grateful and honored to be here in Westchester, led by superb members who have been elected to office, outstanding colleagues who have worked tirelessly throughout the pandemic to make sure children like mine are safe," Harris-Madden said.
Three Westchester clergy members, Rabbi Howard Goldsmith, Rev. Timothy Dalton and Imam Shaffieq Chace, each provided inspirational and touching remarks during the program. They called on everyone to unite and do their part to keep everyone safe.
"None of us could have imagined where this journey would take us, where this path through the wilderness would lead," Dalton said. "Today we remember and we grieve, grieve the family and friends who are near and dear to us whom we lost. Today we remember their stories, their smiles, their voices, their dreams and continuing impact on our lives. We embody their legacies today. Today, let us remember that we are not alone in our grief."
Latimer said perhaps the most important lesson of the pandemic is the value of sacrificing for the good of one another.
"What we learned through COVID is it is not the leadership of a great leader, it's the willingness of all of us to understand the moment that we're in, to make sacrifices," he said. "If getting a shot in your arm, if putting a mask on your face is the sacrifice of your personal freedom, it's the sacrifice you make."
The White Plains High School String Ensemble performed during the ceremony, which concluded with a moment of silence and the ringing of church bells throughout the county.