News Based on facts, either observed and verified directly by the reporter, or reported and verified from knowledgeable sources.
Westchester Real Estate Market Status Report
We are part of The Trust Project
The unprecedented inconsistencies and volatility of the economy (rising interest rates, recession warnings, near record-low unemployment) have wreaked havoc and uncertainty in the real estate market. What's a prospective buyer or seller to do?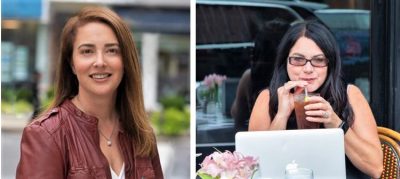 Fear not. We sought expert advice to sort it all out. Sari Shaw is a licensed real estate salesperson and Jennifer Ross is a licensed associate real estate broker. Together, they founded The Westchester Living Team at Compass, with Sari based in the Chappaqua office and Ross in Larchmont. They gave us a rundown on the local market and what to expect in the coming months.
Would you say it's currently a buyers' market or a sellers' market here in Westchester?
Sari Shaw: It is currently a sellers' market in Westchester. While there are some nuances from community to community, in general, inventory remains exceptionally low. Despite the interest rate uptick, there is a strong buyer pool waiting for inventory. Buyers are keenly aware of the data. For that reason, pricing to the market is important. Homes that are turn-key and priced appropriately are garnering interest, and oftentimes multiple competitive offers, and moving to contract very quickly. It is difficult, if not impossible, to find a deal. If a property is lingering, pricing is a consideration.
Why? What are the major factors contributing to that?
Jennifer Ross: We have an inventory issue throughout the county. Given the makeup of Westchester and the limited opportunities for new construction, we rely on resales for inventory. There has been a bottleneck, and our likely sellers are not selling at the same rate as in the past. Some sellers have the impression that sales are cooling due to national news reports that do not apply to the continuing strong seller's market. Other sellers are unsure of the next steps and where to go. Also, there are sellers with low mortgage carrying costs or no mortgage who are hesitant to jump into buying in the current landscape.
During the pandemic, a lot of people were moving out of the city to Westchester, which was driving up the price of both home values and rental rates. Is that trend still continuing or has it leveled off?
Shaw: We are still experiencing a city-to-suburb migration. This is typically the case in the spring market when families prepare to get in for the school year. During the pandemic, migration was less cyclical and more of a persistent, ongoing phenomenon.
Overall, how much have Westchester home prices increased in the past few years? And rental prices?
Ross: We have experienced double-digit gains in many communities in Westchester. Rental prices, especially for the limited supply of single-family rental homes, are also on the rise.
What about the housing inventory (for purchases and rentals)? Is there an adequate supply or a shortage?
Ross: We are experiencing shortages in housing inventory, and this applies to rentals.
What's your advice for people who are currently considering buying a house in Westchester?
Shaw: It is important to prepare well in advance of your timeline to purchase. Crucial first steps include getting pre-approved and honing in on exactly where you would like to move prior to jumping into the competitive buying process. Our team provides community tours and welcomes the opportunity to assist in the research phase. It is helpful to have your team in place – a trusted real estate adviser who knows the ins and outs of the local market, a vetted lender and a local real estate attorney – in order to streamline the ability to execute when you are ready to buy.
And for those considering renting a home in Westchester?
Shaw: Be flexible! It may be important to search for rental homes in a range of communities. Options are few and far between, and the process of securing a rental can be competitive as well.
How about prospective sellers in Westchester?
Ross: Although it is a sellers' market, there are steps to ensure a smooth process and to yield higher pricing. It is a great time to sell, and planning for a move in advance is important due to inventory constraints. Prepping a home for the market – decluttering, staging, addressing any repair items, and marketing appropriately – is extremely important in creating a buzz and interest. Pricing to the market is also critical. Collaborating with a trusted real estate adviser and leaning in on expertise will ensure a smoother process.
Are there communities in Westchester worth noting in terms of the current real estate market trends?
Ross: Perennial favorites like Larchmont, Rye and Scarsdale continue to remain competitive markets for buyers. Since the pandemic, communities in northern Westchester – Chappaqua, Pound Ridge, Katonah and Bedford, for example – have experienced unprecedented, double-digit gains in median and average prices. As commuting needs continue to evolve, many buyers are casting a wider net. In general, we are noticing an uptick in pricing in most communities due to the inventory crunch.
Based on the latest data, etc., what's your projection for 2023 in terms of home sale and rental prices?
Shaw: Unless there is a rampant uptick in inventory, prices will remain high. We will continue to see bidding wars on properties, but there may also be limited pockets of opportunity.