Westchester Mulling Reinstituting Mask Wearing at County Facilities
Westchester County is considering tightening its mask policy for people entering county-owned facilities to try and slow down the accelerating number of COVID-19 cases.
County Executive George Latimer said Monday that sometime this week there may be new guidelines for wearing masks in county office buildings and going to Westchester parks, including county beaches, pools and Playland.
Latimer said whatever the decision may be will not be made lightly by his office and Westchester health officials.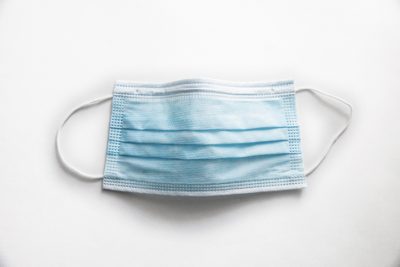 "When we look at having to impose restrictions requiring masks, which we had last year, which we would re-impose now, we're doing it because the numbers are pointing us in that direction," he said.
County officials also need time to speak to and arrive at a consensus with the nine unions that make up its workforce before any decision is announced, Latimer added.
The number of active COVID-19 cases continues to surge in the county, as it is doing in most areas of the state and the nation. On Monday, Latimer reported that there were 745 active cases in the county, up from 460 cases a week earlier and 175 from a month ago. 
Despite the sharp increase, the number of hospitalizations has remained low, standing at 21 through the weekend. On June 28, the county had just seven COVID-19-related hospitalizations, the lowest since shortly after the start of the pandemic.
Furthermore, in that same four-week time frame, there have been two county residents to die from the virus.
The numbers suggest that some of the people testing positive include vaccinated people but few people in that category are getting sick enough to require serious medical attention.
"What we want to make sure that everybody understands is that the process of vaccination is the critical tool to fight this disease," Latimer said. "It is the institution of vaccination in January that has made the difference, we think, in the numbers that we had in January and the general numbers we have today."
Westchester is now up to 79.1 percent of adults at least 18 years old who have had at least one shot of one of the vaccines. The 645,805 vaccinations represent two-thirds of the estimated 967,662 total population of the county, although children under 12 years old are still not eligible to receive a shot.
Latimer said a key will be the infection rate, hospitalizations and fatalities over the next one to three months. The next 30 days will complete most of the balance of summer, 60 days will take in the reopening of schools and three months will include the onset of cooler weather and more people starting to congregate inside.
While the county executive floated the likelihood of some sort of mask requirement on county property, he hedged some by wanting to get others involved in the discussion. 
"To mandate anything becomes an important step, a major step and one that is very controversial, let's be candid, so I think we want to have community dialogue before we do anything like that," Latimer said.
Dr. Dial Hewlett, head of the Division of Disease Control for the Westchester County Department of Health, said he did not have statistics regarding what percentage of the recent infections in the county are a result of the Delta variant, the more highly communicable strain of COVID-19. Statistics have been cited that at least 83 percent of the new cases are a result of the variant across the United States, he said.
However, thus far, the vaccinations have been quite successful in protecting those who are fully inoculated.
"The best way to defend ourselves against all the variants is to becomes vaccinated," Hewlett said.
Only the state can issue wide-ranging across the state. The lower rungs of government can only mandate mask wearing on their own property.
New York State continues to require commuters to wear masks on public transportation and health care facilities and correctional facilities.
According to the state's COVID-19 tracker, all 10 regions in the state clocked in with infection rates of 2 percent on Sunday except for Central New York (1.8 percent) and the Southern Tier (1.5 percent). 
The Mid Hudson region, which includes Westchester and Putnam counties, was at 2 percent on Sunday and at 1.6 percent on the rolling seven-day average.
On a county-by-county basis, Westchester had 68 new cases on Sunday from 3,552 tests for a 1.9 percent positivity rate. It also had 74 new cases on Saturday. It stood at 1.5 percent on the rolling average. Putnam had seven positives out of 290 tests on Sunday.