News Based on facts, either observed and verified directly by the reporter, or reported and verified from knowledgeable sources.
Westchester Judge Rules in Favor of Dog Owner in Animal Abuse Case
We are part of The Trust Project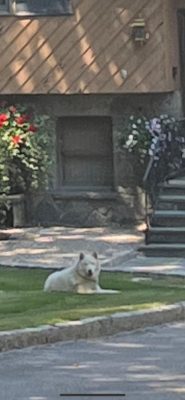 A Westchester County judge has ruled in favor of the owner of a white, female Siberian Husky in a contentious animal abuse case.
The court hearing for the case took place on Dec. 5, 2022.
Former Briarcliff Manor resident Deborah Pangle, founder of the animal advocacy group the Cat Squad, sued the Piscopiello family of Ossining, which has owned Luna for 11 years.
Pangle provided documentation and testimonies highlighted during a five-hour hearing before County Court Judge David Zuckerman on Dec. 5, which alleged abuse. She presented pictures and videos showing Luna chained outside even in extreme weather.
Luna's owner, Marco Piscopiello, testified that when the dog was inside she barked continuously and neighbors complained, but when tethered outside Luna seemed content. Piscopiello said the garage door was kept open two feet for Luna to freely enter and exit and there was a fan in the garage to keep the dog cool during the summer and a nearby boiler for warmth in winter.
The dog is provided a raised bed, and when the family isn't home, Luna is left in the garage with the door closed.
The case attracted animal advocates from all over the country who contributed about $20,000 to raise money for legal representation.
In his 11-page decision, Zuckerman said "Based upon the credible evidence presented at the trial, the court finds that Luna is healthy and well cared for…and lives with loving owners who have gone out of their way to make her happy and safe."
Zuckerman's summation stated that the plaintiff (Pangle) "failed to establish the elements of either reckless or intentional infliction of emotional distress."
Among those testifying on behalf of Pangle's case was Lorraine Healy, founder of Husky House, a Siberian Husky rescue organization who claimed that dogs such as Luna are bred to be part of a pack, and isolating them can cause unnecessary suffering. Healy said the breed needs large amounts of exercise and roughhousing with people and other dogs.
Other testimony came from residents living nearby who observed Luna tethered for seven years.
Also taking the stand during the hearing was Ossining Police Chief Kevin Sylvester who said Pangle e-mailed and called the police department numerous times about Luna. Sylvester testified that in response to Pangle's calls he dispatched animal control officers to check on the Husky.
Pangle and Sylvester contacted Ernest Lungaro, director of the Humane Law Enforcement Unit at SPCA Westchester in Briarcliff. During the hearing, Sylvester quoted Lungaro saying "the dog didn't require anything and nothing needed to be done."
When the decision was made public last week, Piscopiello said he was unaware that the judge ruled in his favor. He had no comment on the ruling.
Pangle questioned who the real winners were in the decision.
"Luna has been condemned to live out her life of 11 years chained like a criminal," she said. "We presented a strong case at Luna's trial with serious evidence. The Cat Squad brought truth to power to the highest court in Westchester and Luna's story and voice was heard by all."
Ossining passed a tether ordinance in 2018, which states a dog may be tethered outside for a maximum of 12 hours in any 24-hour period. Violating the law is punishable by a fine of no more than $250.