Westchester Has Back to Wall to Retain 2011 HUD Funds
We are part of The Trust Project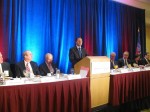 The clock is ticking on Westchester County to pass legislation designed to prohibit discrimination against residents who receive public assistance for housing in order to preserve $7.4 million in federal funding.
County lawmakers have until April 24 to come to an agreement on so-called "source of income" legislation or Westchester risks losing Community Development Block Grants administered by the Department of Housing and Urban Development from 2011.
The issue stems from the 2009 affordable housing settlement. The state's Second Circuit of Appeals recently upheld state Supreme Court Justice Denise Cote's decision from last year that agreed with HUD officials who contended that County Executive Rob Astorino failed to promote the settlement when he vetoed similar legislation in 2010.
In a statement released by his office, Astorino said he was "disappointed" in the Second Circuit's decision and that he doesn't object to the Section 8 voucher program.
"My objection has been turning this worthwhile voluntary program into a mandatory one that would compel every owner of a house or apartment to do business with the federal government– and take on all the rules and regulations that entails–upon a tenant's presentation of a Section 8 voucher," Astorino stated.
He also said that source of income legislation would have been detrimental to the  housing settlement because it would have taken away the incentive for developers to build affordable units. On the contrary, it has been argued that some property owners and landlords might shy away from prospective tenants who receive income through Section 8, social security or any local, state or federal housing assistance because they may appear to be less reliable.
The dilemma facing Westchester is that the federal government could decide to reallocate the money by the end of next week even if the county eventually passes source of income legislation.
Local county legislators, who now have the green light from Astorino to move ahead on the matter, said with complex issues to navigate, it is a long shot that the April 24 deadline can be met.
Democratic Majority Leader Peter Harckham (D-Katonah) said it is unclear to him whether the money would be lost if April 24 passes without legislation in place of if there is still a chance to retain all or part of the money. However, it is also important for the county to be prudent and pass the right resolution.
"This is a time for cooler heads to prevail," Harckham said. "The stakes are high here and we need to be smart about this."
He added that once Astorino acknowledged that source of income legislation must be passed he should have authored a proposal that is acceptable to him and sent it to the Board of Legislators.
Meanwhile, Legislator Michael Smith (R-Greenburgh) said it appears that the 2011 CDGB money will be lost unless there is a sudden change in stance by HUD. The county has also had its 2012 HUD funds withheld, at least temporarily.
Smith criticized the federal government for acting like a "bully" not only regarding the CDBG money but also accusing the county of keeping exclusionary zoning in place.
Although there may be squabbles on the issue in the weeks ahead among the legislators, at this point he expects a majority to pass a bill.
"My hope is that the legislation will have something that is palatable for as many legislators as possible," Smith said.
Both lawmakers and Legislator Michael Kaplowitz (D-Somers) agree that the move by HUD to threaten Westchester with the loss of money for projects such as parks and roads is counterproductive. Smith said that about 90 percent of the $7.4 million was slated to go to communities that already have ample affordable housing and diversity and are not required to build more.
"They're hurting the people they're looking to help," Harckham said.