Westchester County Nears 90,000 Total COVID-19 Cases, Putnam Adds Over 100 New Cases
We are part of The Trust Project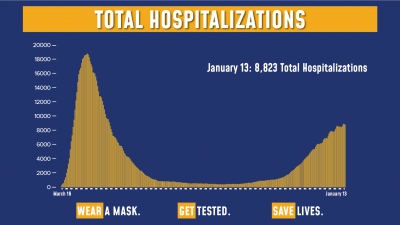 Coronavirus cases in Westchester County increased by 821 on Sunday, bringing the total number of positive cases to 89,225 since the start of the pandemic, state data shows.
There are now 11,494 active cases, an increase of 32 over the previous day.
The county's daily positivity rate is 5.80 percent, with 14,160 tests administered on Friday. Overall, there have nearly 1.7 million COVID tests dispensed in Westchester since March.
The county reported 10 more deaths, bringing the death toll from COVID-19-related fatalities to 1,846 since March. In the last week, 57 people have died from the virus, with 171 overall fatalities since the start of the new year.
As of Thursday, there are 567 virus patients in Westchester hospitals.
Putnam County's total caseload has reached 6,927, with 103 additional positive cases recorded on Sunday. The county's daily positivity rate is 6.27 percent, with 1,643 tests administered Friday, state data shows.
The county currently has 1,177 active cases, a decrease of two over the previous day.
There has been a total of 76 coronavirus-related deaths in Putnam since the start of the pandemic. There were two-virus related deaths this past week and nine since the start of the year, state data shows. No new deaths were reported on Sunday.
Statewide there were 12,720 new positive cases on Sunday, state data shows. The daily positivity rate is 5.09 percent.
The state recorded 160 additional COVID-19-related fatalities, bringing the death toll to 34,069 since March.
Statewide hospitalizations stand at 8,613, a decrease of 189 over the previous day. Across New York there have been 1,326,987 positive coronavirus cases since the start of the pandemic, according to the state tracker.
Here's Some COVID News You Missed Last Week
Gov. Andrew Cuomo announced on Friday that two more cases of the United Kingdom variant of COVID-19 have been confirmed in Westchester County. There is now a total of three known cases in Westchester.
High-risk high school sports competitions can proceed starting Feb. 1 after the state originally postponed them when COVID-19 rates began to significantly rise last year.However, those high-risk sports, including basketball, football, ice hockey, competitive cheerleading, volleyball, ice hockey, wrestling, and boys lacrosse, can only resume if local health departments grant approval based on certain distinctions.
As of Saturday, County Executive George Latimer said over 12,000 individuals have been vaccinated at the Westchester County Center since the facility opened as a state-run distribution center two weeks ago.
Despite the shortage of COVID vaccines, click HERE to see if you're eligible to make an appointment.
Westchester Active Coronavirus Cases by Municipality
Here are the active cases by municipality in Westchester as of Friday. With a lag between the total number of cases confirmed by the state and the tally of cases by town, the total number of municipal cases might be slightly different than what the county's active cases reflects.
Ardsley – 40
Bedford – 153
Briarcliff Manor – 73
Bronxville – 60
Buchanan – 37
Cortlandt – 408
Croton-on-Hudson – 64
Dobbs Ferry – 86
Eastchester – 196
Elmsford – 57
Greenburgh – 443
Harrison – 228
Hastings-on-Hudson – 67
Irvington – 60
Larchmont – 59
Lewisboro – 68
Mamaroneck Town – 123
Mamaroneck Village – 237
Mount Kisco – 125
Mount Pleasant – 217
Mount Vernon – 821
New Castle – 139
New Rochelle – 944
North Castle – 86
North Salem – 54
Ossining Town – 62
Ossining Village – 433
Peekskill – 408
Pelham – 81
Pelham Manor – 57
Pleasantville – 74
Port Chester – 411
Pound Ridge – 21
Rye Brook – 83
Rye City – 149
Scarsdale – 101
Sleepy Hollow – 194
Somers – 211
Tarrytown – 202
Tuckahoe – 85
White Plains – 605
Yonkers – 2,904
Yorktown – 460