Westchester Cops Nab Suspect After Two Local Gas Station Robberies
News Based on facts, either observed and verified directly by the reporter, or reported and verified from knowledgeable sources.
We are part of The Trust Project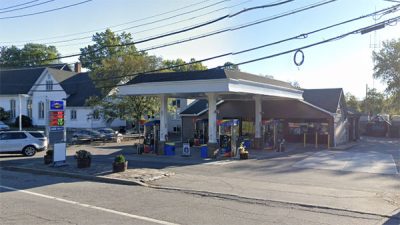 A 28-year-old Suffolk County man wanted by multiple police agencies for robberies throughout the metropolitan area was taken into custody early last Wednesday morning by Westchester County police following holdups of two area gas stations.
Jose Nieves, of Brentwood, N.Y., was apprehended on the Hutchinson River Parkway near the split with I-287 in Harrison at 6:10 a.m. on Mar. 1 after leading Westchester County officers on a brief chase. His capture came about 10 minutes after his second robbery of the morning at the Sunoco station at 360 Main St. in Armonk, according to multiple law enforcement agencies.
The Putnam County Sheriff's Department reported that Nieves allegedly robbed a Gulf station at 1565 Route 6 in the Town of Southeast at about 5:15 a.m. Nieves pointed a gun at the clerk's head and demanded money from the register, according to the sheriff's department.
He fled the scene with more than $6,000 in cash and about $350 worth of cigarettes in cartons, police said.
A customer at the Gulf station was able to take photos of the suspect's vehicle, a Toyota Corolla, which was forwarded to police and an alert was put out to area police agencies, the Sheriff's Department said.
Following the robbery in Armonk, which according to North Castle police failed to net Nieves much money or merchandise, he got back on I-684 and traveled southbound toward I-287 when the chase with police began, said Westchester County police spokesman Kieran O'Leary.
O'Leary said the suspect refused to pull over when a county officer tried to stop him on Westchester Avenue. Nieves then reversed direction and started traveling against traffic.
"He hangs a U-turn and then starts to head the wrong way," O'Leary said. "He's going eastbound in the westbound lanes. So to try and shake the cop he literally makes a U-turn across the parkway."
At that point, the officer terminated the chase, but another patrol car spots the Toyota heading toward the southbound Hutchinson Parkway from Westchester Avenue. Moments later Nieves crashed the car, he said.
O'Leary said the suspect was boxed in by police and tried to flee the vehicle, when a struggle with the officer ensues. A good Samaritan in a white van, stopped and got out of his vehicle to tell police that the car had been traveling in the wrong direction and helped the county officer subdue the man.
"He actually came and helped get this guy on the ground, and now other Westchester County police officers (and) a Harrison cop (arrive), and then this guy gets back in his van and drives away," O'Leary said.
Westchester police are hoping to find the van driver.
"We'd like to say thank you," O'Leary added.
Nieves was charged by the Putnam County Sheriff's Department with second-degree robbery, third-degree grand larceny and criminal possession of stolen property. The Corolla, which had Alabama license plates, had been reported stolen out of New York City on Feb. 19, Westchester police said.
He was also charged with various vehicle and traffic offenses and resisting arrest in Westchester.
Nieves had a warrant issued for his arrest in Suffolk County. He is suspected of committing multiple robberies on Long Island, O'Leary said.
North Castle Police Lt. Regen Hufnagle said the suspect may have been wanted in connection with as many as 20 robberies.
"A lot of the time they become over-emboldened by the fact that they've been successful and they end up screwing up because of overconfidence," Hufnagle said.
Last Friday, Nieves was being held in the Putnam County Correctional Facility on $50,000 cash bail or $100,000 bond.
None of the police agencies involved reported anyone being injured in connection with last week's robberies, chase, or arrest.