WCC to Hold Tuition Steady for Fifth Consecutive Year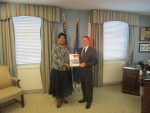 Westchester Community College (WCC) students and their families can look forward to no tuition increase for the upcoming academic year, the fifth consecutive year the college and the county will keep the cost steady.
County Executive Rob Astorino and WCC President Dr. Belinda Miles made the announcement Monday morning in a joint news conference, renewing their commitment to maintain the two-year school in Valhalla as an affordable higher education option.
"It's a gateway for many families to send their kids to school for the first time, and it's a great college and one whose credits transfer to almost any school in the country, and so it's a real good savings plan for a lot of families to get those credits, and then at some point, if they choose to go to a four-year school, to transfer there," said Astorino, who sent the county's portion of the WCC budget to the Board of Legislators to review last Friday.
Under the plan, the county is scheduled to contribute $29.9 million toward WCC's $122 million budget for 2017-18, up $67,000 over last year. Last year the county increased its commitment by about $500,000 from the previous year.
Full-time students who are New York State residents will continue to pay $4,200 for the year, Miles said. About 90 percent of the college's nearly 13,000 enrolled students are Westchester residents with most of the remaining student body coming from the Bronx or neighboring counties. A small percentage take online courses.
Miles said over the past several years WCC has gone from among the top five most expensive of the 30 community colleges in the state university system to now being ranked 24th.
She said her administration and the county has worked very hard to examine the college's expenses to keep tuition in check, an issue that has gained national attention. WCC has also undertaken analyses of its facilities and to make sure the school builds in efficiencies so there are as few unnecessary expenditures as possible.
"So we're really pleased that we've been able to look internally to realize how we can reallocate resources and look for increased efficiencies within our operations while we're supporting students and increasing pathways either on to the workforce directly for those who get the associate of applied studies or move onto the transfer to (four-year) institutions and arriving by taking their credits with them," Miles said.
College tuition costs have been at the forefront of a national debate, which is also taking place in Westchester. Miles said it's critical for WCC to do its part in helping to prevent students from plunging deep into debt, especially as more of its students come from families with food insecurity. The college has also opened a pantry to help students from needy families, she said.
Astorino said the Board of Legislators could vote to approve the county's portion of funding at the Aug. 1 meeting. He said he expects broad support from lawmakers.
The county executive mentioned that the county and WCC has done its part through belt-tightening and longer-range planning that looks ahead five to seven years. Most of all, it helps the next generation entering the workforce.
"It's a great way to not pile on debt and get a great education," Astorino said.