WCC President Hankin Announces Retirement After 42 Years
We are part of The Trust Project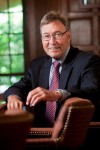 Westchester Community College President Dr. Joseph Hankin, the nation's longest serving community college president, announced his retirement on Wednesday.
Hankin, who has served as WCC president since 1971, shared details of his retirement during the annual President's State of the College address. His retirement was officially accepted at Wednesday afternoon's Board of Trustees meeting.
"For the past 42 years, it has been my honor to serve the Board of Trustees, administration, faculty, staff, student body and residents of Westchester County in the position of President of Westchester Community College," Hankin said. "The accomplishments achieved over the past four decades have been realized because of the joint effort of a team of individuals."
He was granted a leave of absence for 2014. During the leave, Hankin will assist in the college's search for a new president as well as help increase its visibility and outreach efforts. Hankin will also be involved with other projects related to the development and refinement of programs and services to meet the needs of the college.
WCC announced that a search committee will be formed and a national search for a permanent successor that could take up to one year will take place. A national search firm will be hired and an interim president will be named.
"Dr. Hankin has been the soul of the institution and his achievements have spanned decades," said WCC Board of Trustees Chairman Timothy Carey. "We are pleased that he will be assisting in the transition to a new president."
Hankin was a significant member of the team that expanded the Westchester Community College Foundation, which has raised millions of dollars in support of faculty and staff, students, academic programs and infrastructure. More than $1 million is distributed annually in scholarships and money raised also helped construct new buildings on campus, including the Gateway Center.
County Executive Rob Astorino said Hankin has exhibited an impressive record of leadership.
"It has been an honor to work with him to ensure that the residents of the county have all the educational resources needed to improve their lives, whether it is to take classes to earn a degree, train for new careers or take a non-credit course for self-improvement," Astorino said. "I am proud of our community college and I want to acknowledge Dr. Hankin's role in expanding and improving the institution over more than 40 years."
Hankin became the nation's youngest college president when he assumed leadership of Harford Community College in Maryland at 26 years old.
He is credited with efforts to educate immigrants and new citizens, which has resulted in the expansion of the English as a Second Language Program. More than 4,000 individuals now learn English language skills at WCC.
He also oversaw the expansion of student clubs. Today, there are more than 70 clubs on campus.
An early proponent of online learning, Hankin's support of distance education has resulted in a rapid expansion in this area. The college has offered hundreds of online classes over the years.
"For more than 40 years, President Hankin has led Westchester Community College with the highest level of distinction, fostering productive and impactful connections with students, faculty, and staff on campus and elevating the college's presence and partnership with the local community," said SUNY Chancellor Nancy L. Zimpher. "The college will be forever defined by President Hankin's tenure, and his many contributions to SUNY and to New York State throughout his leadership will benefit generations to come."