Volunteer Heightens Twigs Thriftree's Digital, Fashion Imprint
We are part of The Trust Project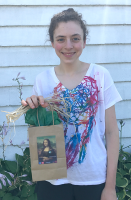 By Jennifer Grace Torsiello
Shoes. Handbags. Clothes, some designer. All donated.
The boxes soar like the Freedom Tower, yet are not found in Manhattan. Instead, they arrive, almost daily, at 449 Lexington Ave. in Mount Kisco, an address where 17-year old Jessica Laemle has toiled to put Twigs Thriftree on the fashion map.
"It's not your typical thrift," Laemle said of the boutique, operated by Twigs of Northern Westchester Hospital (NWH), a nonprofit organization that creates patient comfort items and donates all of its proceeds to the hospital. "It's so much more. It's a good mix of very high-end designer, middle and everyday brands. It's something for everyone."
A true thrift devotee, Laemle is also a customer. She wears leggings paired with Twigs-procured sweaters and cites "The Devil Wears Prada" as a favorite film. Studious and stylish, she spent last May through August donning the signature rose jacket of a Twigs volunteer.
"Volunteering and giving back are interests of mine, as well as retail and business…(and) social media," she explained. "So I thought this was something new…yet it was different from what I'd previously done and a way for me to clarify what I'd like to do in college."
Laemle's schedule saw her split her time helping the other ladies in the shop and meeting with Twigs Thriftree's communications and digital strategy team. Her online savvy, image-editing finesse and economist's acumen came to life.
Navigating the Twigs website (www.twigsofnwh.org), Laemle contributed to e-communication campaigns and opened a Pinterest account.
"We now have hundreds of views per month," she said. "I think that data is a lot more important than most realize. They don't do analytics."
Laemle harnessed Google's comprehensive system of measuring traffic, known as Google Analytics, as well as the proprietary tools of the Twigs social media accounts to make astute assessments.
"When to post, what people like the most…We can't grow Twigs until we know how most people are responding," she sagely pronounced.
Essential is what elicits an audience response. Although the recurring Twigs mantra of "thrift for philanthropy" makes for a memorable hashtag (#ThriftforPhilanthropy), a visual translation is much more nuanced. Luxury houses and big-box brands have readily identifiable offerings. Thrift could encompass all this and more.
To address this challenge, Laemle arranged dozens of photo shoots. Exercising a good eye for color schemes, she coordinated dishes, hats and more.
"I really helped create pictures of the actual merchandise," Laemle said.
With both digital camera and iPhone, she painstakingly captured vignettes against a lozenge-like floor. Sometimes Laemle tossed in flower petals. Other times she tucked in a Twigs business card.
Perhaps Laemle channeled her business sense and fashion insight most when devising a proposal for giftwrap. As the boutique had neither attractive packaging on hand, nor a tradition of promoting its image at final sale, she pounced on the opportunity.
"Of course, I want to see (Twigs) as one of the most popular stores in Westchester," Laemle said of her theory that giftwrap could command a small fee. "I want to see a little bit of modernization in addition to keeping old charm."
At last, customers should be able to leave the boutique with upcycled items wrapped in a way that honors the elegance and intrigue of their donated sources.
Through technology she created multiple prototypes. Integrating the Twigs and NWH logos into what she terms "classic art," Laemle then embedded social media icons, the Twigs Thriftree address, phone number and its website. A series of these oeuvres, reinterpreted as purveyors of the "thrift and drift of the ages," she patterned on giftbags and finally settled upon Mona Lisa's bosky beauty (especially evocative of twigs) as a "winning" design.
Although Laemle is now a freshman at Gettysburg College, she continues to serve as a youth consultant. This December, her innovative touch yields new Mona Lisa-patterned gift bags, emblazoned with the nonprofit's most essential information.
Da Vinci's masterpiece surely smiles upon the Twigs mission of thrift for philanthropy. One cannot help but wonder: Does the Mona Lisa wear Prada?
For more information about Twigs Thriftree, visit twigsofnwh.org.