Vikings Edge Rye Neck to Win Fourth Straight Softball Title
We are part of The Trust Project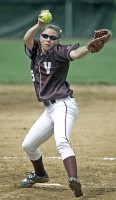 Valhalla freshman Sydni Holtz knew she had some very big shoes to fill this year when she inherited the Viking mound chores from longtime star Alex Kinnally, who had pitched the team to Section One championships the past three seasons.
"I was very nervous coming into the season," Holtz admitted late Saturday afternoon. "All the three-peat talk and everything."
Just moments earlier, though, Holtz had displayed composure beyond her years reminiscent of Kinnally as she pitched her way out of trouble in the seventh inning and enabled Valhalla to escape with a nail-biting 2-1 victory over top-seeded Rye Neck in the Class B championship game at Heroes Field in Nanuet.
"Unbelievable for a freshman in this kind of atmosphere," said Vikings coach John Hayes about his precocious young pitcher, who left two Panther runners aboard when she struck out Diana King swinging to put an end to the afternoon's drama.
"Composure is the key word. Up and down, Rye Neck battled her extremely hard, but she was tough. A couple innings, they had runners on. She was able to keep her composure, work inside, work outside, get kids to roll over, pop up, get us out of great situations."
The second-seeded Vikings, now 17-4 this season after winning their 10th straight game, were limited to just two hits, both by eighth-grader Kaylie Dymek. Her second one came in the top of the fifth inning with two outs and drove home pinch-runner Kristen Colabatistto with the run that allowed Valhalla to get past the Panthers in the title game for the second straight year.
Rye Neck had begun its 2012 season with a 13-game winning streak before the Vikings ended it three weeks ago with a 3-1 triumph, the same score as last year's sectional final between the two teams. And just like last year, it was a timely defensive play to cut down a Panther runner at the plate that may have changed the game's outcome.
Nickole Morgan's booming hit to the fence in left field was quickly retrieved by Danielle Maffei, who relayed the ball to shortstop Brandi Coon. Her throw home to catcher Maddie DeMilio was just in time to nip Panther star Jessica Calvini trying to score the game's tying run in the bottom of the sixth. An inning later, DeMilio's heads-up catch of a fouled-back bunt attempt with no outs and the tying and winning runs on base helped preserve the Vikings' precarious lead.
"It really took the whole team's effort," said Holtz, who responded after DeMilio's sparkling seventh-inning grab by retiring Kirstin Tammucci on an infield pop before striking out King to clinch the win. "Our defense was on today and we put the ball in play. That's what we needed to do."
The Panthers' Calvini had already pitched shutouts in their two playoff wins earlier in the week, striking out a combined 23 batters. But Valhalla managed to push across a run in its first turn at bat. With one out, Dymek singled to right field, then came all the way around when Coon's liner to left field was misplayed for a three-base error. But Coon was stranded at third as Jade Fumarelli popped out to first base and Maffei, whose three-run homer had decided Thursday's semifinal win over Kennedy Catholic, swung at the first pitch from Calvini and popped out to short.
Holtz retired the Panthers in order in the first, but not before Fumarelli had to make a dazzling backhanded catch in deep left-center field to rob Marisa Bella of an extra-base hit.
The Vikings threatened in the third inning, putting two runners on before Fumarelli grounded out deep in the hole at short. The throw to first just beat her as she dove head first into the bag. In the bottom of the inning, the Panthers got their first base runner as Brianna Cefaloni, who had three of Rye Neck's seven hits, led off with a double. She was eventually left at third as Holtz struck King out to end the inning.
Calvini blasted a one-out homer over the fence in left to tie the game at 1-1 in the bottom of the fourth. If Holtz was rattled, she hardly showed it and an inning later Valhalla took the lead again. Alyssa Lombardo drew a leadoff walk, pinch-runner Colabatistto stole second and, with two outs, Dymek came through with her clutch RBI single to right field.
In the bottom of the fifth, Rye Neck's Cefaloni led off with a single and was bunted to second. That's as far as she got, though, as the inning ended with Holtz making a sprawling catch in front of the mound on a little blooper off the bat of King.  In the sixth, the Panthers got a one-out single from Calvini. Then with two away, Morgan lined a Holtz pitch over the head of Maffei in left and set in motion the spectacular relay play by the Vikings that denied Rye Neck the tying run.
"We do it in practice every day and they just executed," said Hayes of the Maffei-to-Coon-to-DeMilio defensive gem. "Maddie blocked the plate, made the kid slide to the outside. Bang-bang play, we get the momentum and we just continue moving forward."
The Vikings were still three outs away from a fourth straight sectional title and the bottom of the seventh began ominously as Julia Bilotta ripped a 3-1 pitch into center field for a single and Cefaloni followed by smacking the ball past Lombardo at third for another hit. But Bradley's attempt to bunt them over was thwarted as she fouled the first pitch straight back behind her and the alert DeMilio plucked it out of the air for an out.
Holtz got the second out as Tammucci sent a little pop over the mound that was gobbled up by Coon. When King soon waved at strike three to end the game, Holtz jumped for joy in front of the mound and was quickly mobbed by her jubilant teammates.
"I was in shock, I really was," said Holtz about her immediate reaction. "I can't believe I did it. They're (the Panthers) a very, very good team and we knew we had to put the ball in play. And our defense had to be spot on and we pulled out on top today. It's very nerve-racking, actually, playing in this game. But once again my defense kept me together and I was nice and calm."
So now the Vikings face Section 9's Highland in the opening round of the state playoffs on Tuesday at Rhinebeck High School. Despite losing seven players from last year's squad to graduation and starting an infield that's even younger than seen on most junior varsity teams, Hayes isn't surprised things turned out the way they did.
"I don't wanna be arrogant and I don't wanna be overconfident," he said. "But I actually knew we would battle to the end. We had an entirely new infield, third, short, second, first and pitching. It was just getting them used to the level of play and that takes a 10-, 12-game adjustment period and they did that and this is where we are. "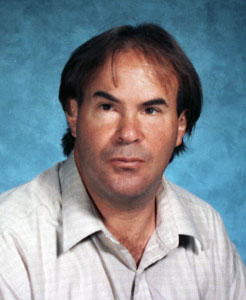 Andy is a sports editor at Examiner Media, covering seven high schools in the mid-Westchester region with a notebook and camera. He began there in the fall of 2007 following 15 years as a candid photographer for the largest school picture company in the tri-state area.
Read more of Andy's full bio here.
Read Andy's archived work here.