Variety Sets Tone for Outdoor P'ville Farmers Market
We are part of The Trust Project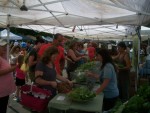 Since the Pleasantville Farmers Market moved indoors a few years ago it doesn't completely go away for more than a week or two at a time.
But like best friends reuniting after summer at the start of a new school year or the beginning of a new baseball season, there's something extra special at the market's outdoor opening day each year.
Today (Saturday) will be the opening of the 18th summer season for the Pleasantville Farmers Market and it's come a long way, not only from its more humble origins on the sidewalk near the train station but also since it moved out into the Memorial Plaza parking lot several years ago.
"People like the variety and they like the vibe and I don't think that's an accident," said Peter Rogovin, president of Foodchester, the nonprofit organization that operates the market. "I don't think that just happens. We curate the variety."
While there are no new categories this year, the market will open with 56 approved vendors, with 40 to 45 on hand each Saturday. Some vendors with the same or similar offerings will be part of a rotation. Vendor selection is one of the most important tasks that organizers struggle over, Rogovin said.
Among the new vendors is Bulich Mushroom Farm; Gajeski Produce, a Riverhead, L.I. farm that sells a variety of produce; Wright's Farm, an upstate operation that specializes in berries, stone fruits, pies, preserves and pastured eggs; and the highly requested Orwasher's Bakery.
One focus of the market is to make sure that vendors are predominantly, but not exclusively, from the Hudson Valley, Rogovin said. While there are also a few from New Jersey, expanding the reach diversifies the offerings and doesn't leave the market vulnerable to natural crises in a more localized area. However, you won't find fish from Florida or vegetables from California at the Pleasantville Farmers Market, he said.
"We're kind of about this area," Rogovin explained. "I know if we let our farmers bring in some lemons or some mangos or grapefruits, we'll sell them and people would be really excited. I think most of our customers understand that you are not going to get all your food from a farmers market."
Variety isn't just limited to the food vendors, but extends to the musical entertainment and children's activities as well. While many farmers markets feature a certain type of music to add to the ambiance, typically the singer-songwriter/guitar player, visitors will see and hear all types of genres over the next several months.
In addition to acoustic rock artists such as Skyfactor and Tumbleweed Mike, market-goers will be treated to eclectic sounds from performers such as Tipsy Oxcart, a Balkan fusion band (June 27); the classical ensemble DuoEssence (July 4); hammered dulcimer player Paul Mueller (July 11); The Biryani Boys, which features a sitar (July 25); and BottomsUp, a Dixieland band (Sept. 5).
On the activity front, there will still be popular arts and crafts, tie-dye and musical storyteller Jonathan Kruk, but there will also be Irish dancing, Westchester Engineering, which has fun with Science, Technology, Engineering and Math activities, and activities from the Katonah Museum of Art.
Rogovin acknowledged that the market does have a lot of rules, both for patrons and vendors. One rule that rankled a few people last year–and a few more on online threads this year–was the banning of dogs from the market following a incidents where a small number of dogs left their manners at home, he said.
Market operators also want the vendors to engage the customers and not use their iPads and iPhones while customers walk by. Some people shop at a farmers market because they're interested in learning where the food comes from, Rogovin said.
While there's always some turnover, most vendors enjoy coming to Pleasantville, he said.
"The feedback we generally get from the vendors is that we really manage the market well," Rogovin said.
The  Pleasantville Farmers Market is open every Saturday from 8:30 a.m. to 1 p.m. through Dec. 5. For more information, visit www.pleasantvillefarmersmarket.org.