News Based on facts, either observed and verified directly by the reporter, or reported and verified from knowledgeable sources.
Valhalla, Westlake, Byram Rockin' Atop Class B Pile
We are part of The Trust Project
By Ray Gallagher, Examiner Sports Editor @Directrays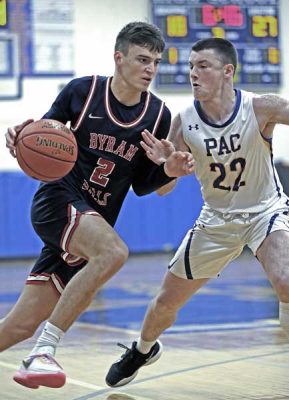 The circle of competitive Class B squads in Section 1 has widened over the last two weeks. VALHALLA, ranked No.10 in NYS at 4-0, is being bandied about as the team to beat.
WESTLAKE (6-0), HM in the NYS rankings, is yet to lose, and BYRAM HILLS, ranked No.24 in NYS, has a vintage pedigree to go along with a ton of length this season. Toss in PLEASANTVILLE and 2022 runner-up BRIARCLIFF, and you get the feeling that, when push comes to shove, the sectional title is up for grabs. And don't discount a Hastings club that has already defeated Byram and Briarcliff.
The early scuttlebut is all about Valhalla, though, after the Vikings crushed North Salem, 63-36 last Thursday and needed overtime to upend Hastings, 68-61, earlier in the week. Averaging over 64 PPG and holding opponents to 50, the Vikings are setting up as a potential No.1 seed in a brutally competitive league, including a two-game set with Westlake, which could decide the league title on the final day of the season, plus a non-league tilt with Byram.
Westlake defeated a feisty Leffell team, 52-50, in overtime when Christian Occhipinti and Jack Neglia popped for 15 points each. Nick Castellano (9 points), Marc Malandruccolo (8) scored some much-needed buckets as the Wildcats remained undefeated with a game against Blind Brook over the holiday break and one with Pleasantville out of it.
Byram Hills went on the road in a tough place to win and devoured Class A MAHOPAC, 45-32. Rangey junior Tyson Repa (17 points, 7 rebounds) took over in the second quarter, proving a nightmare matchup for the Indians, who fell to 1-3. Sophomore point guard Broday Ceisler chipped in with nine points while Luke Berliner (7 points, 12 rebounds) and Sean Siegel (6 points, 10 boards) were formidable on the glass.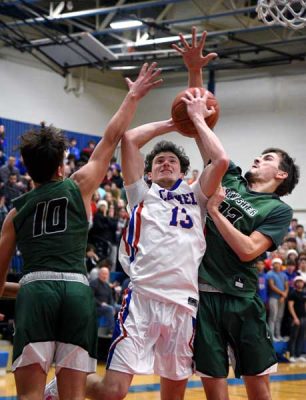 "Tyson scored eight straight to start the second quarter to build a lead," Byram Coach Ted Repa said, "and then Mahopac countered with a box-and-one defense, and that's when sophomore Brody Ceisler hit 3 three's, all in the second quarter. The score remained at pretty much a 10- 14- point lead the rest of the way."
In a bit of a shocker, the Bobcats (5-2) lost at home to John Jay CR, 55-38. Repa (16 points) and Zach Efobi (10) pace in impotent attack on this day.
Briarcliff took down Irvington, 76-72 in OT behind seniors Jason Rosenbaum, who dropped 18 points (10 in OT) and Cooper Plank, who matched with 18 points while junior Jordan Kratz added 11 for the Bears (2-2).
In Pleasantville's 36-35 win over Croton, the Panthers (3-2) were led by Dermot McSpedon's 22 points. HALDANE got the better of the Panthers earlier in the week in a 65-55 Blue Devils (3-3) win.
PUTNAM VALLEY found itself in early foul trouble and as a result lost to Woodlands, 68-65, last Monday.
"Woodlands played smarter down the stretch," PV Coach Al Morales said.
Sean Holzman led the Tigers with 17 while John Cekaj and James Apostolico had 11 apiece.
Put Valley (2-5) played smarter and tougher in its 68-67 overtime win at Peekskill (2-4) Wednesday behind a career-high 29 from the silky soph Apostolico. In tandem with Holzman (25 points), the duo were exceptional on a night when Peekskill was led by Chavis (26 points) and Brown (18).
CLASS A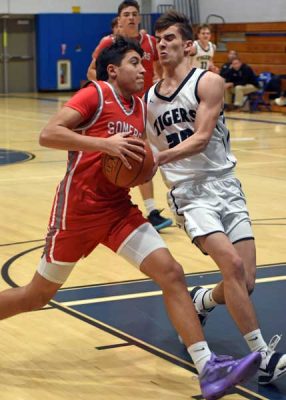 SOMERS took it to Pearl River last Tuesday to open the week with a 64-57 win behind two-pronged scoring attack of junior G Andrew Violante (19 points, 3 3's) and senior swingman
Matt Fitzsimons (23 pts, 9 boards). Mac Sullivan (5 points, 2 rebounds) and Dylan Ingraham (12 points, 3 steals, 6 assists, 6 boards) were solid contributors for the Tuskers (3-1), who went into Class B Putnam Valley Thursday and prevailed, 87-47, behind another well-balanced effort. Fitzsimons (23 pts, 7 boards) was a tough matchup for the Tigers. Somers' in-your-face defense was also a catalyst to victory as was the play of Nate Cohen (11 points), Dylan Ingraham (4 points, 6 assists), Andrew Violante (15 points, 5 steals, 5 assists), Mac Sullivan (5 points, 5 boards), Brady Leitner (5 points) and Philip Santoro (10 points).
"The kids are buying into our defensive philosophies," Somers Coach Chris DiCintio said. "They are really buying into the fast break and transition off of defense. We really get out and run."
FOX LANE ventured north to RCK and returned with a 51-38 win behind one of Chris Redhead's best efforts, including 16 points and nine rebounds. Fox G Charlie Shevick was wheeling and dealing with 14 points, three assists and four rebounds. Big Niko Dent dropped another hammer with 12 points, two assists and 10 rebounds for the 4-2 Foxes, 2-1 against Section 1 foes.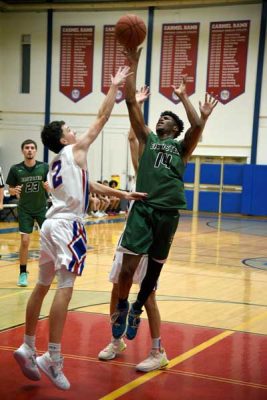 BREWSTER made its claim for Putnam County supremacy in a 49-44 win over host CARMEL Thursday when the Bears (4-2) faced the Rams for the second time this week, taking on Carmel in another Putnam County grudge match and the Bears came out on top after losing to Mahopac earlier in the season.
"Local rivalry was at the heart of this game, which saw the student sections of each school nearly packed to the brim, ready to devour the back and forth flow of this thriller," Bears Coach Micahel Nicastro said.
The duo of Conner Griffin and Steve Switzer shined once again, with Griffin, a walking double-double, notched another with 16 points and 10 rebounds. Switzer packed the stat sheet with 20 points, seven rebounds and a pair of loots. Junior F Matthew Thompson had a huge influence on the outcome of this game as well, contributing with 11 rebounds and seven assists.
The Bears were down 11 at the half and had to turn inwards to find a solution.
"From the very first day that we got together, we have been talking about fighting adversity and finding multiple ways to win games when things aren't going exactly how we planned," Nicastro said. "We are fortunate to have guys that are becoming tougher with each passing day and are able to step up in big spots."
The Bears came up big again earlier in the week in a 59-54 win over Port Chester when Mr. Griffin was one board short of a double-double (17 points, 9 rebounds) while Switzer went for 14 points and four rebounds. Lucas Cabiati and Christian Freeman both scored nine points, stretching the Rams' zone for Griffin to feast inside. Dignan dished six assists.
Brewster will square up with Horace Greeley on Wednesday in round 1 of the Mahopac Tournament.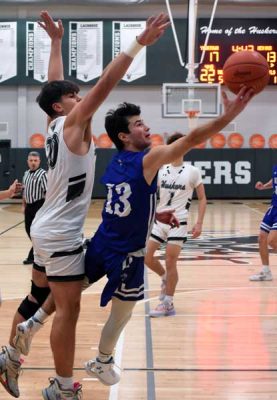 YORKTOWN, now 5-2, took it to HEN HUD last Thursday, 54-42, behind a balanced attack that included G Billy Feeks (18 points, 8 rebounds), swingman Kaden Gonzalez (13 points) and
G Justin Price, who swished (8 points), dished (game-high 10 assists) and snagged major boards (10) for the Huskers, who forced 16 turnovers and played great perimeter defense (Hen Hud shot 3 of 22 from distance).
The Sailors hung tough for a half but took it on the chin in the second half. Mike Gagliardi (11 points, 5 boards), Dean Hiltsley (10 points, 2 boards), Thomas Poplizio (9 points, 3 boards, 2 assists), Steve Raguso (6 points, 6 caroms, 2 dimes) and Gino Wamack (2 points, 11 boards) were central figure for the Sailors (5-2).
"Not the result we were hoping for, but I love the fight of our team," Hen Hud Coach Jordan Hirsch said. "Yorktown is a really tough team. If we get going a little more offensively, I feel like it gives us a puncher's chance at the end."
Yorktown handled Nanuet, 58-47, earlier in the week when sophomore Gonzalez, a slick one, paced the Huskers with 23 points and five assists. Feeks added 18 points in the win.
PANAS, ranked No.12 in NYS, crushed Roosevelt, 67-50, behind 17 points apiece from smooth senior G Alex Tavarez and junior G Tyler Greene. The Panthers (6-0) were set to face Somers today in a whale of a matchup in the opening round of the Pelham Holiday tourney. Panas has yet to face on-ball pressure like Somers will deliver, so that'll be interesting to see because the Panthers are also adept at pressure.
LAKELAND, ranked No.22 in NYS, blew away visiting Poughkeepsie, the reigning Class A sectional champs, 59-45, behind a 28-point, monster-effort from senior G Chris Whyte-Luciano, who hit 15 in the fourth, including 5-of-5 from the charity stripe. The Hornets (7-1) saw G Sean Perry continue to make a name for himself as well, dropping 16 on the Pioneers, who are still seeking their high level. Hornet senior F Logan Shiland hit three 3's and finished with 15 points to go with seven caroms.
GREELEY cruised past Lincoln, 70-45, when Justin Potak delivered 20 points and seven steals for the Quakers (3-2). Ethan Golub added 15 points and eight rebounds and Nick Tasso finished with 12 points and seven rebounds.
CLASS AA
WHITE PLAINS sniper Menzy Carden drilled a game-high 24 points in the unbeaten Tigers' 52-39 win over Arlington Admirals. Sidekick Logan McCormick, a junior on the come, added 18 points for the Tigers (4-0), who drew an HM rank in the state polls, and will be in the Carolina Invitational Tournament in Charleston, SC, December 27th. Jake Labrosciano (5 points), Daniel Herzner (2) and Miles Johnson (2) each scored a bucket.
OSSINING dropped a road game at Mamaroneck, 62-53. The Pride (2-5) were led by Jaiden Newton (16 points 6 rebounds), Isaiah Ahlers (13 points, 4 boards) and Dominique Bautista (8 points, 5 boards). Ossining also dropped a 60-57 decision to Clarkstown South. Newton (14 point, 6 rebounds), Bautista (14 points, 6 rebounds) and Ahlers (10 points, 4 rebounds) were prime-time contributors for the Pride, who will be tested big time out of the holiday break in a Jan.4 tip-off against White Plains.
CHSAA
In the fifth place game of the City of Palms Basketball Tournament, STEPINAC was defeated by nationally-ranked (No.6) Centennial (CA) 53-51 despite a terrific effort from All-Tourney selection Boogie Fland (19 points, 2 assists). Braylan Ritvo (10 points, 5 rebounds, 3 steals) Danny Carbuccia (6 points, 4 assists, 3 steals) and Dylan Perry (6 points) were solid for the state-ranked (No.9) Class AA Crusaders who head to the Slam Dunk Beach Tournament in Lewes, DE. Wed, 12/28 at 3:30 p.m.
Examiner-area coaches are encouraged to hit up sports editor Ray Gallagher at raygallaghersports@gmail.com for inclusion in our weekly Hoops Notebook. Tag him @Directrays on Twitter or kindly text stats and comments to the number he has provided.