Valhalla Man Charged With Stealing From His Homeowners Association
We are part of The Trust Project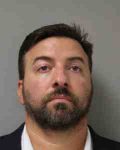 A 43-year-old Valhalla man was arraigned on Tuesday for allegedly stealing nearly $94,000 from his homeowners' association.
John Pacor, an attorney and a former board member of the Pleasant Ridge Homeowners Association where he lives with his wife and children, deposited 51 checks totaling $93,955 from the association's bank account into his own checking account between November 2012 and April 2014, according to the Westchester County district attorney's office.
Last August, members of the homeowners' association discovered the theft and filed a complaint with the Mount Pleasant Police Department.
Pacor was charged with one count of second-degree grand larceny, a felony, after surrendering to Mount Pleasant police earlier in the day on Tuesday. He was arraigned in Greenburgh Town Court and released on his own recognizance. He is scheduled to return to court on Nov. 15.