News Based on facts, either observed and verified directly by the reporter, or reported and verified from knowledgeable sources.
Valhalla, Haldane Crowned Section 1 Kings; Somers Denied
We are part of The Trust Project
By Ray Gallagher, Examiner Sports Editor @Directrays
Examiner-area basketball was at its apex last week with six boys' teams reppin' at the Section 1 Final 4 at the Mecca – the Westchester County Center.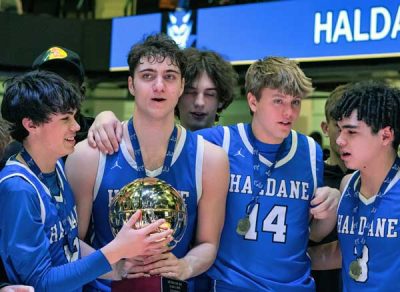 When the gold ball were handed out at the Section 1 boys' and girls' basketball championships over the weekend, Class C HALDANE High was first in line, taking a 63-53 win over rival Tuckahoe Saturday afternoon at the Westchester County Center, winning its first sectional title since 2016; the year of an unprecedented three-peat for the state-ranked (No.13) Blue Devils (18-4).
State-ranked (No.5) Class B VALHALLA would be next in line for the gold ball in the finale of Saturday's quadruple-header, the top-seeded Vikings (23-1) going scorched-earth on third-seeded and state-ranked (No.16) BYRAM HILLS in a 65-48 triumph, securing their first gold ball since 2009, sixth overall.
SOMERS stood in line for yet another Examiner-area gold ball moment Sunday afternoon, but the state-ranked (No.11) Tuskers were simply torched in every aspect of basketball in a 39-15 (not a misprint!) setback to state-ranked (No.4) Tappan Zee, thus denying Somers its first and only gold ball since 1992.
CLASS B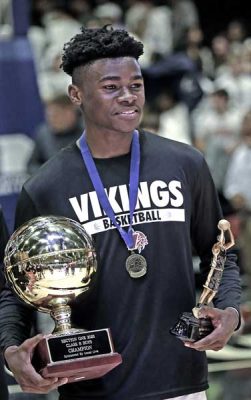 Opposites do attract, and this sectional final saw a whimsical Valhalla squad that likes to run up and down the court against a methodical Byram Hills club that prefers discipline and half-court sets.
Valhalla was back at the County Center for the second time since a 2020 loss to Hastings in the finals, and the Vikings wasted little time in erasing those painful memories.
Tournament MVP Basiaka Butcher made sure of that. The senior played, perhaps, his finest all-around game of the season, going for 20 points, eight boards and nine steals.
"The game plan was just to play faster and leave everything we have on the court," said Butcher. "The last time we played them I got in foul trouble and obviously I didn't play my best, but tonight everyone stepped up big time."
Point G Devan Cooper (15 points) and G Julian Amarosa (16 points) combined for 31 pivotal points to make the All-Tournament team while Chris Purchia dropped another nine and shadowed Bobcat All-Section hotshot Tyson Repa.
"Chris played amazing defense," Butcher said, "and Devan was in the threes zone. Julian was playing great defense and hit threes, and dishing. Antonio's game was huge for us. Defensively and offensively, we just wanted to run them out of the gym and we wanted to give them no chance of getting back into the game. We all were on a mission and we finally bought the gold ball home after 14 years. It feels amazing, words can't explain how happy we are."
Valhalla advanced to the opening round of the NYSPHSAA tournament to face Section 9 champion, Burke Catholic, at 6:30 p.m. Tuesday at Yorktown High School.
"I said of Byram Hills, that with their size, talent, and outstanding coach, they could win the state championship should they beat us," Valhalla Coach Rich Clinchy said. "They are that good, and next year they might be even better with the talent that they return.
"My boys were primed last night and they carried out the defensive game plan very well," Clinchy added. "The first time we played Byram may have been the best high school game that I've seen, but last night we may have played even better on the defensive side. First, Chris Purchia held Tyson Repa to six points after holding RJ Hutt to four points in the semifinal. That's ten points against two All-Section players. He is just soooo tough and disciplined! And he also had nine points. He had a great tournament, and many thought that he should have been chosen to the all-tournament team. We doubled off some people and not others, and I think that was a bit confusing for Byram. It's a full court defense that we play; half man and half zone, and they play it well. Of course, the speed of All-Tourneys Basiaka Butcher and Devan Cooper is crazy fast, and they combined for 35 points, 12 rebounds, and 11 steals. They put the "go" in our "go-go" style of play. All-Tourney Julian Amorosa hit some big shots early in the second half and had 16 on the night. People often overlook him, but he is our second leading scorer, and our third leading rebounder."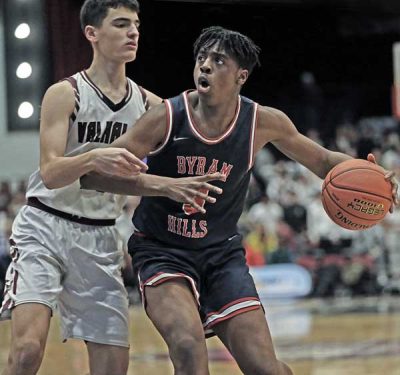 The Vikings were measured and precise in their approach throughout the entirety of the game. A Butcher 3 off the left wing spotted a 22-10 lead with 4:00 before the half and he followed with another 3 for a 25-12 lead at 3:15. He then took a charge before Antonis Paloungos hit a 3 for a 28-12 lead before Bobcat Tyler Lynch answered with a 3, 28-15. Paloungos hit again, 30-15, Valhalla at 1:30. Bobcat Luke Berlinerhit two at the line, making 1, 30-16. Amarosa hit again for a 32-16 Viking lead with just under a minute to go, then Butcher kicked to Cooper on the wing for 3, 35-16. Bobcat George Gjelaj answered at :18, 35-18, which is how it stood at the half.
The difference was five first-half 3's for Valhalla vs. one for Byram.
Out of the break, Valhalla scored the first four points to open up a 39-17 edge before Byram got on the board at 7:08 of the third off a Zach Efobi and-1, 39-21. Amorosa drained Valhalla's sixth 3 for a 42-21 lead at 6:15. A Cooper 3 followed for a 45-21 lead at 5:52. Bobcat Sean Seigal answered quickly, making it 45-23. But Butcher and Cooper responded with four straight points and a 50-23 lead.
The chum was in the water at this point and the Vikings were feasting at every opportunity. Butcher sliced the lane for two more at 3:43 of the third for a 52-23 lead and the fat lady began to expand her chords, preparing to croon at full throat.
Berliner pumped faked in the lane and scored two to cut it to 52-27 with just over 2:00 to play. Gjelaj hit two at the line at 1:57 to make it 52-29 but Amorosa went for two more for a 55-29 lead before Gjelaj and Lynch answered consecutively, to trim the Bobcat deficit to 55-31 at the end of the third quarter.
Butcher powered one home in the lane to open the fourth, finishing for a 57-33 lead. The Vikings then went Globetrotters long-ball-style on consecutive scoring trips, and the fat lady went to chorus as the Vikings opened up a 61-34 lead. Butcher notched his ninth steal of the night at 5:00 of the fourth as the Bobcats struggled with pressure all night.
"Valhalla played exceptional," Bobcat Coach Ted Repa said. "Not only did they relentlessly turn us over, they also shot well. Our best chance of beating them was to try to control the pace of the game and make it more of a half-court match, but credit to Valhalla, their defensive pressure and trapping really took us out of what we wanted to do. Tough way to finish out a really great season. Our seniors will be missed."
All tourney selections for the Bobcats were Gjelaj (12 points) and Repa (6). Tyler Lynch (10 points) and Sean Seigel (8) contributed for the Bobcats.
The semifinals provided little drama on the opening night of the Class B semis where both Valhalla and Byram Hills raced to victory. Valhalla did struggle some early on before pulling ahead in the second half, to notch a 63-49 win over Rye Neck.
Purcia might not show up all that much on the stat sheet in the semis, but stats are for geeks when one can play defense like Purchia, who held Rye Neck star R.J. Hutt to just two points, about 18 points below his season average. The Butcher carved up Rye Neck for a game-high 20 points with Cooper (18 points) right behind. Amorosa chipped in with 11.
"Perhaps the thing I was most impressed with was the spirit shown by the bench throughout the tournament," Clinchy said. "With Amari Powell, Danny Lynch, Michael Girdauskas, Matt Langlois, Brendan O'Neil, and Emmanuel Araujo leading the way, they were loud and enthusiastic, and had moved off the bench at each timeout. They motivated me!  One of our favorite sayings is that "the only loss that matters is the loss of enthusiasm," and those guys exemplify that spirit.
"The thing about this team, for all of the faults that it might have, is that they are extremely competitive, whether it be in practice or in games," Clinchy added, "and they were super-motivated for this game. We will need that going forward because without it, we can be pretty ordinary. We are getting ready for Burke Catholic on Tuesday, an upset winner in Section 9, and we know our bubble can burst at any moment. We will need to avoid the inevitable letdown after the sectionals, set some new goals, and go as far as we can in state play, hoping to get to Glens Falls.
Byram Hills simply obliterated second-seeded and state-ranked (No.8) Hastings, 54-32, in a no-sweat laugher from start to finish, the Bobcats assuming a 14-2 lead when the first quarter ended, and it was barely a game from that point on. The lead was up to 25-13 at the break.
Repa delivered in a big way, scoring 17 points, grabbing seven boards and dishing five assists while dictating everything from tempo to DJ @Dizzydog44's  playlist. The junior sprinkled in all facets of his game, leaving little to the imagination.
'Big G' Gjelaj manufactured the paint presence, delivering 10 points and seven rebounds. Broday Ceisler added nine points while Luca Scali and Sean Siegel added six each.
CLASS C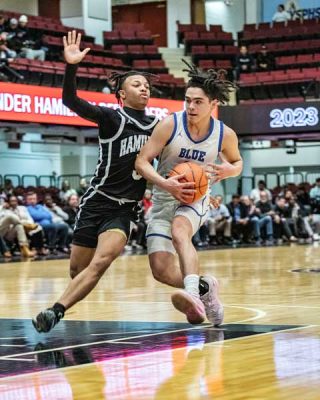 Whenever a HALDANE team is forced to go through state-ranked (No.12) Alexander Hamilton in the semifinals and then No.11 Tuckahoe in the finals (or vice versa), that team has gone on a mission, and the mission was accomplished when the Blue Devils hoisted their six gold ball in program history.
In the finals, Haldane went on a 16-2 opening run before two at the line by Tuckahoe, and the first quarter closed at 18-6 for the Blue Devils, who extended the lead to 28-12 on consecutive hoops from All-Section senior Matteo Cervone at 4:09 of the second quarter. Haldane's finest half of the season ended with the Blue Devils holding a commanding 38-14 lead, ending on a Matthew Nachamkin slam dunk.
Haldane went from up 24 points at the half to 45-34 at the end of three, Tuckahoe going on a 20-7 third-quarter run. Blue Devil Nachamkin, who went off for a team-high 21 points, six rebounds and two blocks, had two buckets for a 12-point lead and another by tourney MVP Cervone kept it at 12 with 6:00 left.
All-Tourney choice Ben Bozsik, who finished with 10 points, continued his stellar tournament play with a big hoop at 3:00 to keep the lead at 12, but the Tigers hit a 3 at 2:41 to make it 53-44. Two more at the line for Bozsik made it an 11-point lead. Tiger Chase Garcia cut it down to nine points for Tuckahoe. At the other end, Haldane G Ryan Eng-Wong, who excelled on the defensive end, went to the line at 1:41 and missed but the subsequent rebound was stolen by Cervone (8 boards), who scored his 11-12th points off the steal at 1:30 for a 57-46 lead. Eng-Wong then hit two at the line for a 59-48 lead. But resilient Tuckahoe would not go away as a layup and another Garcia 3 made it 59-53 with :37 left, but Nachamkin, an All-Tourney selection, went to the line with 28.5 left and hit two for a 61-53 lead… game, set, match! Blue Devil Nathaniel Stickle came off the bench to tally six points.
"It was great to have a variety of guys step up on the big stage," Blue Devil Coach Joe Virgadamo said. "Ben and Matteo had a huge game for us in the semis and Matthew dominated in the championship. Our bench is contributing a ton defensively and offensively. This is a special group and they earned this one. I'm beyond proud of them. I'm excited to see who is going to have the next big game for us to keep this journey going."
Coach Virgadamo secured the 200th win of his career in Haldane's 51-46 double OT win against defending champion Hamilton. Cervone (20 points) and Bozsik (career-high 19) were huge. Bozsik has had some moments this year, but none bigger than the semis.
"He's had a few big games for us this year in big spots," Coach V said. "He's a tough kid and just wants to do what's best for the team and win. That was obviously his biggest game of his career. He just put us on his back along with Matteo."
Will Bradley (7 points), Nachamkin (4) chipped in for the Blue Devils, who will face unranked Section 9 champion Rhinebeck at O'Neill High School (8 p.m.) in the opening round of the NYSPHSAA tournament on Wednesday. The winner will advance to face state-ranked (No.25) Section 11 champion Pierson on Friday, March 10th (4 p.m.) at Eastport-South Manor High School where a NYS Final 4 berth will be on the line.
CLASS A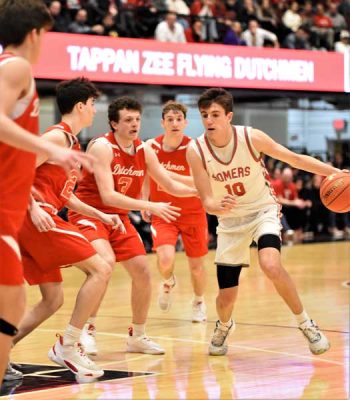 One has to go back to the peach-basket era to find a game with as little offense as we saw in Sunday's Class A finale, which saw a combined 54 points between Tappan Zee and Somers: Credit the Dutchmen (22-2), though, as they came in waves at All-Section Tusker swingman Matt Fitzsimons, who was held to a season-low eight points to go with 11 rebounds and two steals. Junior F Mac Sullivan added four points for the Tuskers (20-3), who came in averaging 69 points a game in veteran Coach Chris DiCintio's final season. It was a rough exit for the respected mentor, who put the Tusker program on the map after many lean years.
"Outside of winning the Gold Ball, you can't get a more memorable season than the one we had," DiCintio said. "As for our offensive debacle in yesterday's game, in my wildest dreams, despite having only two days to prepare, I would've never seen the highest scoring team in Section One scoring 15 points in a game. I don't care how good the opposing team's defense is!  I'm dumbfounded over it!  I give credit to TZ's defense and making a conscious effort to take away our fast break, but going from 69 points to 15 is truly unexplainable. I felt, however, our defensive game plan was good once again and we held them to only 39 points. We played hard defensively and made it difficult for TZ to score, but not one of my players came to play offensively. Once the second half hit, my kids went from frustrated to tight and the wheels fell off.  Disappointing to say the least, but proud of all the things they accomplished and helping me go out on a memorable season.
"I have had the time of my life coaching in my town and getting the opportunity to coach my son and watch my daughter win a Gold Ball," he added. "My players, their parents, the student body, the administrationI and the community have been great to me! I will miss my players and the relationships I've fostered with many of them, but I will always be in their corner whether near or far!  We are a family of 11 years and oh what a ride it's been!"
Running the shot clock down possession after possession to under 10 and often five seconds, the Dutchies made the Tuskers work on defense. At the other end, the Dutchmen threw vexing looks at the Tuskers, shutting down one of Section 1's premier offenses while securing the program's first gold ball since 2012. Dutchmen Tommy Linehan scored 15 points, grabbed seven rebounds and three steals and was named tournament MVP.
The Somers/Lakeland semifinal clash was the exact opposite of their regular season meeting, in which the state-ranked (No.5) Hornets demolished the Tuskers, but when the chips were on the line the Tuskers, including Violante, played their finest game to date in a 62-47 semifinal win at the County Center.
Violante whirled and twirled the lane, finishing with a career-high 27 points in an unstoppable effort.
"Honestly, he's been stepping up the entire second half of the season," DiCintio said of the junior. "We see his talent every day, and, obviously, he comes from great bloodlines, and he just needed the confidence to take what he does every day in practice into the game. His body control is the best of any kid I've coached. The way he can distort his body and maintain control is outstanding, so we finally convinced him that he doesn't have to live on the perimeter. You can shoot, but you're so crafty, and once he bought in he's been monumental for us."
Humble and unassuming, Violante, the grandson of legendary Section 1 football Coach Skip Violane, and son of former Somers great Chris Violante – the former Fox Lane hoops coach – praised his coaches and teammates after a career performance.
"Our coaches prepared us and had a great game plan," Andrew Violante said. "The game plan was to take Chris (Whyte-Luciano) out of the game, and I think we did that to a certain extent. He's going to get his points, but we shut him down as best we could.
"I've worked hard on my game," he added. "Last year I was more of a shooter and in this environment the blood was flowing and everything, and I went to the rim and kept going and going."
Lakeland made a strong run in the second half, cutting the deficit to three (35-32), but it was Violante who triggered a 13-2 run, restoring order and all but ensuring a win.
Lakeland (20-3) was led by All-Section senior Whyte-Luciano's 18  points, which were mostly quiet on account of the Tuskers keeping distance. Lakeland senior forwards Andrew Mendel (12 points) and Logan Shiland (8) added a combined 20 points, but it wasn't nearly enough to hold off a Somers club that saw Fitzsimons bag 14 of his 17 points in the first half while adding five rebounds, three blocks and six steals. Dylan Ingraham added eight points and Sullivan snagged a game-high 12 rebounds to go with six points.
State-ranked (No.29) YORKTOWN (17-6), the No.2 seed among large schools, fought to the finish but finally succumbed in a 54-50 loss to TZ, who saw sophomore wing Tommy Linehan (24 points, 7 boards) drill five 3s in the opening half to give the Dutchies a 29-24 lead at the break, hitting three 3's in the final 1:31 of the half.
"Since they're a team that usually thrives against man-to-man, we knew coming in we wanted to go zone," Yorktown coach Mark Pavella said. "They had a kid step up and make tons of 3s. I thought we did a decent job on Berrigan and Maloney, but the other guy stepped up. We held them to 54, and I would have taken that before the start of it."
"We had great leadership this year from our captains," he added, "and we're going to miss our seniors, but we have a core group coming back next season, a lot of kids who play multiple sports, so I'm excited to see them come back. This one stings for sure, but we had a great group. I'm proud of what they accomplished. They've brought Yorktown basketball back to relevance."
Sophomore swingman Kaden Gonzalez kept the Huskers afloat with 18 points, including the first 11 Yorktown would score. He dropped four 3s. Junior wing Billy Feeks added 12 points and four rebounds while Husker junior G Justin Price finished with 11 points, seven rebounds and five assists. Yorktown's All-Section junior Brandon Montero was swarmed by Dutchmen defenders and held in check for one of the few times this season.
TZ left the door open for that bunch to close strong and maybe steal a win when the Dutchies were cold as ice from the stripe down the stretch. However, the Huskers could not capitalize on multiple chances down the stretch.
"At that point it was more desperation for us," Pavella said. "I think earlier on we needed a few more  buckets, a few more stops. Credit to them, they made a ton of shots in some great sets."
All in all, it was one of the finest combined basketball seasons for teams on this side of the Hudson River from White Plains to the Somers/Yorktown line.