Ukraine Candlelight Vigil Draws Large Crowd in Yorktown
News Article Article pages that do not meet specifications for other Trust Project Type of Work labels and also do not fit within the general news category.
We are part of The Trust Project
By Abby Luby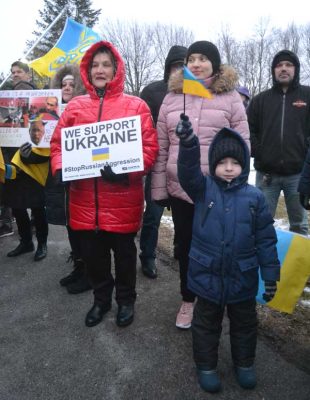 More than 100 people showed their solidarity to the people of Ukraine when they turned out Sunday night for a Candlelight Prayer Vigil at the Jack DeVito Veterans Memorial Field in Yorktown.
Many in the crowd were born in Ukraine, now the brutal target of Russian aggression and under siege for over two weeks.
Gathered around the gazebo large gold and blue Ukrainian flags were waving in the frigid wind and a light snow fell as many huddled together holding electric candles. Several people joining the vigil had dropped off donated goods, including multiple boxes of baby diapers, shopping bags filled with toothpaste, aspirin, cough medicine, soap, shampoo, hand sanitizers.
"It's important to realize the needs of the Ukrainian people and for us to offer help and assistance," said Rabbi Robert Weiner of Yorktown Temple Beth Am. "People need to give necessities from their pockets as well."
Seven people held a large, 50-foot banner in front of the gazebo that said "PUTIN: HANDS OFF UKRAINE!"At one point the crowd broke out in a rallying cry in Ukrainian and then switched to "USA! Ukraine!"
Ten-year old Sofiya Balkova read a prayer in Ukrainian as her mother Liliya Balkova listened. The Balkovas are from Ukraine and have lived here for about 16 years. Sofiya attends school in Yorktown.
Yorktown Supervisor Matt Slater and members of the town council were on hand to thank people who were there.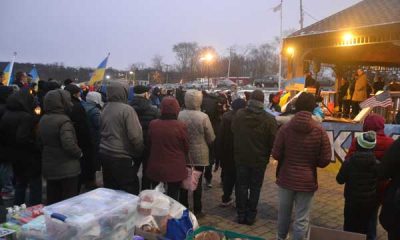 "This community proves time and again that we stand together and show solidarity to the people of Ukraine. It's inspirational to see the power of prayer," Slater said.
Cortlandt resident Oskana Tomaszewsky, Vice President of the Congress Committee of America, spoke emotionally about the suffering in her home country.
"In only 17 days, thousands have died in this war, including 85 children," she said.
Tomaszewsky urged people to tell President Biden to declare an international no-fly zone over Ukraine. "Please tell him to close the sky over Ukraine to save lives."
The no-fly zone has so far been rejected by the United States and NATO allies who say it could provoke all-out war in Europe.
Westchester County Legislator Vedat Gashi (Yorktown) recalled being a child refugee from Kosovo when his family came to the United States in the late 1990s during the Kosovo conflict that pitted ethnic Albanians against ethnic Serbs and the government of Yugoslavia.
"We had to flee to avoid the war, but I can remember when we were there my family went to rallies and vigils like this one," Gashi said. "We have to give the people of Ukraine the means to win in their struggle against tyranny, to support them here and abroad."
At one point, Rabbi Weiner told the shivering crowd, "You have earned God points for staying here in the cold and showing your support for Ukraine."
Prayers were said by members of Yorktown Interfaith Council representing many faiths including Buddhist, Christian, Muslim and Jewish. Among those leading the crowd in their individual prayers were Chris Lovell, Warden of St. Mary's in Mohegan Lake, Fr. Ryan A. Muldoon of St. Patrick's Church in Yorktown, Head Abbot of the Yorktown Zen Center Paul Tesshin Silverman, Rabbi Shoshana Leis of the Pleasantville Community Synagogue.
The rally lasted for more than an hour, ending with Tomaszewsky leading the crowd as they sang the Ukrainian national anthem.