Two Local Contestants Recognized at Teen Pageant
We are part of The Trust Project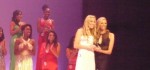 Two local contestants may not have been crowned Miss Westchester Teen or Miss Hudson Valley Teen Sunday night, the pair still walked away with some recognition in the third annual Miss Westchester and Hudson Valley Pageant show.
Jordan Decker, a Pleasantville resident, won the Miss Congeniality award, as voted on by her peer contestants. The award is for the contestant who is the most charismatic and inspirational pageant participant. It was the second straight year Decker won that honor.
Holly Roth of Armonk placed for the second straight year as second runner-up for Miss Westchester Teen.
The event took place at the White Plains Performing Arts Center in front of a packed house. Taking home the crown for Miss Westchester and Miss Westchester Teen were Christy Abreu and Brittany Smith, respectively. As for Miss Hudson Valley and Miss Hudson Valley Teen, Jessica Pinckney and Marissa Matzen were crowned. Last year's winners were also on hand to honor the newly minted winners, whose obligations as pageant queens last throughout 2013.
Pageant Executive Director Dee van Eyck called Sunday's event "stellar."
"We had a great group of girls, we had an amazing assembly of judges, the audience was wild and crazy, and we have four new amazing queens and I can't wait to start working with them," she said.