Tri-Municipal Memorial to be Dedicated on 9/11
We are part of The Trust Project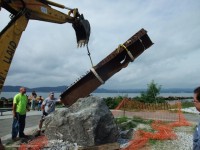 A memorial for the victims of the September 11, 2001 terrorist attacks at the World Trade Center will be dedicated exactly 11 years after that unforgettable day near the Hudson River in Croton.
The 9/11 Remembrance Memorial at Croton Landing, which features a steel beam from the north tower of the World Trade Center, will be officially unveiled during a planned brief ceremony on Tuesday, September 11 at 3 p.m.
The memorial has been in the planning stages for about three years and is being constructed in two phases due to funding constraints. The Town of Cortlandt and villages of Croton and Buchanan have jointly supported the effort, with Cortlandt donating $15,000, Croton $3,900 and Buchanan $1,100. A committee, led by Croton resident Janet Mainiero, who initiated the idea for the memorial, contributed $15,000.
The first phase of the project includes a large boulder, the steel beam and a bronze plaque. The second phase, which will cost an estimated $40,000 to $45,000, is slated to include a bronze statue of a woman reaching to the skies and a meditation garden.
The steel beam, which has been stored at the Continental Village Firehouse, was laid into place last week after being transported by a procession of area emergency responders.
"When they mounted the steel beam on the boulder it brought tears to my eyes," Mainiero said. "It was very emotional and very peaceful at the same time."
Mainiero said the 9/11 ceremony which include brief remarks from herself, Cortlandt Supervisor Linda Puglisi, Croton Mayor Leo Wegman and Buchanan Mayor Sean Murray. "America the Beautiful" will be sung by Sara Sprance, a Cortlandt resident whose husband, a second responder to the terrorist attacks, died a year ago after an illness developed from his time at Ground Zero.
Four Cortlandt residents were among the 109 victims from Westchester County of the twin plane suicide crashes into the side of the Twin Towers. Overall, about 3,000 people were killed.
Mainiero noted the first phase of the memorial would not have been completed by the 11th anniversary without the donated efforts of five local contractors, engineer Rocco Mastronardi, architect Jim Rhodes and workers from the Croton Department of Public Works and Parks and Recreation department.