Traffic Data, Improvements Viewed Skeptically By Chap Crossing Foes
We are part of The Trust Project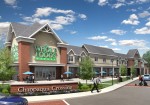 Chappaqua Crossing opponents reacted with suspicion  last week to comments from the Town of New Castle's traffic consultant that road improvements near the former Reader's Digest site could accommodate the project's anticipated volume of vehicles.
Michael Galante, from the planning consultancy firm Frederick P. Clark Associates, appeared before a May 20 joint meeting of the town board and planning board to explain to officials that a series of mitigation efforts along Route 117 and Roaring Brook Road would assist in making traffic in the vicinity of Chappaqua Crossing manageable.
The road work would be coupled with data showing stagnant or slowly declining daily traffic counts during five peak hours on the two roads since 2008 and recent revisions that would slightly reduce new vehicle trips into Chappaqua Crossing, Galante said.
Traffic is a critical issue in helping to determine whether the revised Planned Development Concept Plan submitted by Summit/Greenfield in early April that includes a "traditional neighborhood" design is significant enough to trigger another Supplemental Environmental Impact Statement. It is one of the many issues the town board is weighing as it considers whether to rezone a portion of the property to allow 120,000 square feet of retail space at the site.
In a brief exchange with Planning Board member Thomas Curley, Galante expressed confidence that Summit/Greenfield's proposed mitigation plan is sufficient.
"The mitigation is needed to handle today's traffic as well as the site traffic," Galante said.
"Will it fully mitigate that?" Curley asked.
"In certain time periods it certainly does," Galante responded.
Improvements include a left hand turn lane from northbound Route 117 onto Roaring Brook Road and a right hand turn lane from southbound Route 117 onto Roaring Brook. There would also be an improved entrance to more effectively accommodate traffic entering the site off of Route 117, Galante said.
All work on Route 117 would have to be approved by the state Department of Transportation (DOT) but would not require any condemnation of private property, said Andrew Tung, a planning consultant for the applicant. Town officials said any site plan approval would be conditional based on whether DOT approves the road improvements.
Other work would focus on Roaring Brook Road, mainly near the driveway entrance to Horace Greeley High School directly across the street from the Chappaqua Crossing entrance on that street. There would be left hand turn lanes for traffic entering the high school and the Chappaqua Crossing site, installation of a traffic signal, crosswalks and moving of the sidewalk to help with pedestrian safety.
There would also be two lanes of traffic coming out of the high school complex instead of one.
Residents who spoke at last week's joint meeting viewed some of Galante's statements with skepticism. Several questioned how a study conducted more than six years ago could still be relevant.
"There are other agencies, I believe, that would show that data could be construed to be stale, and I think the town board really should be open to these counter opinions as well and not just take one opinion on that," said resident Vic Siber.
Another resident, Rob Fleisher, said even with proposed improvements it was highly confusing to understand how adding more than 1,000 vehicles per hour during a couple of peak periods could be workable if today's traffic is problematic.
"I'm confused. I think everybody's confused about what the real traffic situation is and I think that's very high up on the list of the quality-of-life concerns by the community," Fleisher said.
Meanwhile, Councilwoman Lisa Katz also questioned some of Galante's positions, including whether the type of supermarket and other retail would impact traffic. Katz said now that Whole Foods has signed a lease to move into Chappaqua Crossing should the project be approved, that would likely change the traffic patterns and calculations will be different than for a more typical supermarket. Galante said that traffic is based on square footage and not the type of market.
"I think that people will go to whichever supermarket, which is a standard supermarket, is closer to them," Katz said. "I think people will make a special trip to go to a Whole Foods."
Two other retail uses for the site would be a fitness center and a bank, Tung said. Summit/Greenfield will also be asking for the restriction to be lifted on the number of smaller stores between 1,500 and 5,000 square feet in the development. However, Supervisor Robert Greenstein said a consensus on the board opposes lifting the restriction.
The town board voted to refer the application to the town planning board, the architectural review board and the county planning board.
A public hearing on the rezone has been scheduled for Tuesday, June 10 at town hall.