Three Long Shot Candidates Ready for 17th Congressional District Run
We are part of The Trust Project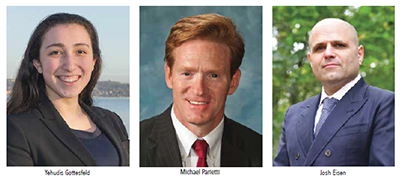 Michael Parietti knows all about long shot campaigns. He's run six of them before this year, all in Rockland County, either for county legislator or for municipal office.
He registered as a Republican when he was 18, graduated from West Point, then served as an infantry officer and platoon leader. After leaving the military he became a sales representative in the pharmaceutical industry and later a managed care specialist.
By the time he reached his 30s, Parietti, was disillusioned with the major political parties, which he felt were drifting to the fringes and not addressing the everyday needs of people. So he was instrumental in forming the Preserve Ramapo Party, which addressed many local issues, and more recently with the Serve America Movement Party (SAM).
He thinks there will be defectors from both major parties in the race, especially with Rockland County having close to 28 percent of it voters not affiliated with a party.
"I feel like I'm a more moderate candidate," Parietti said. "So you throw in the Preserve vote with the independents and then I think there are a lot of moderate Democrats that don't want to vote for Mondaire Jones. You put that all together and I really think I can win this up the middle."
Parietti, 58, is part of a trio of minor party candidates for the 17th Congressional District race who are each trying to pull off an upset over Democratic nominee Mondaire Jones. He will be joined by Yehudis Gottesfeld, who is on the Conservative line after she lost the Republican primary in June to Maureen McArdle Schulman, and Josh Eisen, an independent candidate who had originally planned on competing in the Republican primary.
Eisen, 48, appears on the independent Education Community Law (ECL) line, after initially campaigning last winter with the intention of vying for the Republican nomination. He though the GOP should be represented because the last two election cycles the Republicans didn't bother nominating anyone to take on Rep. Nita Lowey.
But he clashed with Republican Party brass in Westchester because of some of his views, in particular his support for legalizing recreational marijuana, his belief that life does not begin at conception and no objections to the Plan B pill.
With as much as $1 million to spend on his campaign, most of which he said is his own money, the Harrison businessman believes he has a path to victory.
"So back to where I was originally, I think voters should be able to have an option and thankfully the polling is showing it's a real dogfight between Mr. Jones and myself," Eisen said.
Gottesfeld is a 25-year-old engineer from Ramapo who started volunteering to work the disabled when she was 11 years old. She was trounced by Schulman in the June primary but had secured the Conservative Party line in both Westchester and Rockland County.
Among the reasons Gottesfeld is running is to make sure that there is as much local decision-making as possible rather than edicts coming down from Washington.
"I think it's important to put as much over to the local governments rather than the federal government," she said. "The local government is closer to the people."