Thousands Flock to Chappaqua Children's Book Festival
We are part of The Trust Project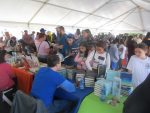 You couldn't ask for a better day than last Saturday for any outdoor activity, whether it was a day in the park or choosing which books to buy at the Chappaqua Children's Book Festival.
The sixth annual festival was bigger than ever, impressing first-time visitors and authors as well as returnees.
"This is our first year and we heard all about it from our friends who are authors and illustrators and they said this is the best festival to do," said Denis Markell, a Brooklyn-based author of books for middles school age children who attended with his wife, Melissa Iwai, an illustrator and author. "It gives us a chance to meet our friends, who we don't get a chance to see that often, and our readers, which is the most important thing."
As soon as the grounds of Robert E. Bell Middle School in downtown Chappaqua were cleared of students on Friday afternoon, organizers went to work setting up the tents where the 97 authors and illustrators were seated and talked to their young fans, said Dawn Greenberg, the festival's executive director.
About 20 Boy Scouts came out early Saturday morning to unload and arranged the roughly 10,000 books that were shipped in for sale, she said.
Greenberg and her legion of volunteers were so busy during the six-hour festival that it was difficult for her to appreciate how much the event meant to the several thousand visitors as well as the authors and illustrators.
"I have a hard time absorbing it sometimes," Greenberg said. "I have to pull back and just enjoy the moment. You can feel that books are having a renaissance, a rebirth. We all are so worried that our kids are so digitally hooked. Kids can still love a book in their hands."
That certainly was the case for those in the crowd who make the pilgrimage to the festival each year. Sofia Adams, a sixth-grader from Yonkers, came to the festival for the third time.
"Probably meeting and like really talking with them and getting the books signed," Adams said of her favorite part of the festival.
Her aunt, Liz Galvin, a sixth-grade teacher in the White Plains School District stocks up on books each year from the festival for her students and family members. She said she liked Chappaqua's festival more than some others because it is so family oriented.
"We go to BookCon in New York City but this is more personal, I think," she said.
There were activities for children, tables from a wide variety of organizations, food trucks, entertainment by the Mike Risko Band and the Great Chappaqua Bake Sale. The bake sale not only gave visitors a chance to snack on some sweets but it raised more than $17,000 to combat childhood hunger.
But the focus last Saturday was on the books. For parents, it was a fun day, even for those with reluctant readers.
"I think the best thing about this is spending time with your family and friends from the neighborhood and meeting all these different authors," said Chappaqua resident Steven Garcia while holding a stack of books he bought.
Author Ammi-Joan Paquette said it's her favorite festival to attend because of how well run it is.
"I think it's really well-organized," she said. "The volunteers put a lot of effort into it, they bring in a lot of people. Everyone really gets involved. I think it's the perfect mix of everything."