They Might Be Giants to Lead 2023 Pleasantville Music Festival Lineup
News Based on facts, either observed and verified directly by the reporter, or reported and verified from knowledgeable sources.
We are part of The Trust Project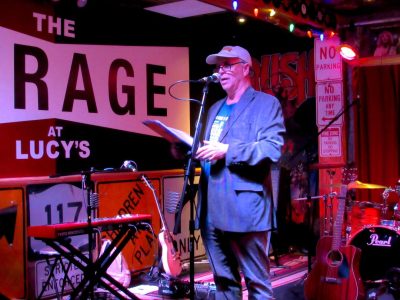 Over 60 eager music lovers crowded into Lucy's Garage on Sunday to be the first to learn which bands are performing at this year's Pleasantville Music Festival on July 8.
The lineup was announced by the festival's Executive Director Bruce Figler as video screens previewed a clip of each group slated to perform on each of the three stages at Parkway Field.
There is still one headliner that needs to be confirmed for the Main Stage while organizers await the three winners of the festival's annual Battle of the Bands competition, all of which will be announced in the coming weeks.
Setting the mood on Sunday was The Breaks, Inc. a six-piece retro rock band featured at last year's festival.
The Main Stage headliner will be They Might Be Giants, a fun and unique alternative rock band out of Brooklyn. Other Main Stage performances include northern Westchester's funk and groove band Smooch with Matt Crossett, the '60s-inspired retro band Blac Rabbit and Allison Ponthier, an up-and-coming Brooklynite who sings upbeat, soul-baring pop songs.
On the Party Stage will be Nashville's The Criticals, a four-piece hard driving rock band. Other Party Stage performers include Social Creatures, a synth dream-pop band with roots in Hartsdale and Tarrytown, Brooklyn's reggae-tinged SunDub, the fun and uplifting Moonunitt, whose members grew up in Ossining, and Strange Neighbors, a pop band with lead singer Aidan who grew up in the Scarsdale-Edgemont area.
The Chill Tent headliner is Sophie B. Hawkins, known for her early '90's hits "Damn, Wish I was Your Lover" and "As I Lay Me Down." Other Chill Tent performers are acclaimed songwriter and multi-instrumentalist Pete Francis, singer-songwriter Dave Casale, a Pleasantville police officer, who will be joined on stage by Petey Hop, a Westchester favorite, The Moonrise Cartel, a trio from Bridgeport, and the R&B band Brandi and the Alexanders.
Figler briefly spoke about the growing challenges to sign bands for the festival, now in its 17th year.
"The price of bands is growing exponentially, and with all of the new music venues and festivals that have proliferated in recent years, each putting severe radius exclusivity clauses into their talent contracts, the challenges get bigger," Figler said. "But somehow we get it done."
The Battle of the Bands competition for three bands with musicians 24 and younger from Westchester and surrounding counties is still in progress.
"This is ongoing and we are still looking for submissions," Figler said.
Submission deadline for the Battle of the Bands is this Friday, Apr. 21. The live finals will be at Lucy's, the first on Sunday, May 7 for the Chill Tent competition while the Party Stage competition will be on Saturday, May 13. The two winning bands will play 25 minutes to kick off the festival at noon and the winner will open the Main Stage for 30 minutes at 12:30 p.m.
The day-long festival, which was first held in 2005 and known as New York's Backyard Jam, is sponsored by Northwell Health and has been a popular day on the calendar for families and music lovers. It returned last year for the first time since 2019 after being canceled for two years because of the pandemic.
Tickets can be purchased online at https://www.pleasantvillemusicfestival.com/and through TicketWeb, or in person at the Pleasantville recreation office, located at 48 Marble Ave. in Pleasantville, which is open weekdays from 8 a.m. to 4 p.m.
Now through June 30, tickets are $65 for adults (22 and up), $35 for seniors (65 and up) and students (12-21). Children under 12 are free but must be accompanied by a ticket-carrying adult. Prices rise the week before the festival and again at the gate the day of the event.
Tickets can be paid for in person with cash, a check made out to the Village of Pleasantville or by Visa or Mastercard. Online sales will include TicketWeb fees.