The Peanuts Gang Coming to Chappaqua Performing Arts Center
We are part of The Trust Project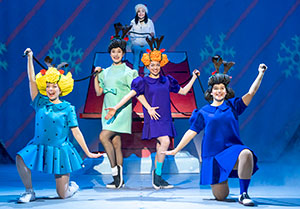 A professional production of "A Charlie Brown Christmas: Live on Stage" at the Chappaqua Performing Arts Center starting in early December could jumpstart an array of future performances at the venue.
Gershwin Entertainment, which presents on-stage productions throughout the United States and Canada, is bringing the family holiday favorite to Chappaqua for 18 performances from Dec. 3 through Dec. 19 featuring the entire Peanuts gang.
Todd Gershwin, the producer of the show, said as a Westchester resident for the last 15 years, he longed to find a regular location to bring productions to local audiences and is confident he has found what he was searching for.
"I have always been looking for a home in Westchester in terms of theater and what I produce," said Gershwin, who lives in Rye. "Obviously, I found the perfect venue."
He was introduced to the theater by a friend, John Fanelli, who has served as in-house general manager at the Chappaqua Performing Arts Center and is the founder of Lighthouse Youth Theatre. Fanelli put him in contact with the Town of New Castle, which now owns and operates the 425-seat center on the Chappaqua Crossing property, and Councilwoman Lisa Katz. An agreement was officially reached and made public earlier this month.
Gershwin said it was everything he had been looking for in a Westchester venue.
"The first time I got there I was amazed in a wonderful way how intimate and beautiful it is and how it's right in the middle of the county," he said.
A cast of 11 actors and musicians will be part of 'A Charlie Brown Christmas.' Gershwin hired a jazz trio, which is somewhat unusual for a family production, and they are dressed as three of the Peanuts characters, including Schroeder at the piano.
All of the performers are based in New York City who have extensive credits to their name, Gershwin said.
He's planning on bringing another production to Chappaqua, "Million Dollar Quartet," early next year along with possibly other productions. Gershwin hopes to draw on the entire county and the lower Hudson Valley.
"The location is great for so many people, there's plenty of parking, plenty of free parking, which is tremendous," he said. "Obviously, Chappaqua is a beautiful town, so I really hope it becomes a destination.
Katz, the Town Board's liaison to the town's Arts & Culture Committee, said the opportunity to work with Gershwin Entertainment presents an exciting opportunity for the town, including future productions.
"I'm thrilled. Unfortunately, the world has been without theater for way too long this pandemic and it had so many negative implications," Katz said.
They may not be the only outfit to call Chappaqua Performing Arts Center home. Katz said the town is exploring the possibility of a reconstituted Westchester Broadway Theatre to have a permanent affiliation with ChappPac. Westchester Broadway Theatre dissolved last October after more than seven months of being shut down because of the pandemic.
Since the dinner-theater concept would not be feasible, Katz said collaboration with local restaurants to offer dinner and a show is being pursued.
"That to me is going to be a win-win for the community, too, because it will really enhance the use of restaurants and bring people to town," she said.
Performances of "A Charlie Brown Christmas: Live on Stage" will be held Thursday through Sunday from Dec. 3-19. There will be a 7 p.m. show on Thursdays and Fridays. There will also be two shows each Saturday and Sunday, except for Saturday, Dec. 18 when there will be three performances.
Tickets are $25, with VIP packages available to take photos with the Peanuts characters and to receive merchandise. For tickets and a complete schedule, including showtimes, visit www.ticketmaster.com or www.chappaquapac.org.