The Back Nine Indoor Golf Center
We are part of The Trust Project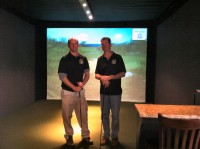 Multi-sport, indoor recreational facilities are popping up all over the place, but none of them in the Westchester/Putnam County region are designed solely for the golfer, one of the more particular sportsmen known to man.
Golfers are very specific about their development and progressions, but most golfers in our area suffer through a significant five-month lull from November to March when ol' man winter grips the region and forces the local duffer to fly south for a tee-time or just wait it out as the rust forms and stifles any and all progress.
Well, as a result of the newly-minted Back Nine Indoor Golf Center, those days are now gone. Westchester, Putnam and Dutchess county golfers can dust off the clubs right now and head on over to The Back Nine Indoor Golf Center, located at 2050 East Main St. Route 6 (in the King Buffet strip mall), is a new source of entertainment for the area, which just opened on Dec. 16th. It offers state of-the-art golf simulation, along with casual dining and a beautiful sports bar with several craft beer selections and the best in sports action. The Back Nine Indoor Golf center will not only provide a place for the avid golfer to play all year round (in leagues, no less), but also offers an opportunity for the new golfer to learn and improve their game, including lessons from local golf pros.
It offers something for everyone who loves golf or wants to become more than just your everyday hacker. Come play in a league, take a lesson, or just enjoy a night out with friends and family. Play the game you love no matter how bad the weather is outside, and choose from over 40 different courses, including championship courses such as Pebble Beach and St. Andrews. There's no reason to book a costly trip to Florida or Myrtle Beach, when you can book a tee time at The Back Nine Indoor Golf for as little as $40 per hour.
"We were a little skeptical ourselves at first," Back Nine co-owner Tim Peterson said of he and his partner, Tom Allen, who have been in the construction industry since graduating from Kennedy and Lakeland High School, respectively, in the mid-'80s.
"Then we saw it for ourselves in Dutchess County and we saw how enthused the golfers were. We thought, 'This is it, there's nothing like this in Westchester County. We're all in', so we expedited everything," said Peterson, a former Putnam Valley native, now residing in Yorktown. "We've been in construction our whole lives, but we've also played a lot of golf, and we know what we can do with this concept. It's family friendly, too."
The Back Nine has a vast, family friendly menu, including breakfast, lunch and dinner. The owners understand that golfing can be a spur-of-the-moment addiction, so they are open seven days a week (Sunday: 8 am – 9 pm; Monday – Thursday: 8 am – 10 pm; Friday – Saturday: 8 am – 11 pm). Come on in for Happy Hour at The Back Nine when all draft beers are 25% off Mon-Fri from 4-7 p.m. There are also Early Bird Golf Specials when you tee off before 10 a.m. and save 25%.
"We want you to come the first time and keep coming back, so it's important that we make an impression," Peterson said. "If you like golf or just want a unique experience playing golf for the whole family, we've got you covered."
For more information about how you can enjoy the Back Nine all year round regardless of the weather, call 914-739-GOLF to book your tee times today or visit them at www.thebacknineindoorgolf.com. Leagues are starting up now, so don't waste another minute. Get on a team, grab a foursome and book your tee-time.